Do you like the default textures in Minecraft but wish it existed in an increased resolution? If that's the case then the Stevens Traditional 64×64 Pack is the perfect solution. It
It's almost identical to the original look of Minecraft but the resolution is higher (64×64 instead of 16×16). This texture pack has already existed for a long time for Java Edition but today you can download it for Minecraft: Bedrock Edition!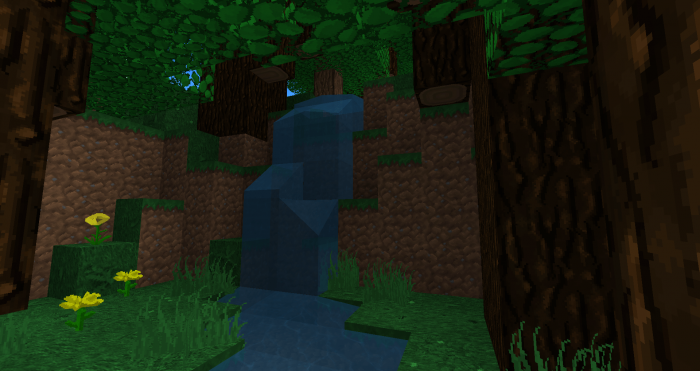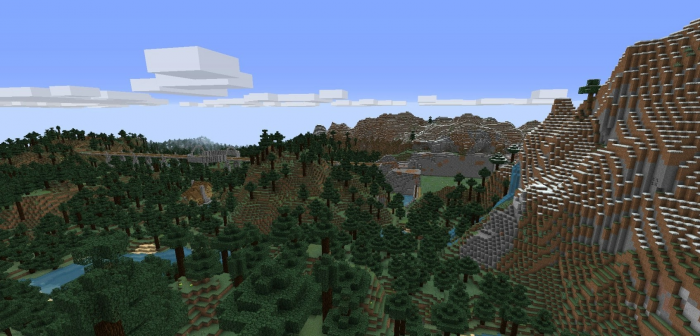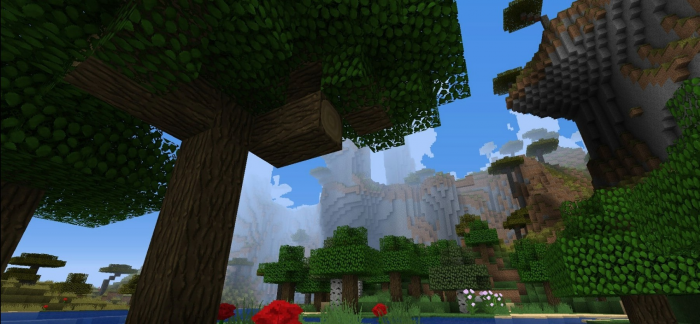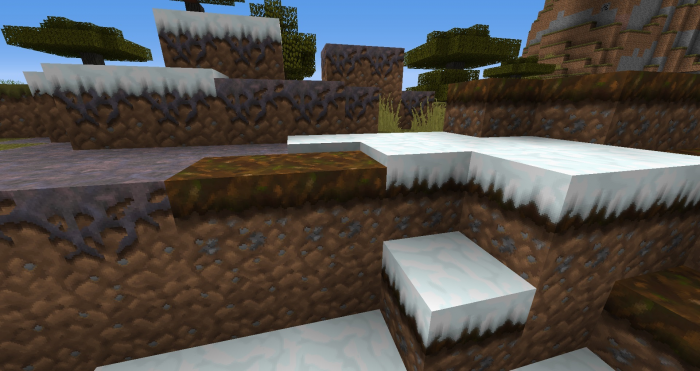 Please read! (There is a issue in minecraft windows 10 where items and blocks in the inventory render incorrect and show blur effects looking at this i think the game doesn't know how to render item models in the inventory correctly using the new textures i hope this will get fixed soon! I will try to fix it myself but as this is mostlikely game related i have to wait till the devs fix this issue.

Placed blocks and held items will show up as normal

)
ADDED
Leather Horse Armor
Globe Banner Pattern Item
Horse Leather Armor Item
Fox
Snow Fox
Campfire
Aggresive Panda
Lazy Panda
Brown Panda
Worried Panda
Playful Panda
Weak Panda
Panda
Oak Sign
Dark Oak Sign
Birch Sign
Acacia Sign
Jungle Sign
Spruce Sign
Bamboo Stick
Bamboo Leaves
Banner Pattern
Black Dye
White Dye
Brown Dye
Blue Dye
Lily of the Valley
Lily of the Valley
Wither Rose
Cornflower
Loom Block
Crossbow
Arrow Crossbow
Fireworks Crossbow
Dead Brain Coral
Dead Bubble Coral
Dead Fire Coral
Dead Horn Coral
Dead Tube Coral
Farmland Side
Bell
Smoker
Barrel
Lantern
Grindstone
Cartography Table
Fletching Table
Smithing Table
Blast Furnace
Animation for Seagrass
Animation for Kelp Top
Animation for Kelp Body
Animation for Tall Seagrass Top
Animation for Tall Seagrass Bottom
CHANGED
All Paintings 
Iron Horse Armor Item
Gold Horse Armor Item
Diamond Horse Armor Item
Particles
Inventory GUI Icons
Bars - White Bar
Enchanting Table Book
Squid
Phantom
Experience Orb
Villager
Zombie Villager
Witch
Inc Sac
Snowman
Black Stained Glass
Magenta Stained Glass
Orange Stained Glass
Lime Stained Glass
Seagrass
Raw Cod
Cooked Cod
Red Nether Bricks
Iron Golem
Totem of Undying
Sugarcane
Glistering Melon
Boat Items
Spectral Arrow
Tipped Arrow
Arrow
Bow
Spider Eye
Poppy
Dandelion
Blue Orchid
Allium
Rose Bush
Environment Rain
Guardian
Elder Guardian
Creeper
Minecart
Minecart Entity
TNT Minecart
Chest Minecart
Hopper Minecart
Furnace Minecart
Command Block Minecart
Tropical Fish
Sugar
Yellow Dye
Torch
Gunpowder
Golden Nugget
Trident
Peony Top
Peony Bottom
Obsidian
Brown Mushroom
Small Bamboo Leaves
Enderman
Sword Sweep
Furnace
Burning Furnace
If you are using version 1.0.1 we recommend updating to the current version (1.0.2)


ADDED
Potion effect icons
New V&P background
Armor stand item texture
Stone cutter block texture
Podzol block texture

Mycelium block texture
FIXED
Block and Item render issues
ADDED
Items
Potions(Not final) 
Missing spawn eggs
Beds
Entities
Updated villager textures
Updated zombie villager textures
Ravager
Illager textures
Blocks
Oak door
Spruce door
Birch door
Jungle door
Acacia door
Oak trapdoor
Spruce trapdoor
Birch trapdoor
Jungle trapdoor
Acacia trapdoor
Kelp
Seagrass
Water
Bamboo
Coral
Particles
CHANGED
Leather Horse Armor 
Globe Banner Pattern Item 
Horse Leather Armor Item 
Fox 
Snow Fox 
Campfire 
Aggresive Panda 
Lazy Panda 
Brown Panda 
Worried Panda 
Playful Panda 
Weak Panda 
Panda 
Oak Sign 
Dark Oak Sign 
Birch Sign 
Acacia Sign 
Jungle Sign 
Spruce Sign 
Bamboo Stick 
Bamboo Leaves 
Banner Pattern 
Black Dye 
White Dye 
Brown Dye 
Blue Dye 
Lily of the Valley 
Lily of the Valley 
Wither Rose 
Cornflower 
Loom Block 
Crossbow 
Arrow Crossbow 
Fireworks Crossbow 
Dead Brain Coral 
Dead Bubble Coral 
Dead Fire Coral 
Dead Horn Coral 
Dead Tube Coral 
Farmland Side 
Bell 
Smoker 
Barrel 
Lantern 
Grindstone 
Cartography Table 
Fletching Table 
Smithing Table 
Blast Furnace 
Animation for Seagrass 
Animation for Kelp Top 
Animation for Kelp Body 
Animation for Tall Seagrass Top 
Animation for Tall Seagrass Bottom 
All Paintings 
Iron Horse Armor Item 
Gold Horse Armor Item 
Diamond Horse Armor Item 
Particles 
Inventory GUI Icons 
Bars - White Bar 
Enchanting Table Book 
Squid 
Phantom 
Experience Orb 
Villager 
Zombie Villager 
Witch 
Inc Sac 
Snowman 
Black Stained Glass 
Magenta Stained Glass 
Orange Stained Glass 
Lime Stained Glass 
Seagrass 
Raw Cod 
Cooked Cod 
Red Nether Bricks 
Iron Golem 
Totem of Undying 
Sugarcane 
Glistering Melon 
Boat Items 
Spectral Arrow 
Tipped Arrow 
Arrow 
Bow 
Spider Eye 
Poppy 
Dandelion 
Blue Orchid 
Allium 
Rose Bush 
Environment Rain 
Guardian 
Elder Guardian 
Creeper 
Minecart 
Minecart Entity 
TNT Minecart 
Chest Minecart 
Hopper Minecart 
Furnace Minecart 
Command Block Minecart 
Tropical Fish 
Sugar 
Yellow Dye 
Torch 
Gunpowder 
Golden Nugget 
Trident 
Obsidian 
Brown Mushroom 
Small Bamboo Leaves 
Enderman 
Sword Sweep 
Furnace 
Burning Furnace 
And more...
FIXED
Fire animation
A issue where block turned black when breaking it
Fixed more render issues
FIXED:


Items:
Map icons not showing correctly (Not final) Thanks @ and @San Playz for reporting

UI:
Pause screen
More UI fixes
   

ADDED:


Blocks:
White Bed
Orange Bed

Magenta Bed

Light Blue Bed

Yellow Bed

Lime Bed

Pink Bed

Gray Bed

Light Gray Bed

Cyan Bed

Purple Bed

Blue Bed

Brown Bed
Green Bed

Red Bed

Black Bed
Items:
Entities:
Fully Black Cat
White Cat
Calico (Cat)
Jellie (Cat)

Tabby (Cat)

Persian (Cat)
Ragdoll (Cat)

Cat Collar
UI:
Misc:
Diamond Amor
Iron Armor
Gold Armor
Leather Armor
Chain Armor
Turtle Helmet
Installation
Important 1.1.3+ Users: Restart Minecraft after you've installed the texture pack to make sure all game textures are applied. Version 1.12 (Recommended)
Beta Versions You can access beta versions for Faithful by going to either of the following GitHub pages.
Stevens Traditional 64x64 BETA (Isn't public yet)
Downloads
Supported Minecraft versions
1.11
1.12
1.13 (beta)
Resolution
64x