This add-on implements turtles in-game. The turtles are based on the screenshots provided in an announcement by Mojang where they stated that turtles will soon be added to Minecraft. If you can't wait for them and want them in-game already then you can use this add-on in the meanwhile.
Creator: 
Rexiar
, 
Twitter Account
How does it work?
Every time that a squid spawns there's a 50% spawn chance that it will spawn a turtle instead. But since they replace pigs they will also be found on land where they will suffocate if they don't get into the water quick enough. There are both baby and adult turtles. The main differences between the two is their size and also that the baby head was made slightly higher so that it wouldn't scratch the ground.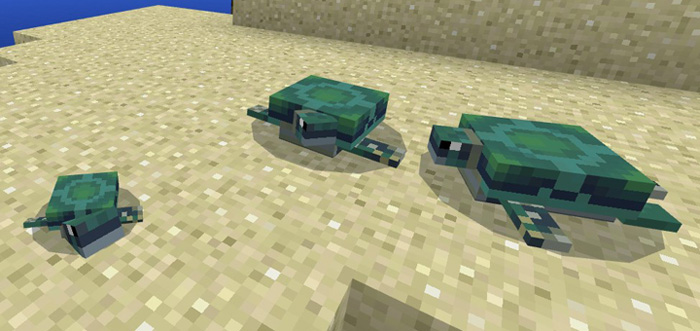 There turtles are sea creatures and it's only in water that they can live for any longer amount of time.

Installation
Activate the packs for a world in-game
You can get a 
.ZIP 
file for this addon here.