A unique type of lucky block. This lucky block is not your friend and can be annoying. This block is pure evil and does not play around. The Unlucky Block contains events, drops, and structures that will either result in disappointment, destruction, or even death. 
Creator: TheRedstonist
Social Media:
Website (http://www.redstonestudios.net/)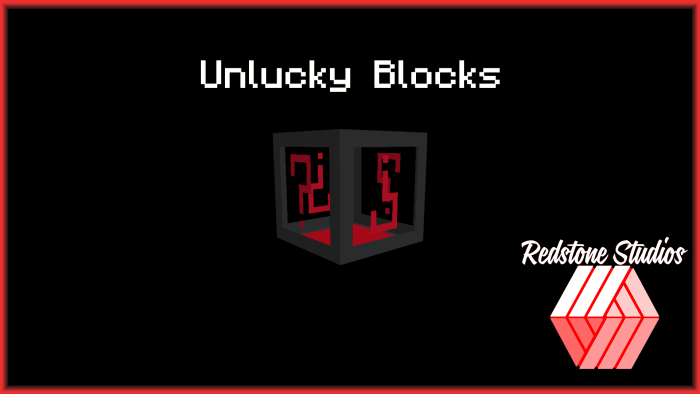 Recipe:


Note: Only 1 coal, not 64 like in the picture
Block:


Contains (Examples):
Traps:
Lava Trap


Lava Trap




Entity Spawns:
Zombie Hordes

These zombies are fast
Wither Skeletons


Charged Creeper




Structures:
Trio Unlucky Blocks




Item Drops:
Sticks, Dirt, Deadbush, etc.


Can vary from block to block


And MORE!
Showcase


More events/items/structures coming soon...
Please comment on your suggestions on what to add.
Select version for changelog:

Changelog
Update V1
Release of Addon
Includes at least 15 events/structures/item drops
Installation
IMPORTANT!
- Turn on "Holiday Creator Features" in Experimental Features
- Need to Download Both Behavior and Resource
For McPack:
Click on Download Link
Scroll down and click/tap on Free Access
Click/Tap on "Download Latest (McPack)"