The ender dragon is one of the most dangerous mobs in Minecraft PE. This addon is for anyone who want something even greater of a challenge. It will make the ender dragon both stronger and faster and it will also have the ability to teleport. Not only is it more dangerous than ever before but it also has a terrifying new look which should make any brave miner shiver of fear.
Creator: 
StarkTMA
,
Twitter Account
Updated: 
3 December, 2016 (
read changelog
)
What are the changes?
The primary thing which you will notice is that it has complete new textures. But once the battle begins you will also notice that it's incredibly more powerful both in terms of total health and strength but especially so because of its ability to teleport.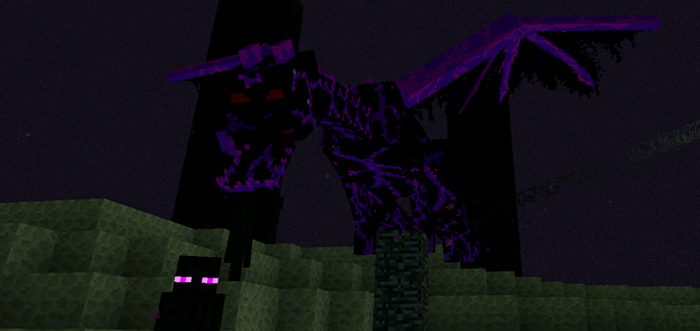 New Abilities:
Shoot shulker bullets inflicting dragon breath's effect
Decreased knockback resistance
Increased speed
Increased attack damage
Dragon heath: 300 full hearts (before: 100 full hearts)
Teleportation
If you do manage to kill the Ultimate Ender Dragon then please let us know in the comments. Perhaps you could share your strategy!
Demo Video
https://www.youtube.com/embed/PVoWOppa1zA
Changelog
Dragon health increased to 300 full hearts
Faster dragon
Damage attack for shulker projectiles is increased
Teleportation rate for dragon is increased
Installation
This mod requires version 1.0.
Android users can sign up for a beta here!
Apply pack for a world of your choice in-game
Click here if you want to get a .ZIP file for this addon.