If you've played Minecraft you probably remember times when you have accidently crafted the wrong items and as there's no going back you are sometimes left with an axe when you wanted a pickaxe. Vanilla Foundry makes it possible to recycle items. It's a machine which when heated with lava let you retrieve precious ingots from iron and gold tools.
Creator: Kingbudderjr, Twitter Account
Block/Item IDs & Crafting Recipes
Foundry (209) - 7 cobblestones + 1 bucket + 1 iron bars
Iron Nugget (3210) - 1 iron ingots gives 9 iron nuggets
Iron Ingot (default) (265) - 9 iron nuggets
How does it work?
A foundry block is in all its simplicity a type of deconstruction machine which allow you to get recycle iron and gold items which are no longer of any use to you.
Before being able to use the machine it needs to be make sure it's heated. Tap on the foundry with a bucket of lava to heat it.

Tap on the machine with any type of gold or iron item to recycle them. In return you will get gold or iron ingots based on which item you are placing in machine and in addition to that some experience points.

If it's rails or iron bars you are recycling you'll get iron nuggets. The reason for this is to make sure it doesn't get too overpowered as both of those items can be quite easily "harvested" as they spawn randomly in-game in strongholds and in mineshafts.
Iron nuggets work similar to gold nuggets as they can be transformed into iron ingots by the use of a crafting bench.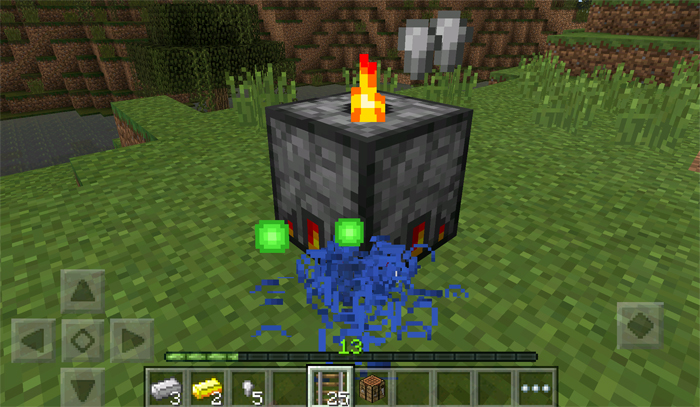 Install Guide
Use ES File Explorer to extract the downloaded zip file.
Start BlockLauncher and import the textures.
Then use BlockLauncher to install the mod.