Vertex Client PE is a mod menu with many additional settings and features, like a built-in webbrowser, chat and a (temporarily unavailable) music player. The latest update - v3.1 - adds the ability of adding custom waypoints into the Teleport module, a client chat, language support and TreasureFinder: find ores and chests underground!

The client is a great cheating tool which can be used in mob combat, for building and to greatly improve your moving abilities. It can be used both in single player and on local multiplayer servers. While we do not encourage cheating (on servers) it offers a great deal of tools which can be used for mostly anything!

Ever wanted to kill a mob in one hit? Or to simply prevent digging blocks to walk around peacefully without breaking the world? Well, now you surely can. The Vertex Client PE UI has so many features that you'll barely believe it.
Want the menu to be purple? You can. Want it to become marine blue? Yes you can. Want to use the MC font? You can do this.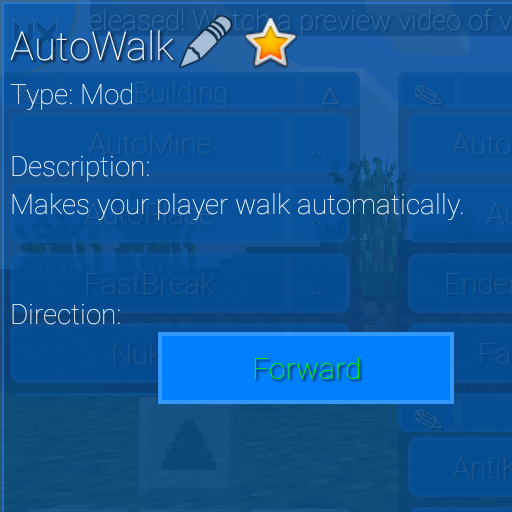 Many modules are also customizable: you could change the mode or speed of a module, like with AutoWalk, where you can select the Forward or Backwards mode.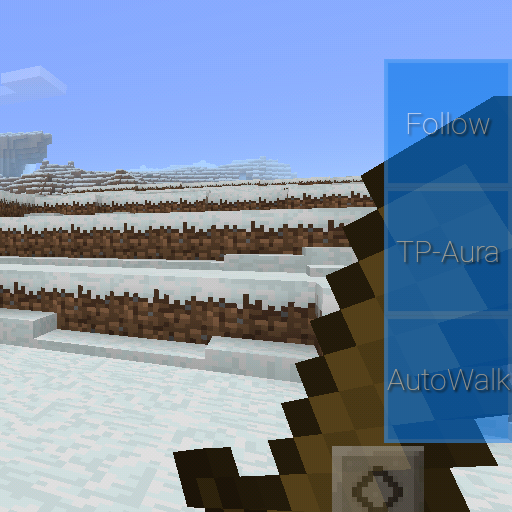 You could also add shortcuts for your favorite modules so that you'll be able to access them really fast.

Almost everything is possible with this client mod, so be sure to enjoy it! :D
It's an amazing mod which includes more than 50 different features!
Creator: VertexHX, Twitter Account, Website
Updated: 31th December, 2018: v3.1 (read changelog)
How does it work?
Open the fullscreen menu by tapping the VX button to show all modules and their settings, or use the TabGUI (the buttons on the left side of the screen like on the image below) to access the hacks and modding features faster. If the TabGUI doesn't show up, you'll need to enable it on the settings screen.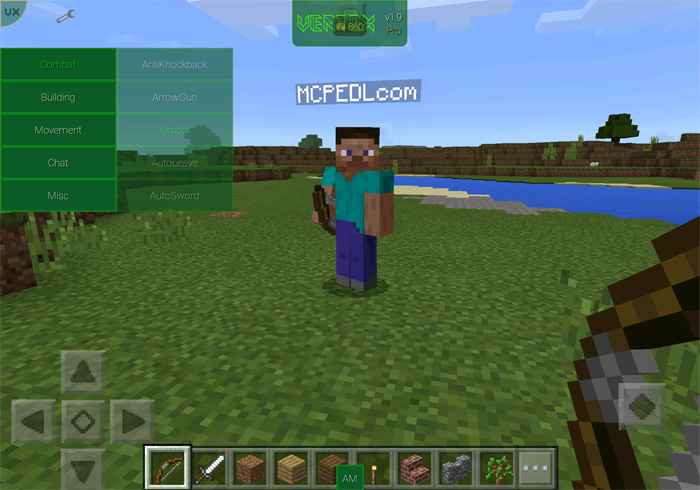 You can customize the settings (e.g. colors) by accessing the dashboard. Long-tap on the top left VX button to open it. Colors and buttons can be customized to suit your liking.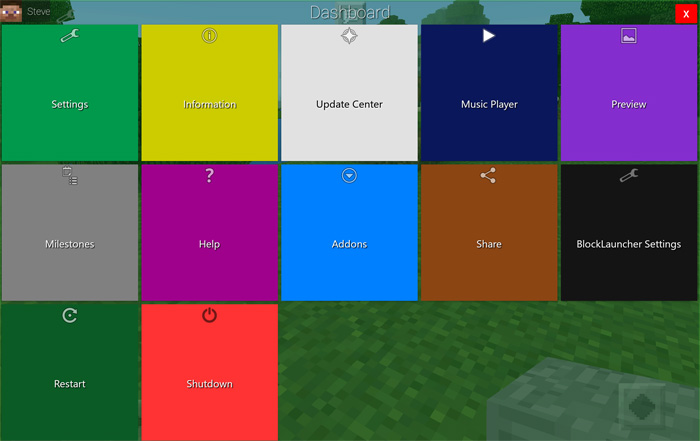 Features
Let's have a look at a few of the different features. If you want to get a better grasp of the features I highly recommend that you download it and try it for yourself as there are simply too many to features to demonstrate in one post and most of them are self-explanatory. Click here to see a full list of features. One of the movement features allows you to ride other players. Even though the riding position looks awkward it still works perfectly fine.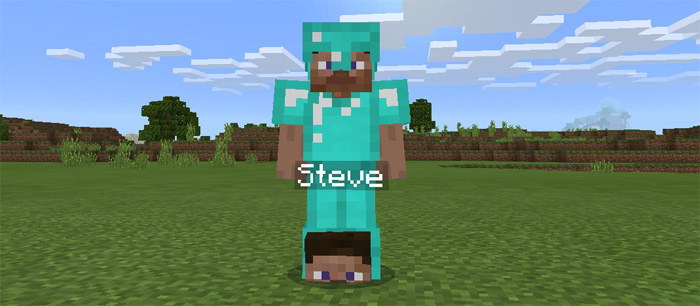 One of my favorite features is the wallhack. If you enable this feature you will be able to walk through walls. Strongholds which previously would have been impossible to access are now much easier to attack.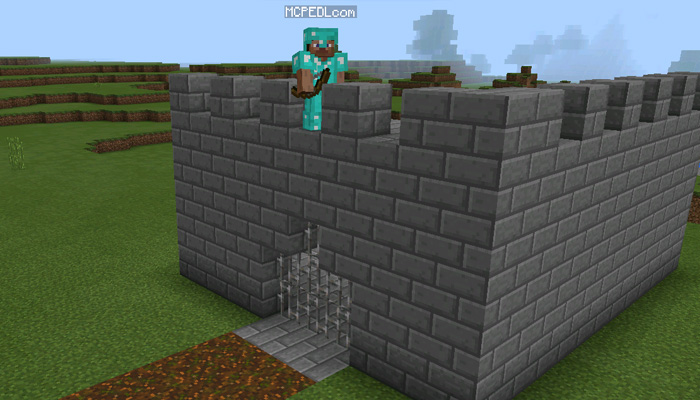 Just walk up to the gate and then walk straight through it. It works wonders in PvP! It's not the most ethical way to play but it does do the job..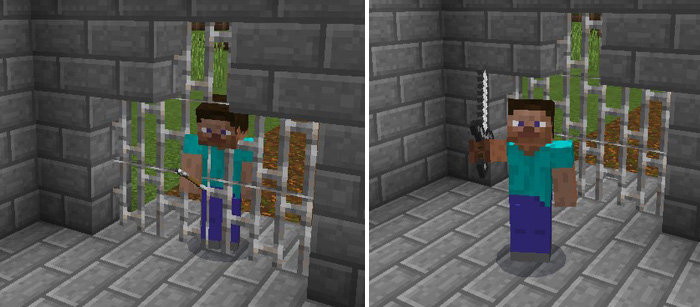 Another feature which is quite enjoyable is TapNuke. Nuke anywhere you tap!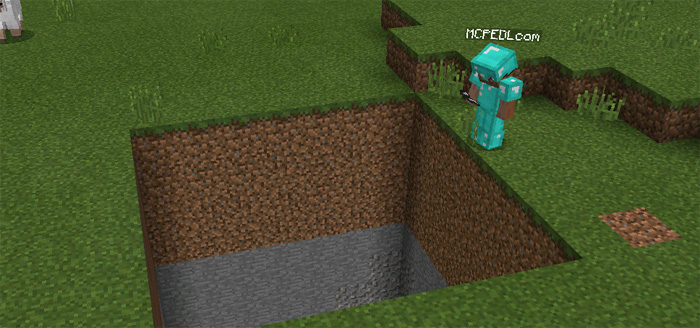 Type .help in the chat to get a list of all commands included with this mod! The prefix (dot) can be changed underneath 'Commands' in the Vertex settings, which are accesible from the Dashboard. Click here if you want a full list of features!
Demo Video
Select version for changelog:

Changelog
Additions

- Added TreasureFinder which allows you to find ores, chests and other special blocks/treasures by tapping the ground
- Added the ability of adding and removing waypoints into Teleport (waypoints added on multiplayer will be the same for every server, as they're global waypoints)
- Added a Chat dialog on the Dashboard screen (allows you to chat with other Vertex Client PE users)
- Added a new step into the setup screen where you can choose a settings preset ('default', 'all-in' or 'high performance')
- Added pos(ition) command which shows the player's coordinates when you run it
- Added custom language support (and we added a setting for it, choose between 'Default (English)' and 'Device language' **only Dutch and English are supported so far)
- Added a new 'Language' section on the settings screen along with a few new language related settings
- Added a new help section for waypoints
- Added a 'Prevent sending and receiving chat messages' setting (may not always work)

Installation
Make sure you have both Minecraft Pocket Edition / Bedrock Edition (for Android) and BlockLauncher (free or Pro) installed
Click on the Android dropdown
Click on latest release (unless you want to download an older version)

Choose the edition you want and download the latest public release (for the normal edition download Vertex_Client_PE.modpkg underneath the 'Assets' dropdown)
Open BlockLauncher
Tap on the wrench icon
Select "Manage ModPE Scripts"
Tap on the import button
Select "Local storage"
Search the file and import it into BlockLauncher
Wait until Vertex Client PE says it's done downloading and let it restart (this process may not always happen, for example if you've used Vertex Client PE before, if it doesn't happen please restart BlockLauncher yourself)
Done!