It's about time our Villagers could defend their own homes. The Iron Golem population is stretched too thin.
This mod allows you to promote a Villager to a Village Guard!
Craft a Guard Badge and promote a Villager to protect his community!
Village Guards
It's about time our Villagers could defend their own homes. The Iron Golem population is stretched too thin and cannot protect them without help!
This mod adds a new Guard Badge used to promote villagers to Village Guards.
Recipe: 4 iron nuggets (1 in each corner), 1 iron ingot (in the middle)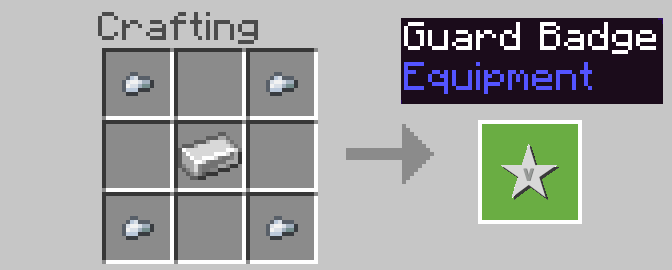 Use: Craft a Guard Badge and right-click a Villager to Promote them to a Village Guard!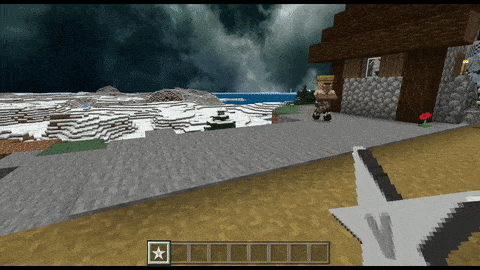 Villagers:
1. Can be right-clicked with a Guard Badge (recipe above) to Promote them into a Village Guard!
Guards:
Guards remain nearby the Village where they were promoted.
They will protect Villagers from any hostile mobs, (except Creepers).
They spawn with a Wooden Sword.
A single Guard can defend against 2-5 Zombies before dying!
Dead Guards will drop a Wooden Sword and nothing more.
Guards generally act like Iron Golems, they will patrol the village for you!
Guards can also open doors to defend Villagers unlike Iron Golems.
Danger does not sleep, therefore Guards do not either.
Guards tend to avoid any blocks that could damage them but they CAN swim! Just not in lava.
Guards will pick up better armor and weapons if it is dropped nearby!
Guards defending against a zombie herd: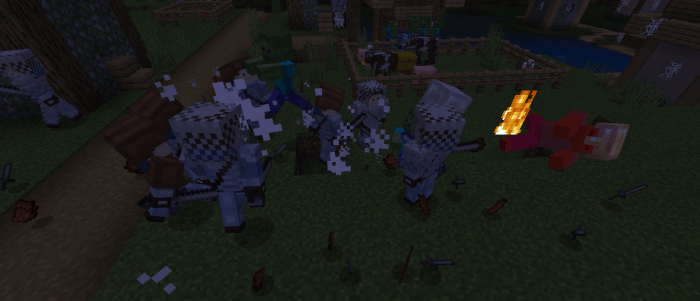 This addon alters the code behind Villagers to allow them to receive "promotions".
by Wolfgangbaru
If you have any questions or suggestions please feel free to leave a comment and I will reply as soon as I am able.
Thank you!
Select version for changelog:

Changelog
Updated Guard skin
Updated Guard behavior to stay around villages and not wander off.
Updated Guard behavior to walk towards a village in range if they are not spawned within one. Same behavior as Villagers.
Downgraded the Stone Sword to a Wooden Sword
Guards no longer spawn with any armor.
Updated Guards to pick up better armor/weapons and drop the old ones if they happen to find better gear. (You can drop armor and swords in front of them and they will equip it)
Updated Villagers to simply swap over to a Guard skin/behaviors once promoted rather than shake and play a sound effect.
Updated download link to new version of addon
UPDATED THE MAIN IMAGE TO INCLUDE MY ACTUAL NAME BECAUSE APPARENTLY I FORGOT WHO I AM.
Installation
Click the Download link for Adfly, click Skip Ad and wait for the redirect to the addon!