Meet the MinePhone II, a fully functional phone that fits into the palm of your blocky hand. It uses map technology that give you a 128x screen. The phone has a working keyboard and the infamous Minecraft in Minecraft! It's very easy to get the hang of.
📱 How to open –
Optional: If you open the resource pack, you change change style of phone you want.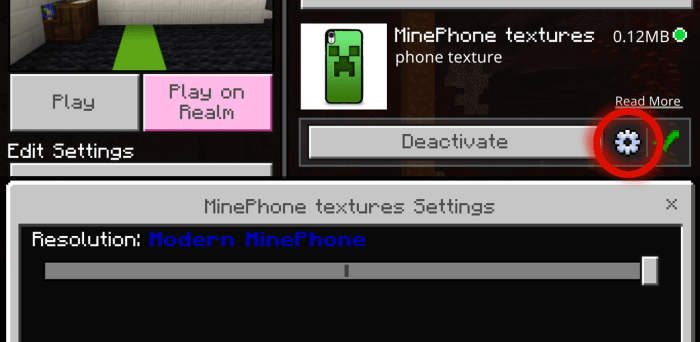 When you first open the phone in the world, you must sneak (crouch) to unlock the phone. You can hold the phone in your mainhand or offhand!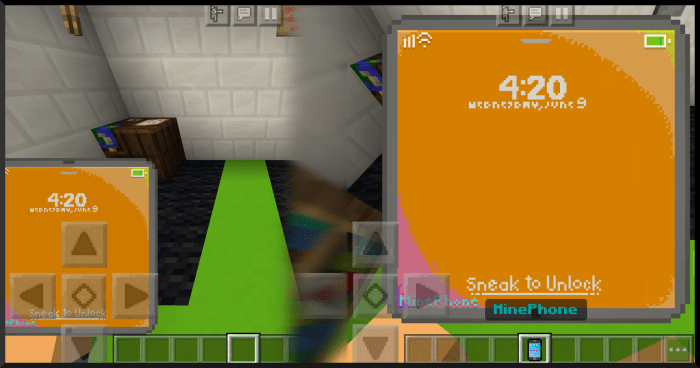 After sneaking you will be met with the homescreen with 10 apps to choose from. Most apps on the phone are functional!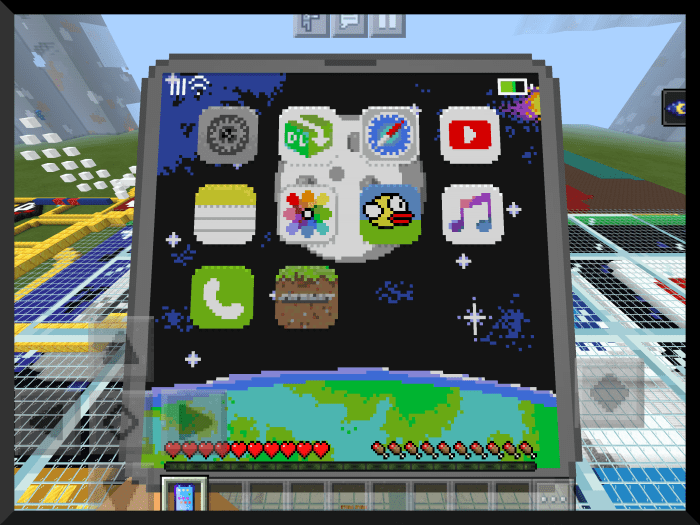 The Selector –
It is a yellow outliner that outlines what has been selected.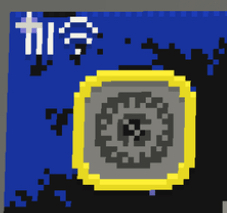 Controls –
Moving north, south, east, and west (W, A, S, D on computer) = Moving cursor in four directions.
Jumping = Selects what the selector is currently on (It's like clicking on a screen).
Sneaking = Brings you to the home screen (Its like a home button).
(Most of the Apps will have similar controls)
(If the phone freezes completely, you might have to exit & join back world.
Make sure render distance is above 13!
📱 Here is a preview of some of the phone –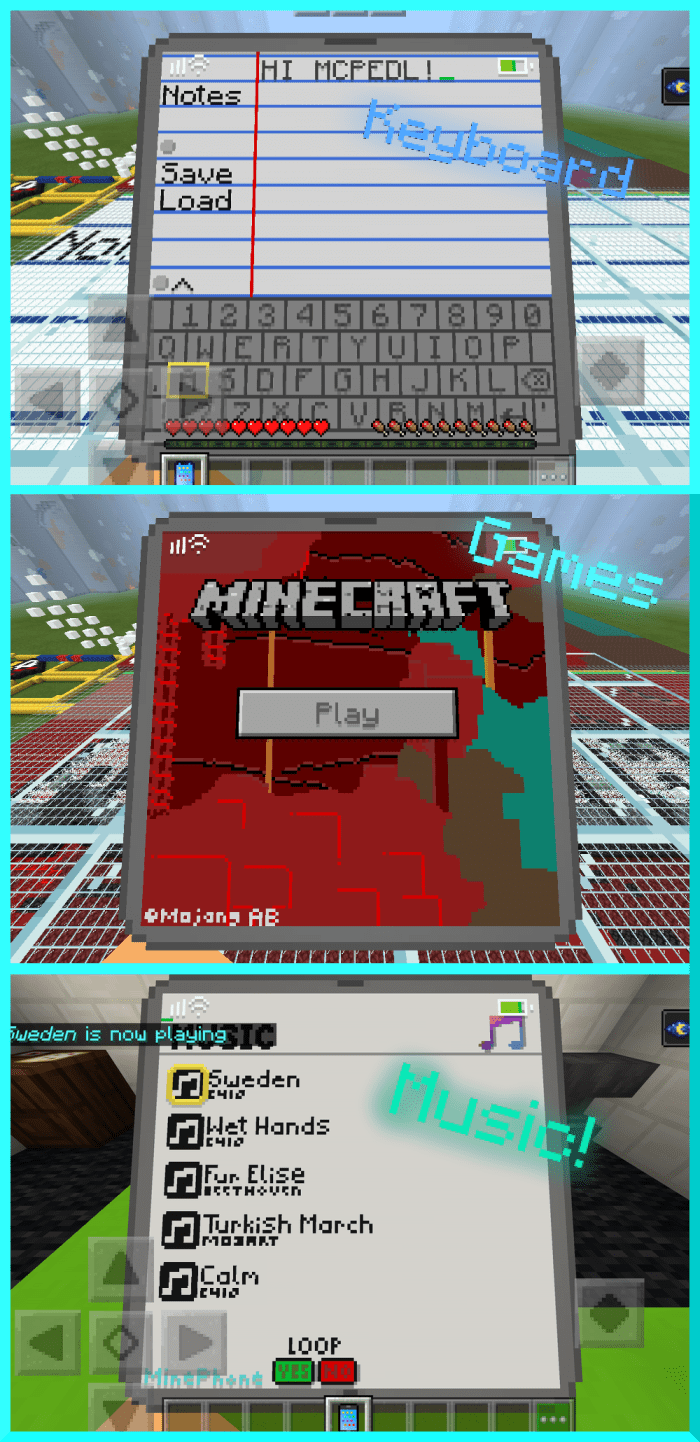 Functional Apps –
Settings,
Notes,
Flappy Bird,
Photos,
Music,
Minecraft
The nonfunctional apps will give you an image, but won't do anything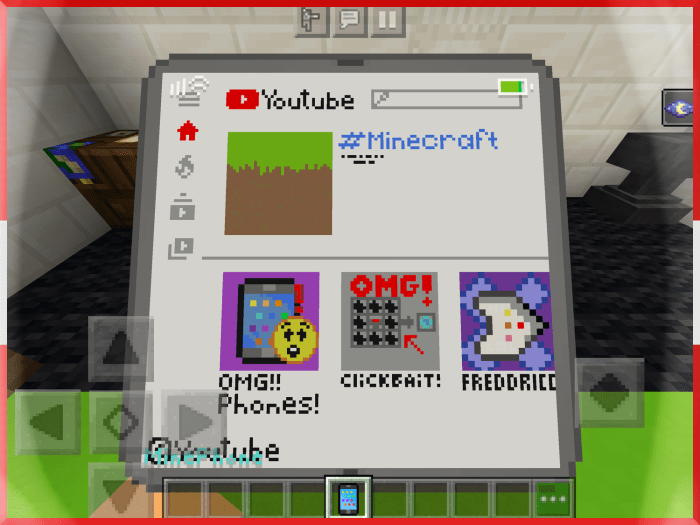 Nonfunctional Apps –
YouTube,
MCPEDL,
Safari,
Phone
Extra Information –
Settings – As of now, you can only change the background. Three backgrounds to choose.
Notes – There is all the letters and numbers on the keyboard, there is also a enter and backspace key. There are a few extra symbols as well. Make sure you hit the 'Save' button to save your progress!
Photos – Currently 4 Pictures to view.
Flappy Bird – The game I made is accidently way harder and more challenging. I'll be very impressed if you get a score higher than 5! There is also a scoreboard that tracks your score and Highscore. The game is in BETA and sometimes you might randomly die because it's on 1FPS.
Music – 5 songs to choose as of now. You can loop songs and stop songs at the bottom of the screen. Music will play even if you have left the app.
Phone – You can dial numbers but it can't actually call people.
Minecraft (BETA) – I won't spoil the experience, but to exit the game, place down the barrier block.
Credits –
Created by Freddricc
Notice: Do NOT claim its your own, Do NOT repost on another website without credits to me. Please credit me if showcased, thank you.
Sweden by C418
Wet Hands by C418
Für Elise by Beethoven
Turkish March by Mozart
Calm by C418
Original Apps Credits:
Youtube
Safari
Flappy Bird
Minecraft
* Fixed a broken link
(I've lately been busy so no updates yet, feel free to give me ideas on what to add next :)
Phone has a more modern look
More optimized CPU
Added Phone
Added Minecraft in Minecraft
Updated old apps
Save & Load feature added to Notes
Arrows added on Photos to avoid confusion
Calm added to Music
Bug Fixes
Installation
When on the website, click "Skip This Ad" after 5 seconds. If it takes you to an irrelevant website, close the tab and try again and it should eventually work.
Downloads
Supported Minecraft versions
1.16