X-Commands adds a total of 64 commands and even though this great amount neither of them seem unnecessary. Many of them are ones which make the gameplay easier such as switching between gamemodes, controlling the weather and setting your spawn point. But some are actually quite funny to use as well. Some examples include the x-ray command which let you see through walls, then there is the nuke and explosion commands which let you create big explosions.
An iOS version of the mod is being worked on. Once it's released we'll update the post and let you know on Twitter.
Creator: xReVoLTiTheme, Twitter Account

All commands are case sensitive so you must be careful to type them correctly.
General
/X-Help
/Alpha Commands
/Beta Commands
/Personal Info - info about the creator and the mod
/Set Home
/Go Home
/Set Spawn
/Fly
/Music - work in progress
/Fov - sets field of view
/Zoom <In/Out>
/Weather
/Weather Rain
/Weather Lightning
/Weather Clear
/Experience
/Version
/Clear Chat
/xRay <On/Off>
/Teleport
/Coords
/Give
/GameSpeed
/QuickMine
/Suicide
/GameMode
/Sounds
/Build Tutorials - work in progress
/Screenshot - work in progress
/Time <Sunrise/Day/Midday/Noon/Sunset/Night>
/Pack of <Wood/Chain/Iron/Gold/Diamond/Blocks/Items/All64> - quick give command for the most necessary resources
/Spawn <Insert Any Mob> - remember, commands are case sensitive, write all mobs like this: Villager, Zombie Pigman etc
/Light Level - work in progress
/Kill All
Fun & Destructive
/Godmode
/Fall - fall from the sky
/Explode <1/2/3/4/5> - this might crash your device, so use it carefully
/Nuke <1/2/3> - same here, be careful, might crash your device
/Hole <1-11> - digs a whole down to the bottom of the world
Effects
Most of these commands appear to be a work in progress.
/Clear Effects
/Jump
/Speed
/Slow
/Haste
/MiningFatigue
/Strength
/Instant Health
/Instant Damage
/Invisibility
/Water Breathing
/Fire Resistance
/Resistance
/Nausea
/Regeneration
/Poison
/Wither
/Absorption
/Health Boost
Here we used the /Explode command. It's definitely a powerful commands but you need to be careful while using it because you will most certainly die unless you play in creative mode!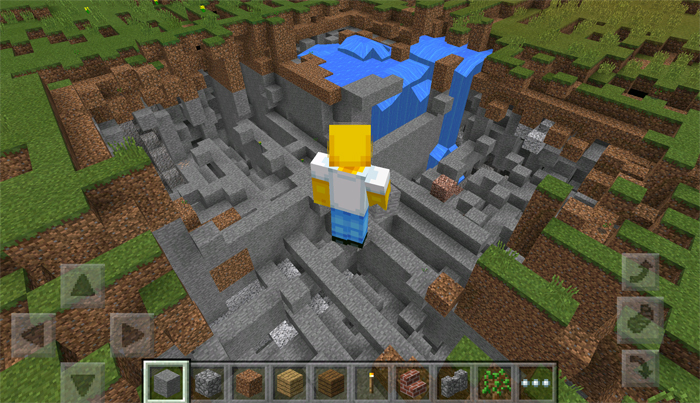 The /Hole command definitely makes digging easier. It digs a straight hole down to the bottom of your world.