The YouTuber Heads are blocks which can be used for decorative purposes. Right now there are 9 different heads and some of them include EckoSoldier, JackFrostMiner, FuzionDroid, RageElixir and TrueTriz. You can either obtain them with cheats (by using a text command) or you can slay monsters to get them.
Creator: solvedDev, Twitter Account
How does it work?
The YouTuber Heads blocks are dropped by mobs such as the spider and other monsters you might come across in Minecraft. You can also use the following text command to obtain the blocks: /give @p planks 1 [6-15]  (example (ExkoSoldier Head): /give @p planks 1 8)

The blocks are only there for decorative use and they have same block behaviors to wood planks.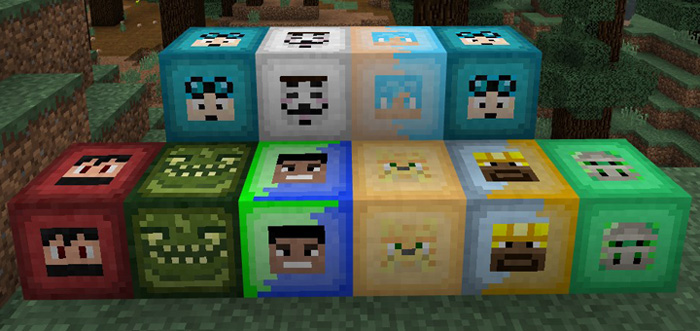 You can also obtain a bunch of YouTuber Heads fence blocks which look very strange. Just use the following text command: /give @p fence 1 [6-15]
Here is the full list of included YouTuber Heads: 
DanTDM
Eckoxsoldier
Ibxtoycat
TrueTriz
FuzionDroid
OneklickLP
Tryen Manarroo
Rageelexir
Adventure Gaming HQ
JackFrostMiner
You can suggest other YouTuber by posting a comment down below. And preferably someone else than yourself.
Installation
Activate the packs for a world in-game