🔨BAN

,

CRASH

 and 

BETTER KICK

Commands! Spoiler: It is not using /kick!!! Ban and instantly unban people! CRASH people and troll them! KICK people without displaying a leave message? ALL of that in this Addon! 
The banned people will only get to see a Disconnected Screen and may just thinks the internet had a little lag or something like that! So he has no clue 😏
Add the behaviour pack to your Minecraft world
Make sure its the first one in the list! (Because sometimes addons dont work when they are not the first one in the list. Thats because of Mojang and Addons are maked)
Place a command in your world and enter: "/function Ban_addon"
Set it to repeat and always active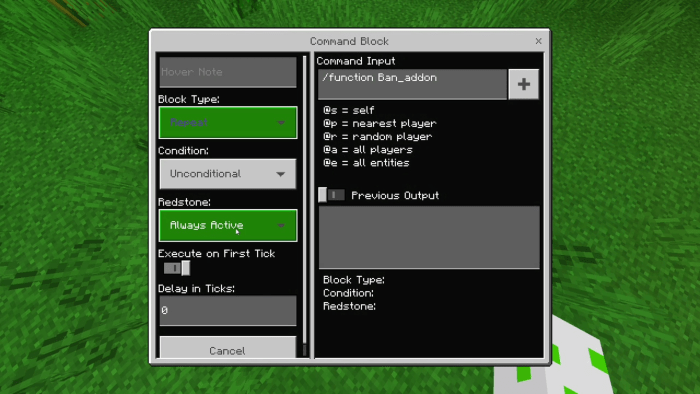 Go on top and the center of the Command Block and enter "/tickingarea add ~ ~-1 ~ ~ ~-1 ~ ban_addon"
Use "/tag [Here the playername] add ban" to ban someone. He will not be able to join your world up to the moment you unban him.
Use "/tag [Here the playername] add crash" to crash a player.
Place down a repeat command with always active and enter "/tag [Here the playername] add unban" to unban someone. You can destroy him after he joined at least once!
Important (READ):
Ban: If you ban someone it will only display that that player got banned! So theres no leave message or a custom leave message.
Crash: If you crash someone it will only display that the player got kicked!
Silent Crash: You can crash/kick people without even others noticing! So you can kick people but its not gonna be displayed to any one. It may be helpful if you dont want all your players to know


Please watch the video if you dont understand/you to lazy to read/ this addon, how to use etc. It only takes you 5 minutes!

(You dont have to watch the video! Its just a recommendation.)
Or just watch it for fun its really relaxing!
©Copyright CreepycreeperMw
You are allowed to do...:
...A review or showcase
...A Video about it
...Do a link to

THIS

website
You are NOT allowed to do...:
...Modifie this addon without my consent (Make a own version and upload it as your own)
...Use this addon in a Mod pack without my consent or me in the credits
...Reupload this as a file on the internet
...Reupload this on

other websites!

(This happened extremly often in the past and will result nothing good...)
For the things you are not allowed to just dm me and I may give you the perms to use it
Ask me on Twitter @CreepycreeperMw if you can use it in a ModPack etc. Ask me anything about it! I dont bite!
Select version for changelog:

Changelog
-NEW VERSION
-New Crash Command
-New Ban Command
-EC Version
-Way easier to use!
-No resource pack needed!
-Automatic Ban System
-Custom Ban, Crash and Silent crash messages!
-New Silent Crash function! You can kick players without displaying it in the chat!
Installation
1.Download the Behaviour Pack (BHP).
2.Put the behavoir in the behavoir packs folder under games/com.mojang
3.Add the BHP to your Minecraft world!
If you dont know how to do this watch a youtube tutorial "How to install addons in mcpe" or "How to install addons in mcbe"! Or watch the new "How to use Ban Addon" video! I showed there how to install it step by step!