if your are a fan of the horror game Bendy and the Ink Machine and also a minecraft fan, then this addon is the combination of these 2 game The addon have almost everything in the game Bendy And The Ink Machine
This addon was inspired by the horror game BATIM it included new mobs which will spawn naturally into your world
TURN ON EXPERIMENTAL MODE TO GET THE ITEMS AND OTHER FEATURES
The addon is survival friendly you can play the addon in survival and explore more thing
Ink Monsters
The Searchers

are hostile mobs will attack players and villagers, The Searchers resemble human-based creatures entirely made of black ink and are roughly about the same size as the player
Attack in group of 2 or 5
Miner Searcher: is another variant of the searcher, this one has a miner hat on it
Searcher Boss: is a giant Searcher with a top hat
Can spawn naturally, but rare
Is strong and have abilities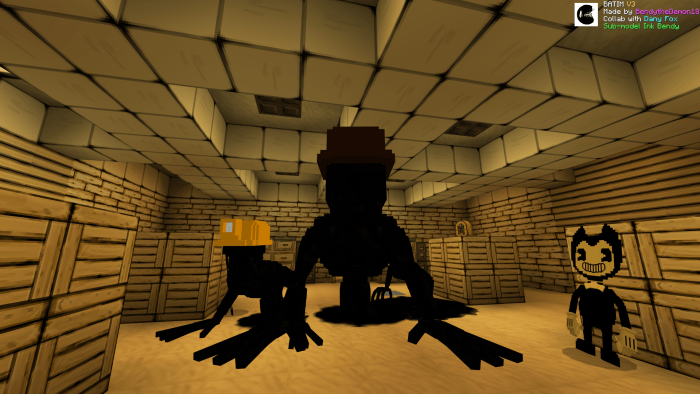 Projectionist

is a hostile mob, Judging by his human-shaped appearance and projector head, he is an ink incarnation of Norman Polk.
Spawn at night but very rare
Can only see you if you are in his light sight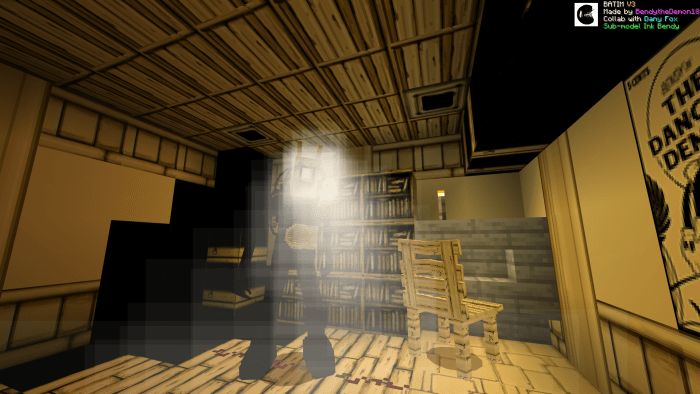 The Butcher Gang:
They're pretty strong but each of them have their own weakness
have a chance of having abilities


The Lost One

: They're hostile, is a human covered in black ink

Damage: depend on their weapon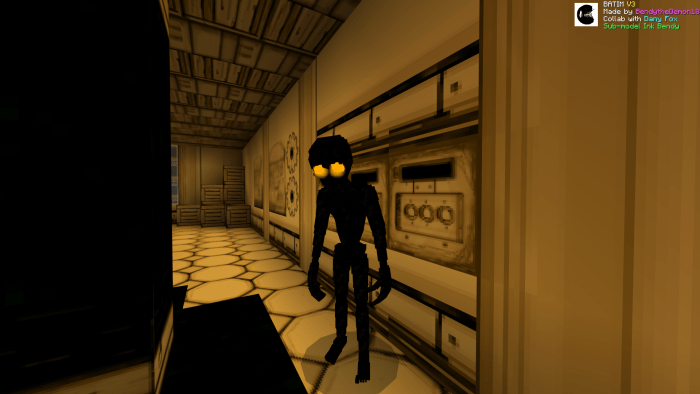 Bendy Cutout:

is just a cutout of the cartoon version of bendy, nothing sus about it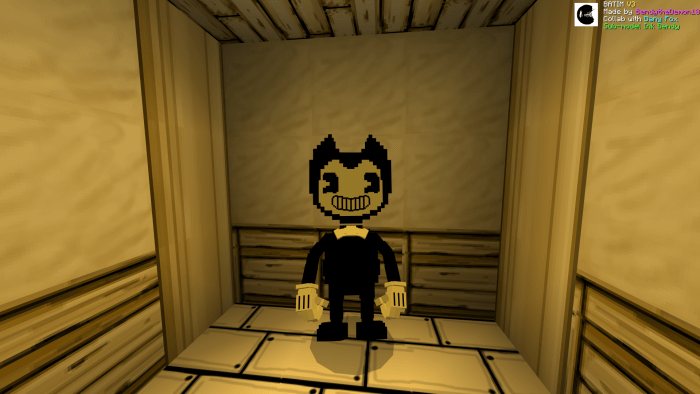 Alice Angel:

will turn Boris to or Brute Boris or Dead Boris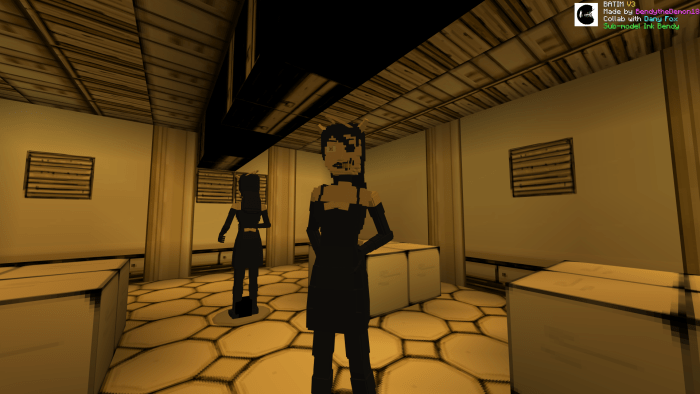 Giant hand:

is a giant hand spawn in the deep ocean, they'll grab you and pull you down into the water drown you and suffocate you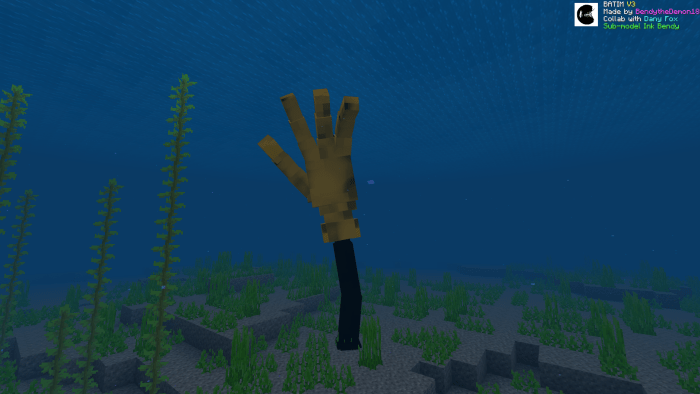 Bosses
(each boss has their own ability and music themes)
Bertrum Piedmont:

is a Horse carousel, but with a face in the center

Ability can not move but you can not attack when it in attack mode, has 4 stages (each stages make him stronger) you can only attack him when him stop spinning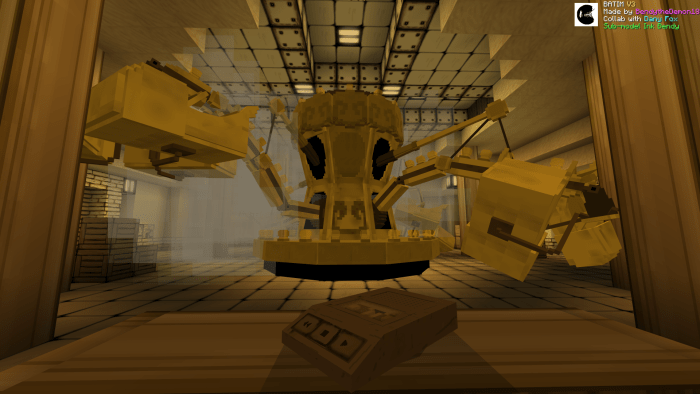 how the boss fight work? watch this video or download it by your self:
Brute Boris:

is a monster version of boris, created by Evil Alice

Health: 400 (has 3 stages)

Damage: increase every stage

Stage 1: Charge attack fast

Stage 2: move faster can jump high to do the stomp attack

Stage 3: can throw projectile with the combination of 2 stages above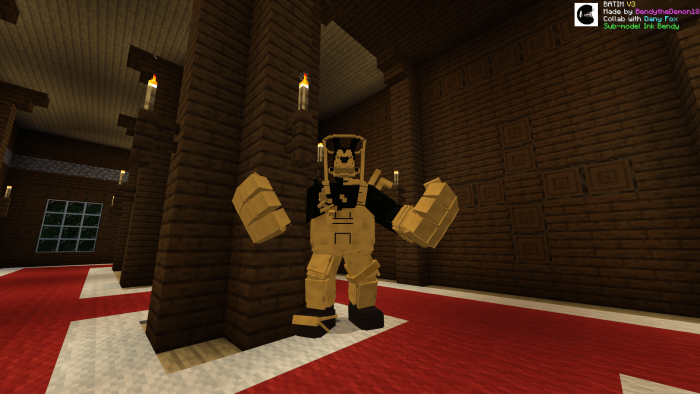 how the boss fight work? watch this video or download it by your self:
Beast Bendy: The final form of ink demon immortal

Have alot of ability and is a final boss
Beast Bendy will drop the item called reel pieces collect all the pieces and craft it into the reel
The command: /give @s batim:reel

_piece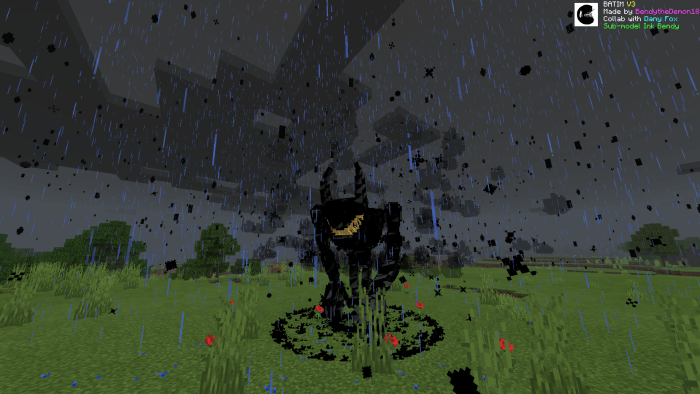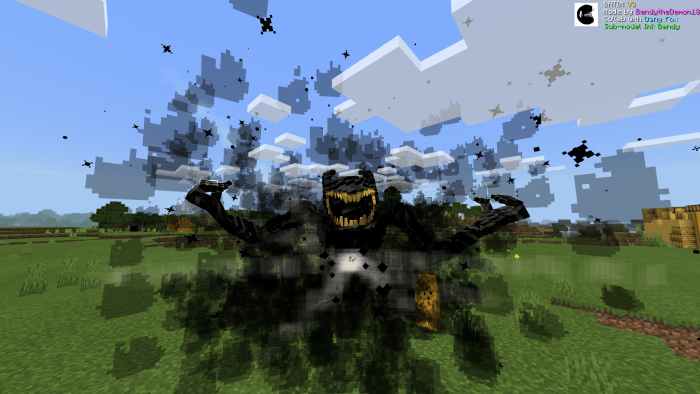 How to defeat bendy
the last reel:

You can defeat beast bendy by using this

How to get it: /give @s batim:reel
INK DEMON
Extremely dangerous and creepy, He will kill any monster nearby and player but no worry the chance of him to spawn is rare
Damage: 20 or can kill instantly
if you kill him he will turn into his final stage
when attack the players he will give them blindness and can see the player from very far away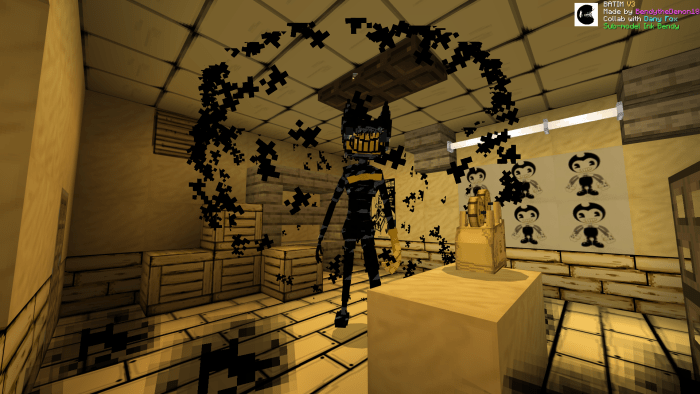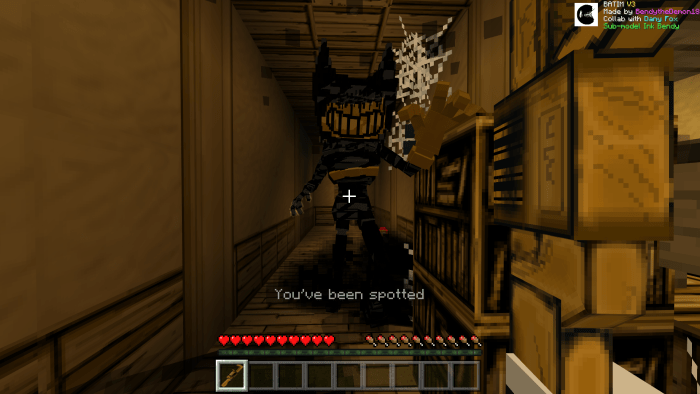 Friendly
Alison, Tom and Boris both are friendly You can tame them
Tame item: find out yourself (hint they're the items in the addon)
heal items: Bread and mushroom stew
They run away when on low health
Boris really like sheep if he see one
All will spawn naturally in the studio
Boris can spawn everywhere
Tom: shaped human with the doggy face, holding an axe or pipe as the weapon and have a mechanic arm, will attack monster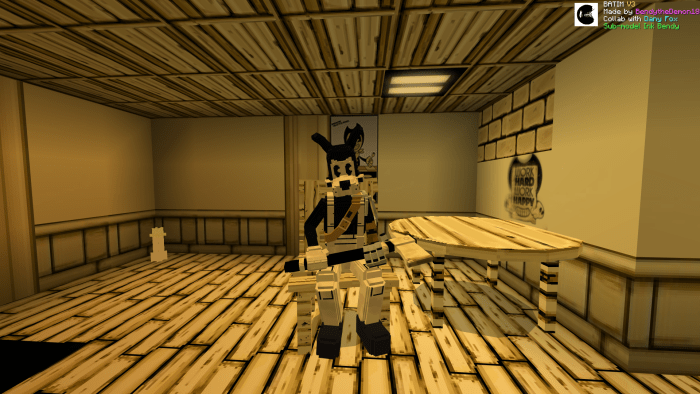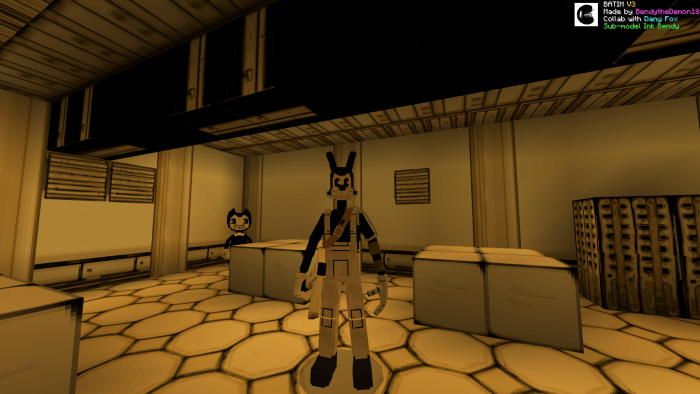 Alison: shaped as a female humanoid, she holding a sword as the weapon will also attack monsters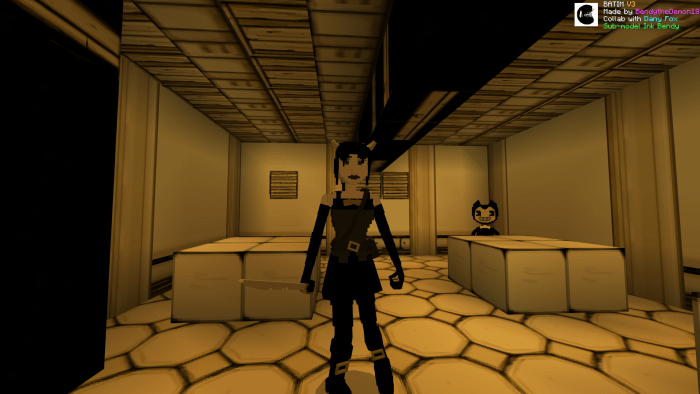 Boris: look like Tom but can not attack, will run away if the monster near him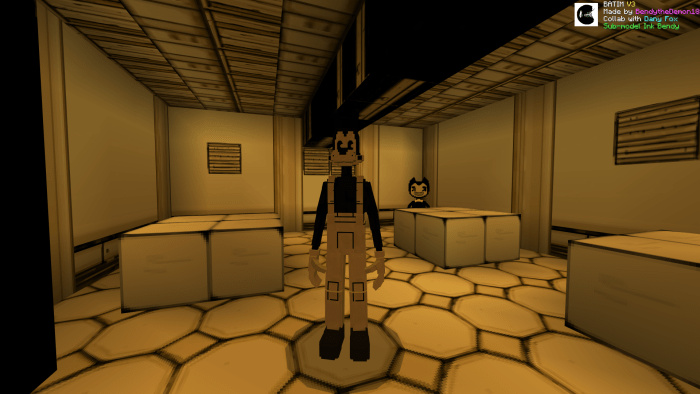 Weapons
3D models: All of them have their own unique custom animation
Axe:
To get type this command: "/give @s batim:axe"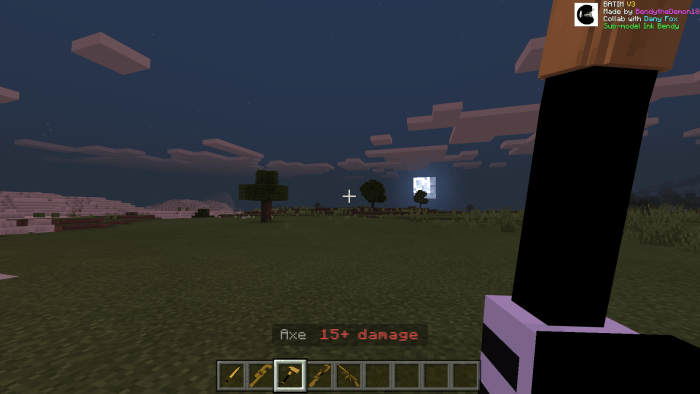 Gent Pipe:
To get type this command: "/give @s batim:pipe "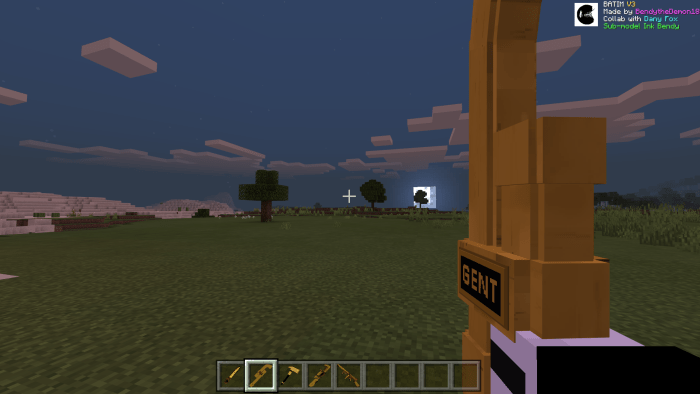 Wrench:
Damage: 8

To get type this command: "/give @s

batim:wrench"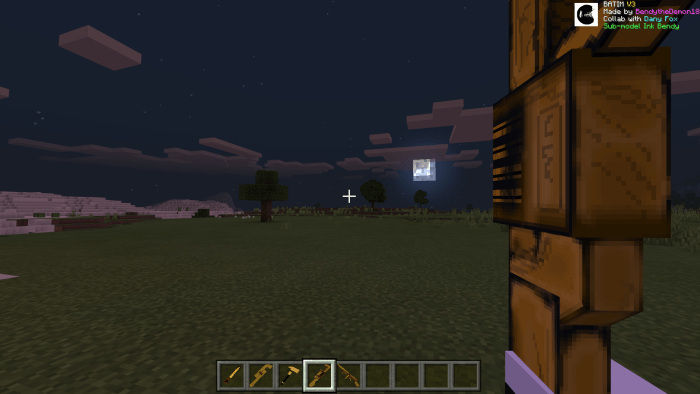 Sword:
Damage: 20

To get type this command: "/give @s

batim:sword"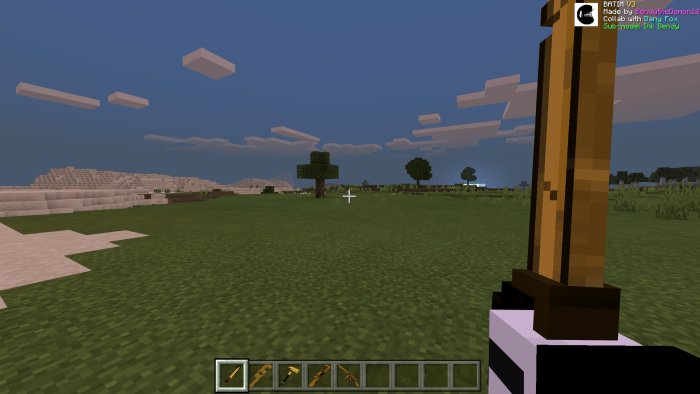 Tommy Gun:
Damage: 10

To get type this command: "/give @s batim:tommygun"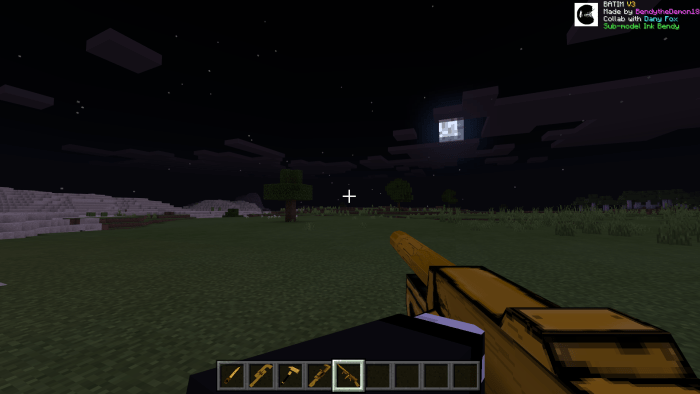 Machine and furniture
Ink Machine: The thing behind all the ink monster
Can be activate by a lever

Warning: do not leave the machine running for too long it'll lag your game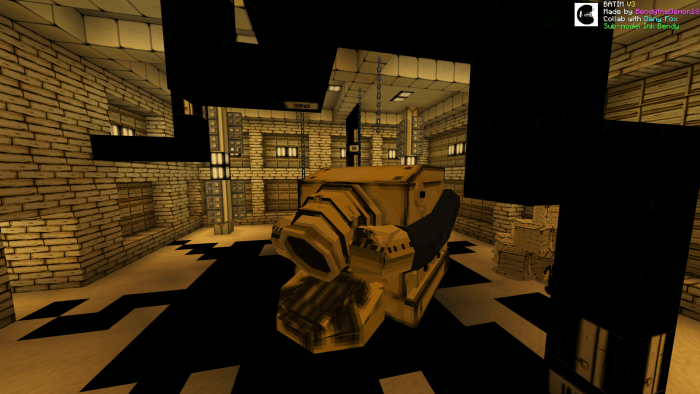 Furnitures: You will know how it will work when you play the addon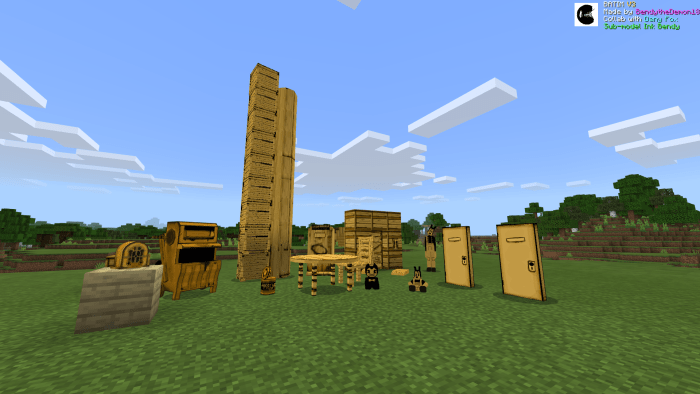 3D blocks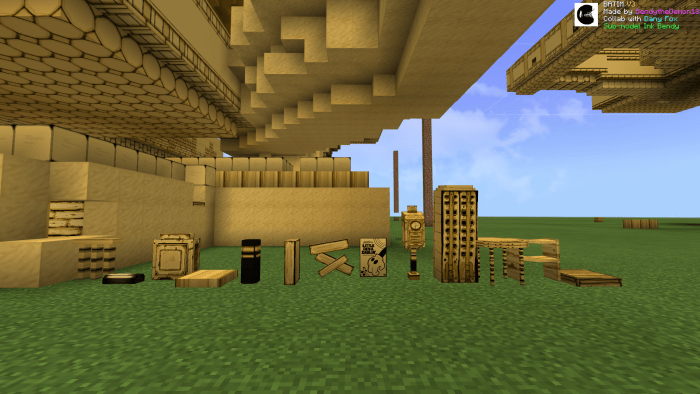 Not all of the furniture is in this image

How to destroy the door: just open it and hit it until it broken
The addon has music if you want to disable it type in

/function bruh
To get the block just type in /function and it will show you the list of commands
Structures Studios
Credit to the builder:
Just suzz

Mecha

Creepa Blue

Goat Fricker

Funtime Lefty

Ink Bendy

Lander Boss

Onejing

BendytheDemon18
Thanks everyone for helping me on the build, if I forgot anyone name pls let me know
Some image of the random studio there more than this, they're hidden underground some of them are on the surface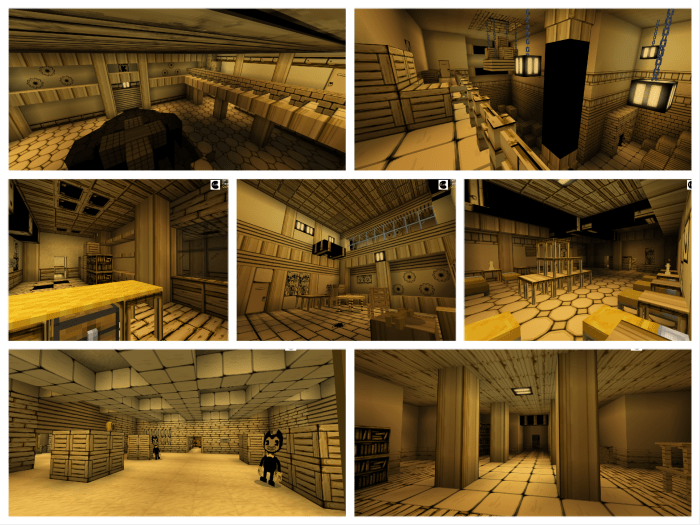 Crafting and trading
The ink maker is the crafting table in this addon, you can make item from it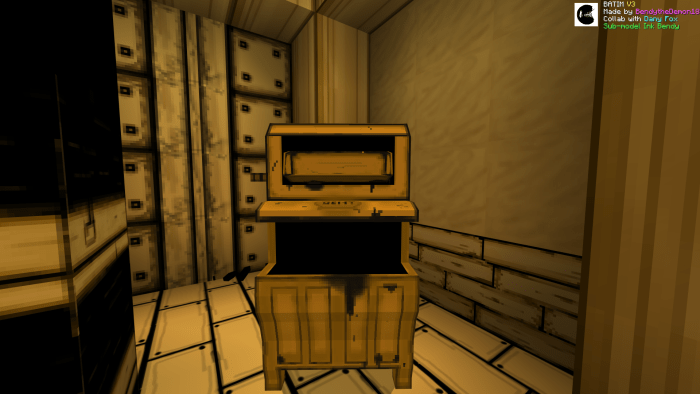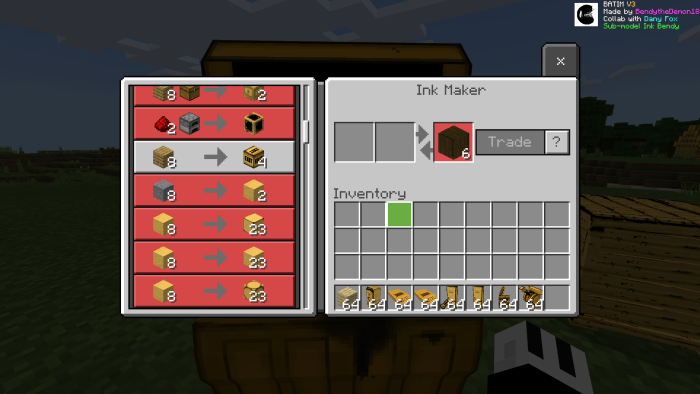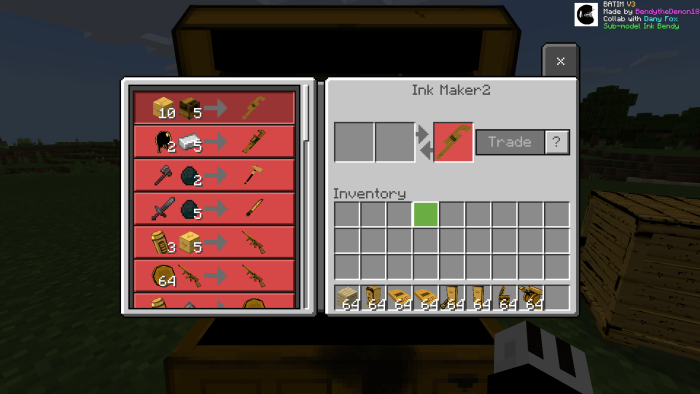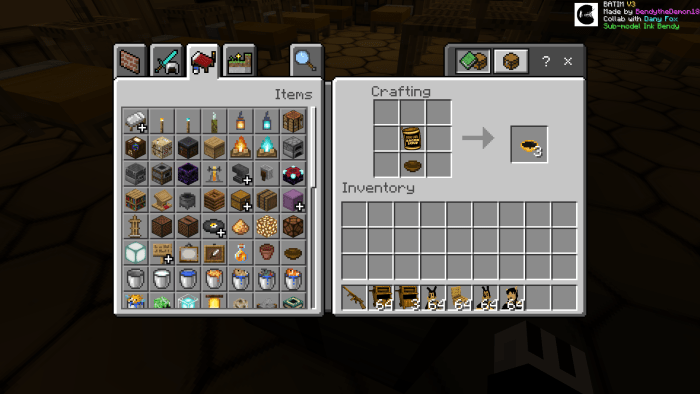 Morph
Here is the Ink Bendy morph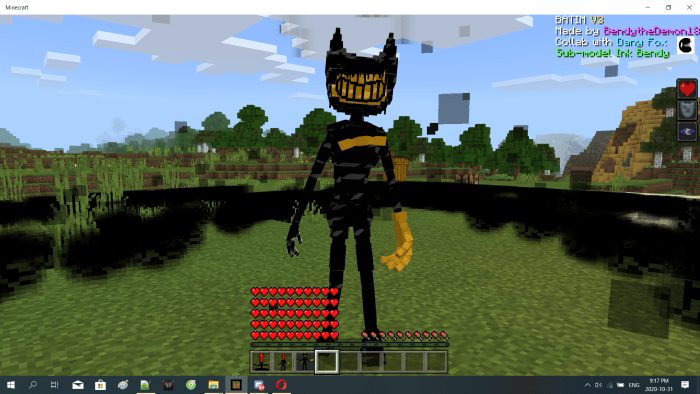 Boris Morph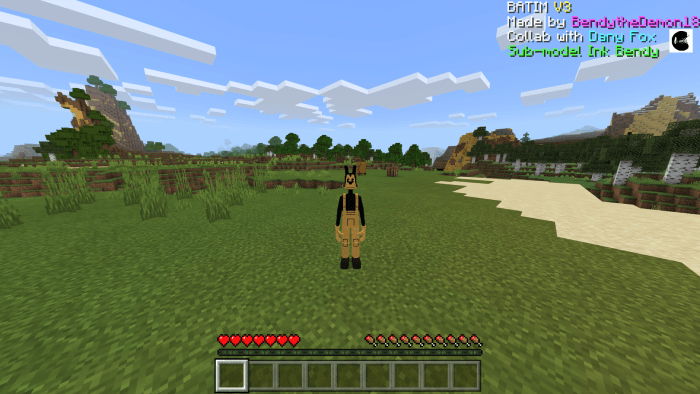 Beast Bendy morph




Bendy toon morph


The ritual: A fancy way to summon the Ink Demon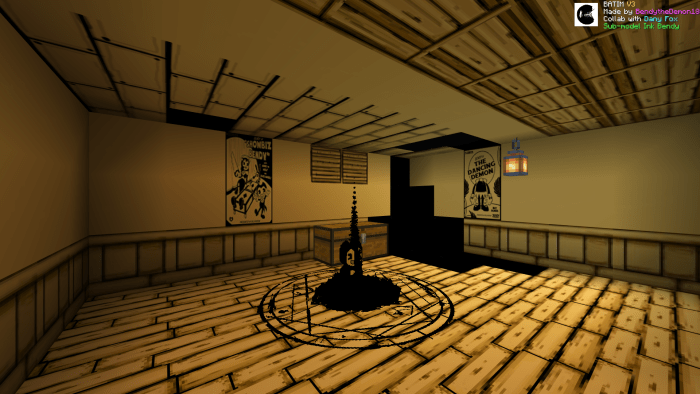 I might add more morph in the future




If the particles make your game lag, then you can follow this gift to change the setting
Credit:
Thanks to MACHINE_BUILDER for the Feature Rules Generator

Thanks to Ink Bendy for the table, chair ink machine plushies model projector

Thank to Dany Fox for the mobs model

Code behavior some texture model, animation by BendytheDemon18
Music by CG5 and TryHardNinja, Lil Nas X
Ambient and music from radio from the original game
Download the original game:https://joeydrewstudios.com/batim
Also not every mob is shown in the article, some of them are secret so you need to find it
TURN ON EXPERIMENTAL MODE TO GET THE ITEMS AND OTHER FEATURES
WE PUT WAY TOO MUCH EFFORT INTO THIS ADDON
THE TRAILER OF THE ADDON:




IF YOU USE MY ADDON FOR YOUR YOUTUBE CHANNEL PLS GIVE ME CREDITS, YOU CAN'T EDIT THE CODE OF THE ADDON IF YOU WANT TO LEARN DON'T COPY AND PASTE. FIND OUT HOW IT WORK
This addon tooks 8 months to finished
PLS READ THE WHOLE DESCRIPTION BEFORE DOWNLOAD
Select version for changelog:

Changelog
Added more blocks 3D blocks
Added 2 more morph
Changed some of the item to 1.16.201 format
Nerf some mobs
Installation
Xbox: To get through AdF.ly, open this file through your phone or tablet, get through AdF.ly, and to the MediaFire link. Copy that link to Xbox's browser to download it. you need to download the zip file.
Phone or Tablet ( iOS and Android ): Simply get through AdF.ly, by waiting 5 seconds and tap "Skip Ads", you will be taken to MediaFire. There, just download it and open it in Minecraft!
or watch this video: https://www.youtube.com/embed/MFKO1HdwTlE&t=95s