Have you ever wanted Java Edition's christmas chests? Well I've gotcha covered! This texture pack makes you use Java Edition's Christmas Chests in Minecraft Bedrock and Pocket Edition! Hope you enjoy!

Normal Chests
Very nice and looks like a present! In this texture pack normal chest and Double chests have different textures!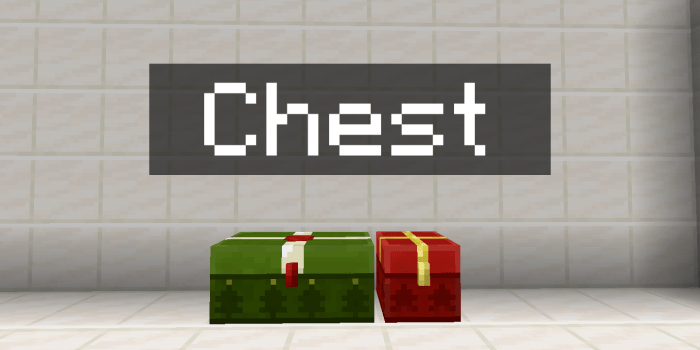 Trapped Chests
This texture pack makes you identify whether its a normal chest or trapped one! c'mon man, Tts christmas so no trolling today!

1. Don't claim that this texture pack as yours!
Don't claim it as your own texture pack or claim that you made it!
2. Don't reupload to any other websites!
Don't reupload texure pack this to another website! You can only find this on McpeDL.. If you found this texture pack on a different app/website, contact me!
3. Don't redistribute the download link!
If you are going to share this to your friends, make a YouTube video or something else, please give the McpeDL Page Link to the texture pack instead!
4. Enjoy the texture pack!
I hope you have fun with it! If you have any suggestions, bug reports, or just give feedback on the texture pack.. just comment down below!

@fireliteyt_ - Twitter
FireliteYT#6976 - Discord

(These textures are from Minecraft Java Edition, All credits to Mojang)
MORE INFO ABOUT CHRISTMAS CHESTS (Java Edition)
On December 24–26, chests, Ender chests, large chests, and their trapped chest counterparts have their textures changed to "Christmas chests" that look like wrapped Christmas presents. Since the game uses the date shown on the computer, players can access the Christmas chest textures at any time by changing the date and time on their computers to 24–26 of December in Minecraft Java Edition (Source: Official Minecraft Wiki)
Select version for changelog:

Changelog
• Removed all download links and replaced with a new one.