One year since this addon was created, I am rereleasing it to work on the current version of Minecraft!
So, one year on, it's nearing Christmas again, so treat yourselves to the Christmas Presents addon!

There are 4 variants, each with different wrapping colour and ribbon.
All the variants drop the same things, here are the possible reward:
Up to 8 cookies
Up to 4 coal
Up to 1 cake
Up to 4 gold nuggets
Up to 2 bread
Presents can be found spawning randomly in all snow biomes, they are a great source of resources for any winter explorers! They can also be used as decorations for festive builds.
Please subscribe to my YouTube channel for more content…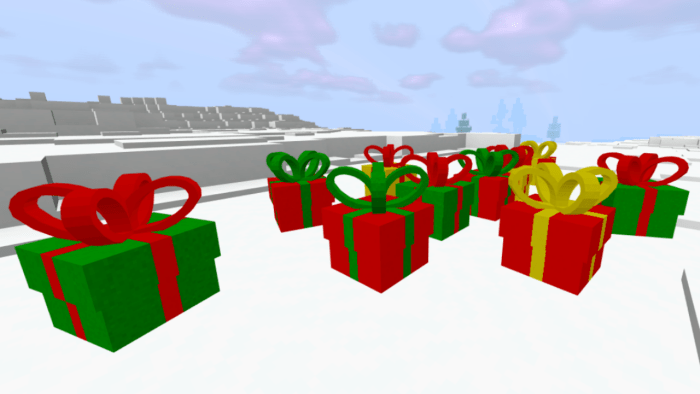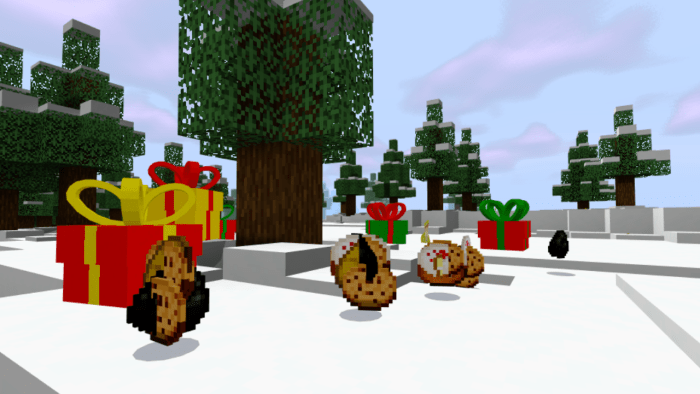 Please give credit when reviewing this addon or using in a video.
Merry Christmas!
Select version for changelog:

Changelog
Edited description so that it is not identical to the previous (broken) submission.
Installation
Download the two MCPACK files provided
Put them onto device via USB if they aren't already downloaded on the device
Make sure Minecraft Bedrock Edition is installed and updated to at least 1.8
Go into the device's files
Open the two MCPACK files
They will auto-import into the game
Go on the resource/behavior pack settings in-game
Activate the files as shown in the description