The Commander Boss Machine Addon implements a new boss to the game as well as some other additional mobs and items. The boss entity is extremely powerful, so make sure that you have powerful weapons, plenty of food and a strong armor before fighting it. Just like the Command Block, this mob has abilities such as summoning entities, projectiles and even teleport.
How does it work?
The Commander Boss Machine spawns in the Overworld as it replaces the Creeper. You can also spawn it manually by using the Creeper Spawn Egg.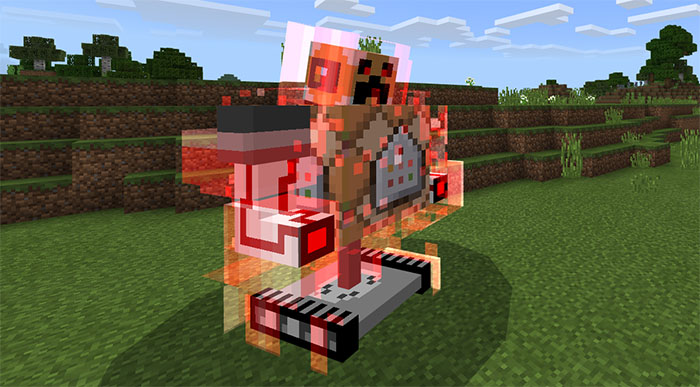 The boss has several different attacks which it will use as attempts to kill its target(s). It can spawn entities, teleport and a whole bunch of things (see more info further down).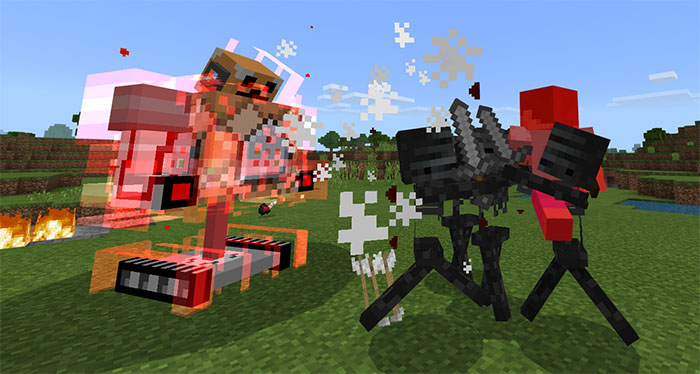 Also the Pig has been replaced by an Explosive Pig which wears a block of TNT on its back. The Explosive Pig is hostile toward players and will explode upon contact.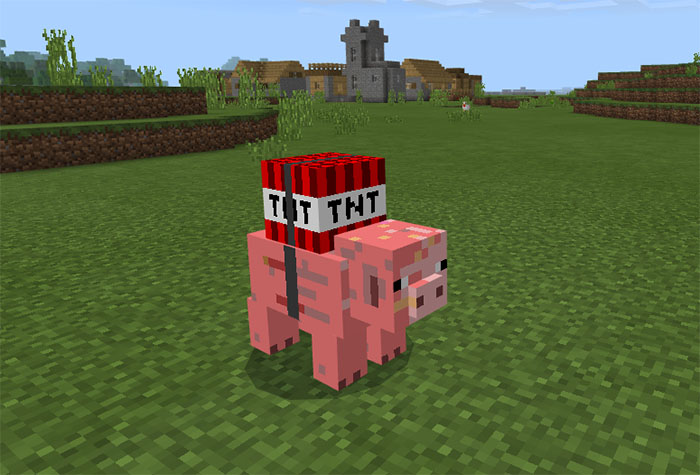 There are more features to be explored with this add-on. Check out the features list further down!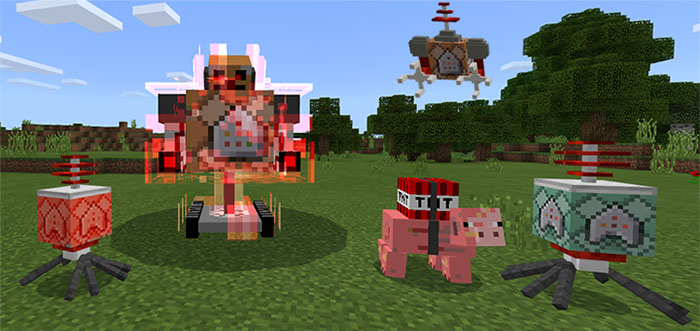 Features
Mobs

Commander Boss Machine

Replaces Creeper
Summons lighting bolt sometimes
Summons projectiles (arrows, fireballs and chemical projectiles)
Summons entities (zombies, husks, wither skeletons and exploding pigs)
Teleports sometimes
Melee attacks sometimes
Health: 1000
Automatically charged once spawned
Creeper egg is replaced by a command block (looking egg)

Explosive Pig

Replaces Pig
Charges toward players and explode on contact

Zombie Pigman

18 Hearts
Has effects the same as the effects of command sword
Stronger

Mutant Silverfish

Replaces silverfish
8 Hearts
Causes fatal poison to player
Larger in size

Commandborg

Replaces vex
5 hearts
Has almost the same behavior as the normal vex

Commandbot

Replaces spider
8 hearts
Becomes lightning bolt when it gets more damages

Red Commandbot

Replaces cave spider
8 hearts
Explodes when it gets more damage.

Command Egg

Summons either Commandbot or Red Commandbot

Weapons / Items

Command Sword

This item will help the player to fight the boss and its entities
Increases players speed
Doubles the player's health
Causes effects (absorption, strength, resistance, fire resistance, jump boost)
Note from The Commander Creeper:
If you are going to feature my add-on in YouTube, make sure to credit me and don't claim that the creator of this add-on is you.


For those who are interested to donate money for my Minecraft creations. You can donate your money here at my PayPal link:
Video Showcase

Select version for changelog:

Changelog
The download link for this addon is now changed to Linkvertise.