This is Epcot Center, a custom recreation of the Walt Disney World park from the 1980's by Mickeynerd17 Productions, giving a Minecraft twist to the Iconic Experimental Prototype Community Of Tomorrow.
Explore the wonders of the future as envisioned in the 1980's Disney style in this permanent world's fair. The park is divided into two sections, Future World and World Showcase, with the former being about future technologies and the latter about the unique and diverse cultures of our planet. Step into one of eight pavilions in Future World where you'll learn about what the future holds in different themes, ranging from communications to transportation, under the sea and in outer space, and into the farthest reaches of imagination, the possibilities are endless! Come and explore today!
This map has been my personal endeavor for over 2 years. Ever since I discovered the past version of the theme park I love most, Epcot, as it looked in 1989 with all the original pavilions, I have always wanted to build my own version to enjoy and modify. Since starting this project in January 2018, I have slowly shaped a flat Minecraft world into the masterpiece you see today. Each pavilion was handcrafted with precision and care over the course of months to reflect their real-life counterparts, while displaying a Minecraft twist that lives up to a quality experience any guest would expect. Now, I want to share my hard work with the world, so everyone can experience the EPCOT Center of the past, and enjoy the promise of a bright future!
Thanks for checking out my map, and welcome to the 21st century!
Be Sure to follow my social media!
Instagram: Mickeynerd17_Productions
YouTube: Mickeynerd17_Productions
Park Map: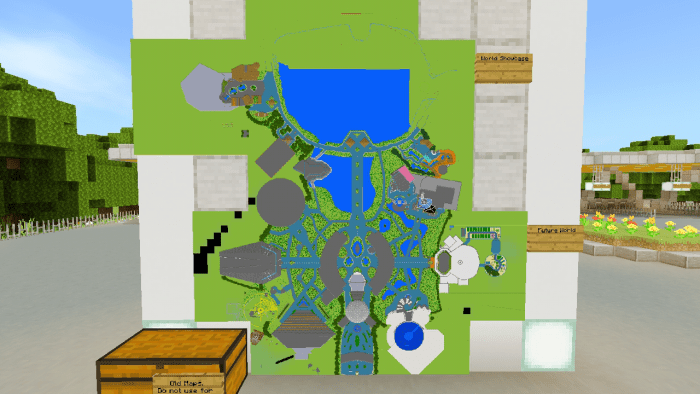 Photos of the pavilions:
FUTURE WORLD:
Spaceship Earth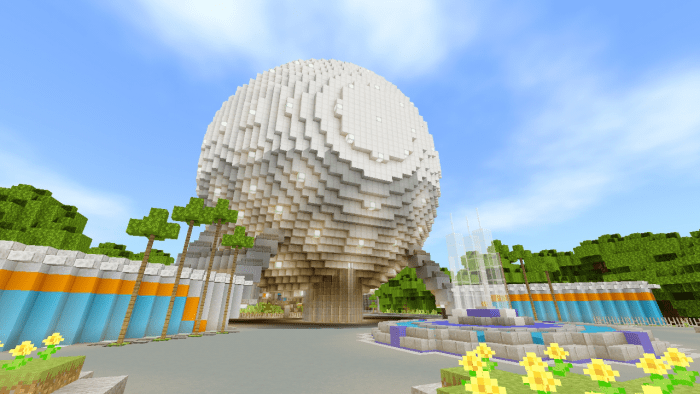 Future World East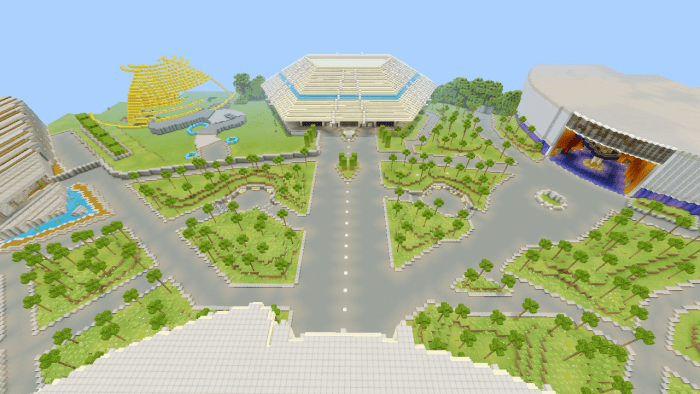 Universe of Energy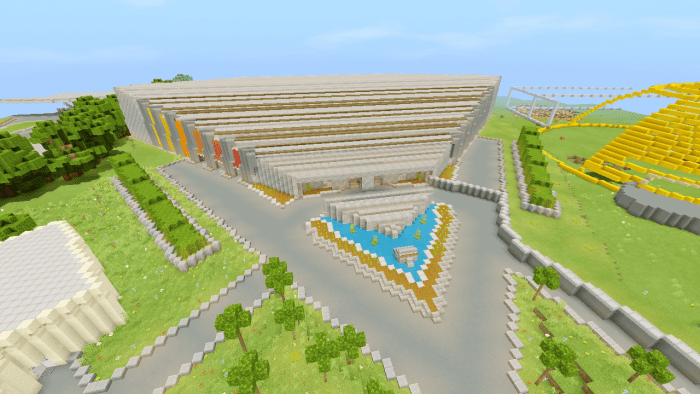 Horizons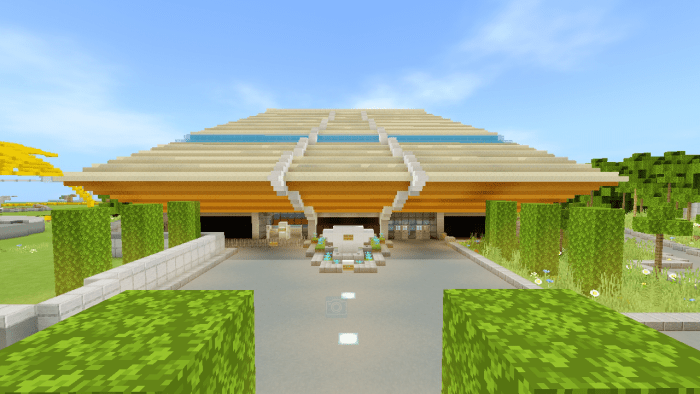 World of Motion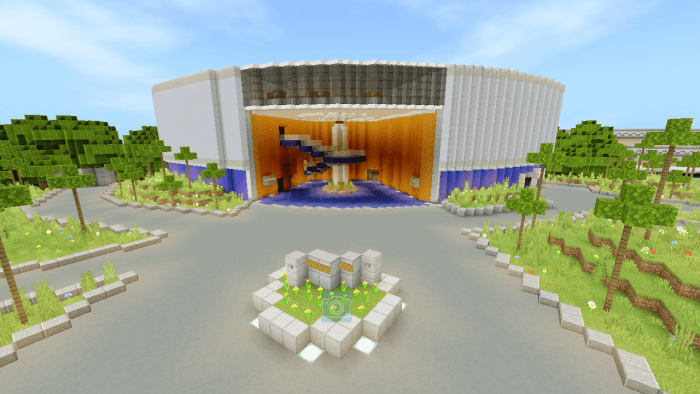 Communicore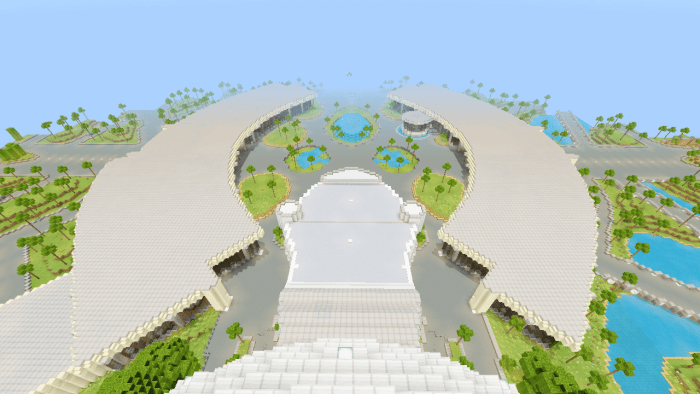 Journey into Imagination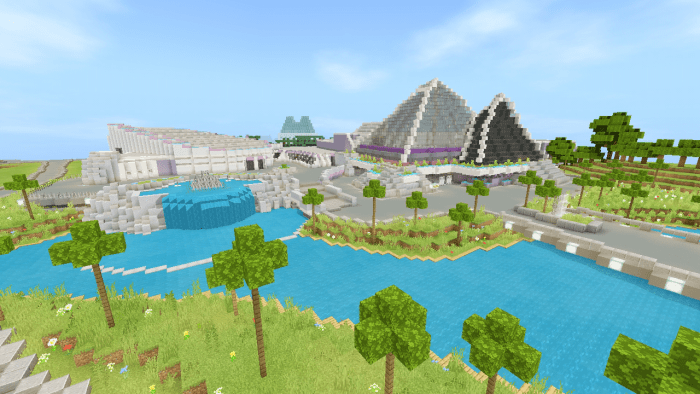 The Land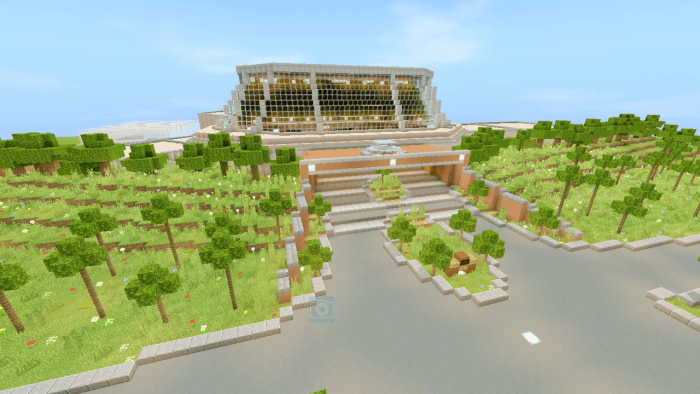 The Living Seas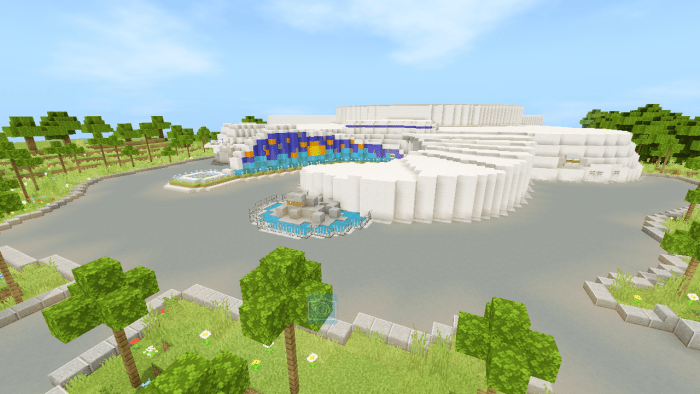 The Odyssey Restaurant
WORLD SHOWCASE:
Mexico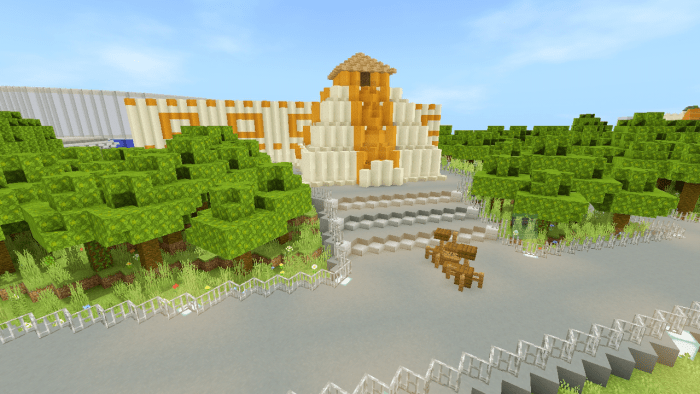 Canada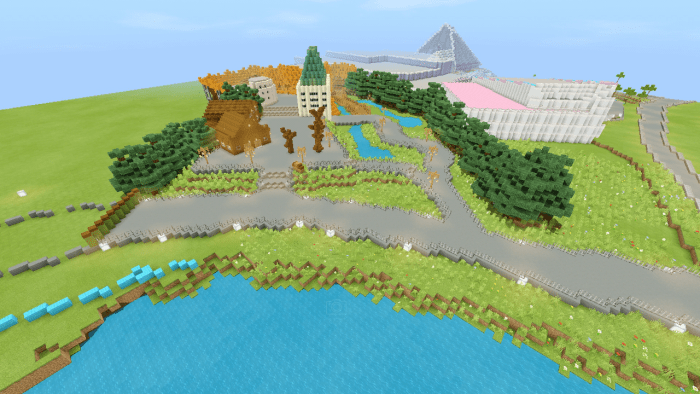 Norway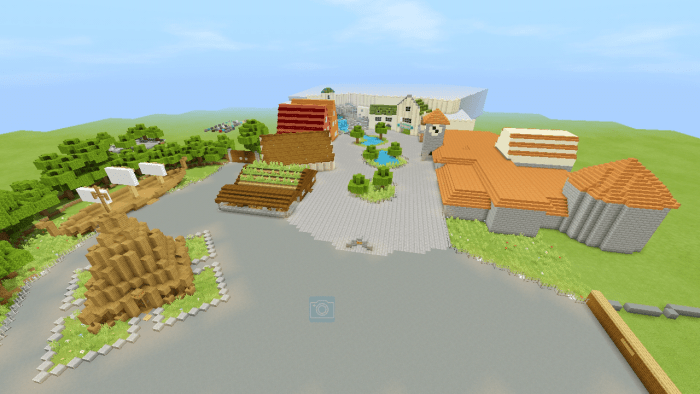 Transformed Future World pathways and added landscaping and palm trees to increase realism and to make the park more beautiful.
Overhauled central spine with new fountain and gardens.
Added Norway to World Showcase featuring the park's first thrill ride, Maelstrom, a High Seas Norwegian Adventure.
Enhanced a scene in Imagination to better reflect the real life version.
Revamped queue for Spaceship Earth, adding new planters along the sides of the building.
Small modifications to the front entrance gardens.
Began construction on Wonders of Life, to be finished in a future version.
Added three VIP Lounges.
Plus general upkeep and improvements to all pavilions.
Version 8.5
Apparently there was an issue with downloading from the MCPEDL app that required me to reupload the map. This hopefully should fix it
Three months of waiting is finally going to pay off. Thank you for your patience!
Our first World Showcase pavilions are now open!
Canada: "From a Northwest Indian Village to a 19th century French chateau and the winding, narrow streets of Quebec City, the remarkable diversity of Canadian cultures and the awesome majesty of the wilderness are captured in the Canada pavilion." Beautifully created in Minecraft, it features shops and the O' Canada CircleVision film.
Mexico: "Within the majestic pyramid of the Mexico pavilion lie the relics of lost civilizations together with the bold new emblems of a country moving proudly into it's future. You'll enter a lakeside village plaza complete with colorful shops and a restaurant featuring the famed cuisine ofe Mexico City's incomparable San Angel Inn."
Handcrafted in Minecraft, this pavilion features shops and a restaurant. El Rio Di Tiempo takes you on a cruise through Mexico's rich heritage.
Port of Entry added, including World Traveler and the World Showcase preview Center.
Spaceship Earth overhaul with refreshed scenes and post show.

Redid entrance planters and fountain to better reflect real-life counterparts.
Park-wide enhancements.
Follow my Instagram (mickeynerd17_productions) for daily updates on the next version. Thank You!
Communicore is heavily redone, including restructuring and expansion of the buildings. Added more exhibits and a second restaurant. Moved the computer revue across the plaza and renamed it Backstage Magic. New Energy Exchange added. Expanded Centorium.
Phase 3 of the map is now in progress! We are officially announcing:
WORLD SHOWCASE
Yes! It's what you've been waiting for forever, and it's finally happening! The world showcase project has begun starting with a new Odyssey Restaurant. New lake has been installed with the pedestrian bridge and Port of Entry opening in the next version. 
Added another VIP Lounge.
Stay tuned for some big updates! :)
[Version 6]
Overhauled Horizons, adding new scenes to better fit with the real-life ride plus overall refresh of scenes.
Rebuilt Energy from the ground up featuring new scenes to better convey the message of the pavilion and currently has the most detailed scene I've built yet! I promise Energy Exchange will return soon....
Redid the roofs of Camera Center and Gateway Gifts plus added new paint.
Added palm trees and more foliage around the park to give it more life.
Added more seating in Communicore and improved lighting.
Select pavilions now feature hidden VIP lounges! Accessible by secret doors, they provide comfy seating, conference rooms, spectacular views of the park, special ride access, and cool secrets dating back to previous map versions. More lounges may be added in the future....
General refresh of all pavilions to keep up with Minecraft updates.
BIG plans are coming for Version 7, so stay tuned! Have a magical day!
Version 5 is finally out!! Extremely sorry for the long wait, but you'll love what's in store!
Rebuilt Land, Seas, and Motion from the ground up with better building techniques to better portray the message of each pavilion
Refreshed the center of the park to make it more green and natural, while still keeping the uniformity of the park
Minor updates to remaining pavilions to keep up with Minecraft updates
Redone Fountain view Cafe
Added more places to eat in the park.
Redid some paths to make the park more open
Added End Adventure
Added Journey into Imagination
General park improvements
Added barrier blocks to all fences and queues
Minor updates to all pavilions
Significantly overhauled Spaceship Earth and Communicore
Minor aesthetic updates
Minor updates to all pavilions
Added Horizons
Added The Land
New color schemes on some pavilions
New Grand Staircase on Motion
Added The Odyssey 
Removed Epcot Polling Center
Added FountainView Cafe
Installation
If the .Mcworld file does not work, here are the steps to play.
1. Find the file
2. Rename to .zip
3. Unzip file and put unzipped file in minecraftWorlds folder
4. Restart Minecraft
Sorry about the issues, if this does not work, please say so in the comments so I can work out a fix for the next version. 
Thank You!
NOTE: I have double checked the file and it works for my device. Should be fixed now.
Downloads
Supported Minecraft versions
1.16