This add-on provides you with 80 new different food items to place down as decoration, and just like the "Place me!!!" add-on you can place every single one of them down! The best part is, it's compatible with it! You can use these in banquet halls, dining tables, kitchens, etc. All the more to make your minecraft worlds decorative. Note that 50 of 80 items in this add-on are edible, so have fun eating away!
Items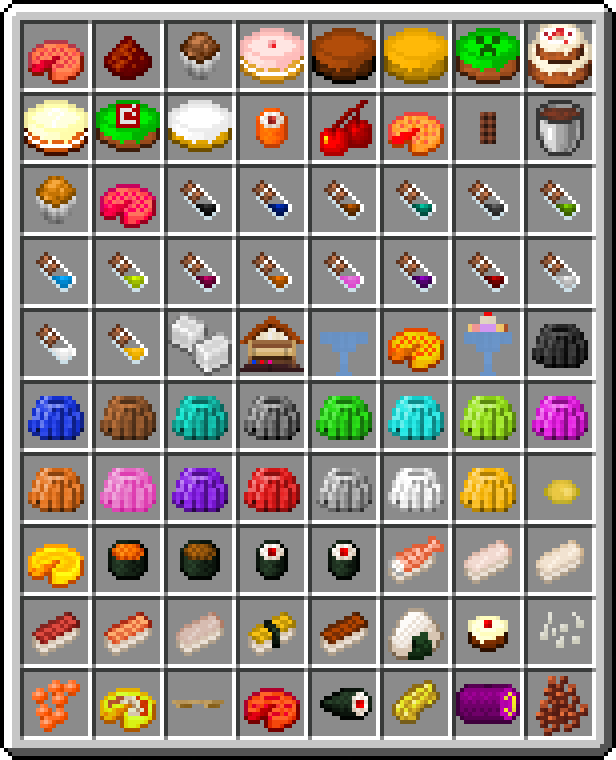 All added items include:
Apple pie
Brown sugar
Brownie
Cherry cake
Chocolate cake
Citrus cake
Creeper cake
Layered cake
Lucky cake
Minecraft cake
Sponge cake
California roll
Cherry
Cherry pie
Chocolate
Chocolate milk
Cupcake
Enchanted apple pie
Black food color
Blue food color
Brown food color
Cyan food color
Gray food color
Green food color
Light blue food color
Lime food color
Magenta food color
Orange food color
Pink food color
Purple food color
Red food color
Silver food color
White food color
Yellow food color
Gelatin
Gingerbread house
Goblet
Golden apple pie
Ice cream goblet
Black jello
Blue jello
Brown jello
Cyan jello
Gray jello
Green jello
Light blue jello
Lime jello
Magenta jello
Orange jello
Pink jello
Purple jello
Red jello
Silver jello
White jello
Yellow jello
Lemon
Lemon pie
Ikura gunkan maki (caviar battle-ship roll)
Uni gunkan maki (sea urchin battle-ship roll)
Maguro maki (tuna roll)
Sake maki (salmon roll)
Ebi nigiri (shrimp sushi)
Fugu nigiri (pufferfish sushi)
Hirame nigiri (flounder sushi)
Maguro nigiri (tuna sushi)
Sake nigiri (salmon sushi)
Tako nigiri (octopus sushi)
Tamago nigiri (egg sushi)
Unagi nigiri (eel sushi)
Onigiri (rice ball)
Pudding
Rice
Salmon roe
Seafood pie
Sushi tray
Sweet berry pie
Tamagoyaki (rolled egg)
Temaki (hand-rolled sushi)
Ube roll
Urchin roe

Blocks
All new added blocks include:
Cherry log
Lemon log
Cherry leaves
Lemon leaves
Cherry planks
Lemon planks
Entities
All new added entities include: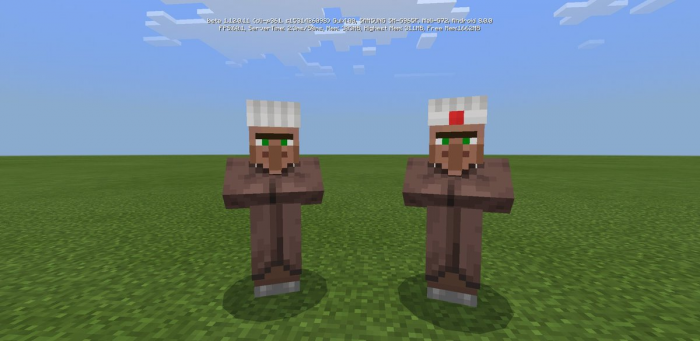 Cook
Trades new food items with you along with new ingredients to make them
Available in all 6 biomes
Itamae
Trades sushi and a few ingredients related to making sushi with you
Available in all 6 biomes
Sea urchin
Touching near it kills any entity within seconds
spawns in "Urchin roe" items under the condition of being underwater and away from any river and ocean
Available in 4 variants and 3 sizes
Item ground (food)
The same item from "Place me!!!" add-on that allows you to turn the custom items 3D making them placeable
You can take back the 3D item by killing this entity
When interacted with any cake from this add-on, it allows you to take it back by interacting with it or hurt this entity to let it fill up your hunger bar, 7 slices like the vanilla minecraft cake. The same function goes for the "Ube roll" and the "Gingerbread house".
See here how eating the custom pastry works!
When interacted with the "Sushi tray", you can interact it with any sushi from the add-on, up to 8 times for some variants of sushi.
See here how placing and taking sushi to and from the sushi tray!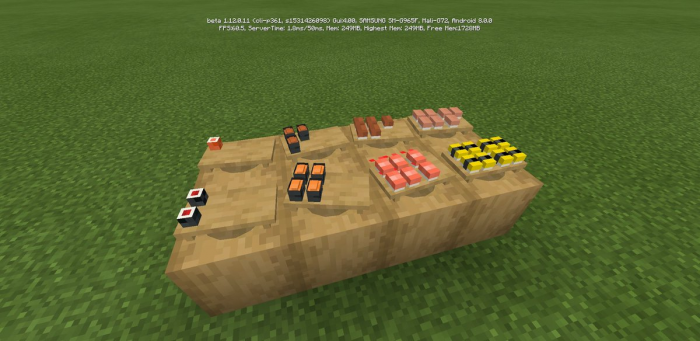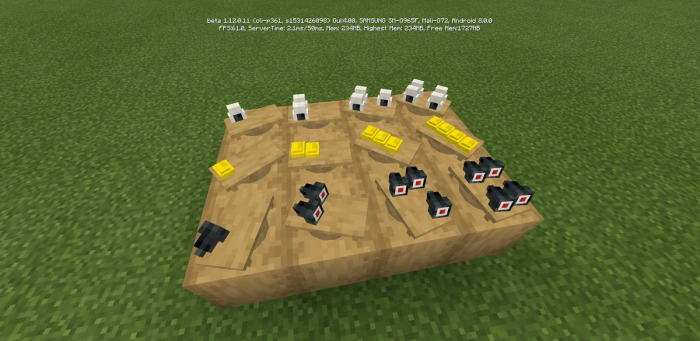 Custom trees

Cherry tree
Found in forests
Distinct pink leaves
Leaves drop cherries
Lemon tree
Found in forests
Dark green leaves
Leaves drop lemons
Changes
Salmon
Spawns the custom item "Salmon roe" under the same conditions as the "Sea urchin" mob
Nothing else major
Select version for changelog:

Changelog
Added 80 new items, no longer uses spawn eggs
Deleted the vanilla items such as bread, steak, cookies, They have been relocated in the "Place me!!!" add-on.
Added 4 new entities
Added 6 new blocks to benefit 2 new fruits
Added 2 new custom structures, uses the new added blocks
Installation
This add-on is updated to the latest beta.
Do not use this add-on to mislead other people such as clickbait and other misleading titles, especially to earn money off of this content.
Don't use your own link, use the proper link on MCPEDL