Greetings!In this addon, you will witness a Jetpack! which is a device worn over the shoulders like a backpack and enabling the wearer to travel through the air or space by means of jet propulsion.

Special thanks to: justAsh01

Preview the models:
Craftable in Survival with this recipe:
The Jetpack now needs fuels!:
In-game looking:
The Jetpack has 20HP, which is the same to Player.
The Jetpack has fall damage immunized, which means you will take no damage from falling while using it!
The Jetpack will drop itself (item) for you to respawn it when get destroyed.
The Jetpack needs fuels for a 10-minute-trip!
How to Control the Jetpack?
Get in the Jetpack and press jump (hold) to fly up, release to fly down.
Note: Please Enable Holiday Creator Features & Additional Modding Capabilities for the addon.
This addon now works with other addons since it does not use player.json anymore!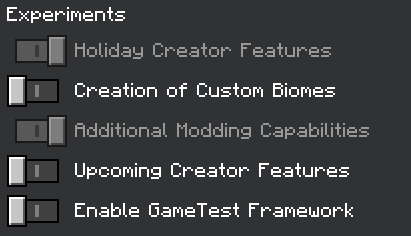 Select version for changelog:

Changelog
Updated Fuels & Fuels System.
Modified The Jetpack! It moves slowly without fuels and get back to the speed when filled.