Battle your friends in an ever-changing arena!
With 4 standard classes and 4 SPECIAL classes, there is plenty to choose from!
Never again will you be bored when fighting other people, since now, you can battle with axes, potions, wolves, and even fire pearls!
Just wait! It even gets better! Along with these astounding features, you can also do other things that not even server Kit Pvps do; Mining and collecting!
That's right, in this version, killing people gives money, and there are gold mines all across the map! Make sure to control them all!
Keep reading the description for even more information, since this is less than 39% of all the features.
Everything you need to know about this Kit PvP is here!
From hyper-strategic PvP plays to running and scavenging for gold, nothing beats this Kit PvP. Without a single addon or function pack, you don't need to download anything, and it will work for years to come! Perfect if you're hosting it as a server!
Oh? Did I forget to mention, this Kit PvP has long-term progression systems to keep both you and your friends playing for a while! This isn't all! There are over 5 different features to be listed below. (20 if you count all features!)
Cool things about Kit PvP!
Can host up to 11 players
Advanced kill tracking system (if you kill someone with a bow, and someone else is closer, you will get the kill, not the closer person)
Items (except for gold and boosts) are not lost on death.
Choose one of the 6 funny emotes to display when you defeat someone!
Select 1 of the 4 default classes which are affected by upgrades and each cover a special niche.
Go to the backroom to upgrade each piece of your armor and weapon up to 3 times!
Or, go in the back to select an emote or one of the 4 special classes
Sell your gold in the gold crafting room
Jump on the launcher to get shot up to 112 blocks! (in record time too!)
FIght in a complex but compact arena, with places for every class
Use all 4 main classes! Each one can be upgraded!

Looking for something unique? We got that too!

The prospector- Moves at crazy speeds, and generates gold (gets extra gold from kills)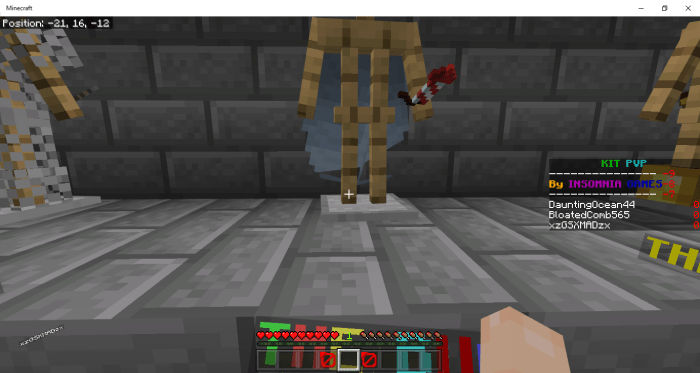 The bug- Grants the ability to fly and ambush- At the cost of health and resistance (Also has the second-highest DPS!)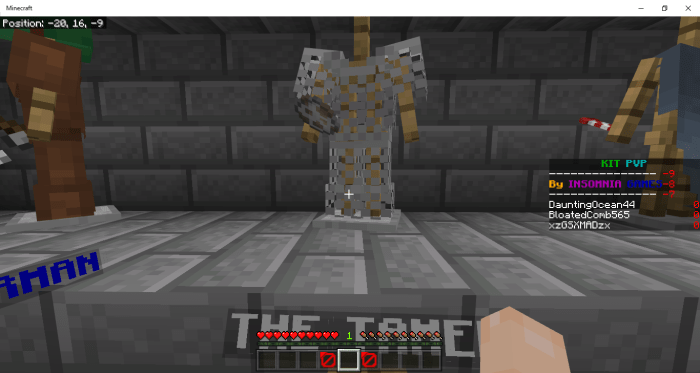 The Tamer- Master of the wolves, with high health, it's already strong, but with its wolf pets, nothing can stop it! (Wolves actively seek out enemy players that are not Tamers)

The Fisherman- Get over here! The fisherman doesn't let anyone escape without a life, which is great for stealing kills and reaping people with lots of gold!
Don't forget about the arena!


Installation
Here's how to download this world. 
First, press the "Download Kit PvP Arena v1.1" or "Download Kit PvP Arena v1.1 (Zip)" Depending on which one you want. 
You then be taken to Mediafire, which from there, either press FREE ACCESS or ACCESS WITH PREMIUM. Once you have pressed that, scroll up and complete the read article task. To do this, open the task, wait 10 seconds, and then close it. Then you can press the button below that will take you to the download page. Press the blue download button in the black box.
When you do this, make sure the file is a .mcworld, and press the open world / open file in the very bottom corner. This will import it into one of your Minecraft worlds. Open it, and voila! You have your mcworld!
Make sure to invite your friends over!
Enjoy!