This addon adds more than 40 unique mobs from Minecraft Earth into the game with their original models, textures, animations, and sounds. Includes mobs such as the Glow Squid, Moobloom, Cluckshroom, and Jolly Llama. This addon will be updated to include more features from Minecraft Earth.
Addon created by BrandonItaly. (Twitter)
All of the mobs included in this addon have the possibility to spawn naturally throughout your world. They also have the ability to blink!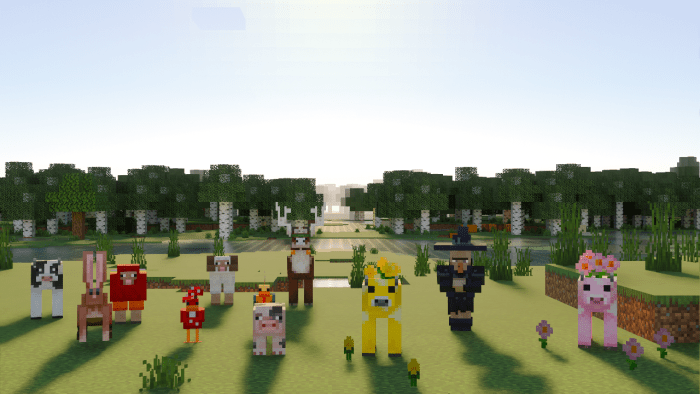 This addon includes all of the following mobs and items:
Cows:

Moobloom
Moolip
Wooly Cow
Umbra Cow
Ashen Cow
Albino Cow
Dairy Cow
Sunset Cow
Pinto Cow
Cream Cow
Cookie Cow
Sheep:

Rocky Sheep
Patched Sheep
Long Nosed Sheep
Inky Sheep
Fuzzy Sheep
Flecked Sheep
Rainbow Sheep
Horned Sheep
Pigs:

Mottled Pig
Spotted Pig
Pink Footed Pig
Sooty Pig
Piebald Pig
Pale Pig
Muddy Pig
Chickens:

Skewbald Chicken
Stormy Chicken
Amber Chicken
Bronzed Chicken
Cluckshroom
Fancy Chicken
Midnight Chicken
Gold Crested Chicken
Rabbits:

Muddy Foot Rabbit
Vested Rabbit
Harelequin Rabbit
Freckled Rabbit
Bold Striped Rabbit
Jumbo Rabbit
Other Mobs:

Jolly Llama
Melon Golem
Skeleton Wolf
Tropical Slime
Bone Spider
Glow Squid
Furnace Golem
Viler Witch
This addon also includes the following items and blocks:

Buttercup
Pink Daisy
Fancy Feather
Horn
Rainbow Bed
Rainbow Wool
Rainbow Carpet
Select version for changelog:

Changelog
Removed the Glow Squid
Added prancing animations to the Jolly Llama
Added Rainbow Wool, Rainbow Carpet, and the Rainbow Bed to the Creative Inventory
Decreased the spawn rate of the Bone Spider as it was spawning too commonly
Fixed an issue that caused the Ocelot to be invisible
Fixed an issue that caused Tropical Fish to use the incorrect textures
Fixed an issue that caused the Witch to use the incorrect animations
Fixed an issue that allowed the Rainbow Sheep to be sheared infinitely
Installation
This addon requires experimental gameplay to function properly!