Are your friends trolled you and you want to take revenge? Then download this addon and let them join your world then do 2 simple commands then boom! you have successfully rick roll them check the description for more information about this addon
hope you like it!
Credit
Before I start here's a quick credit to KyleRifqi for allowing me to modify his addon here's the original addon Scare Add-On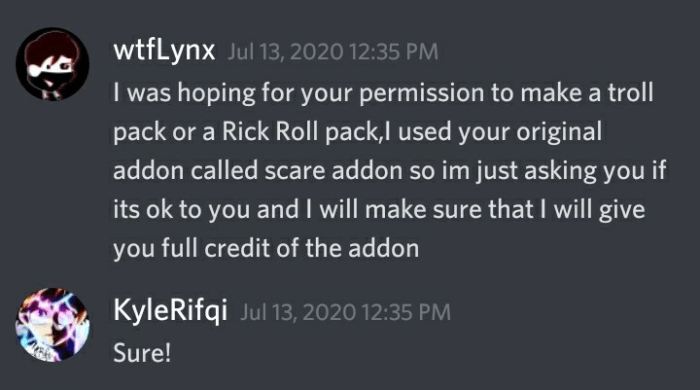 Main Features
So this addon lets you to troll your friends by typing 2 simple commands its so easy after typing the command it will rick roll your victim here's a sample of the troll
Instructions
Are you ready to troll your friends? Then do this step by step
First you have to type this command /tag [victim's name] add troll
Second you have to wait the perfect moment before doing the last step
Lastly type this command /function troll/run
Its so easy right?
Commands
/function troll/run ~ this allows you to troll for those who have the tag troll
/function troll/me ~ this allows you to troll yourself you can use this to troll your viewers on your video or a stream
/function troll/help ~ this will show all the commands on your chat ONLY YOURS so dont be afraid that it will ruin your plan
You are allowed to:
make a video of this addon but you have to credit me
modify this addon but you must contact me via discord or my latest video my discord tag is: wtfLynx#0374
You are not allowed to:
make a video of this addon without giving me credit I have the rights to strike your video
modify this addon without asking for permissions
post this addon on a different websites without asking for permissions
More will be added on the next update
Select version for changelog:

Changelog
Added new troll [Gnome] remove the original texture pack and add this (no need to remove behaviour pack)