Ever wanted to ride bees? No? Well…. now you can anyway! Give them some honey to tame then and you're on your way through the skies to a new adventure!
Bees are now rideable. But you need to tame them first. Tame them with honeycomb, it might take a few tries! Then when you see those loving hearts, you know it's time to ride.
Bees struggle to go uphill when being flown. You are heavy and they are a tiny bee after all. Drag them up a hill with a lead, then set flight over valleys and watch the sunset.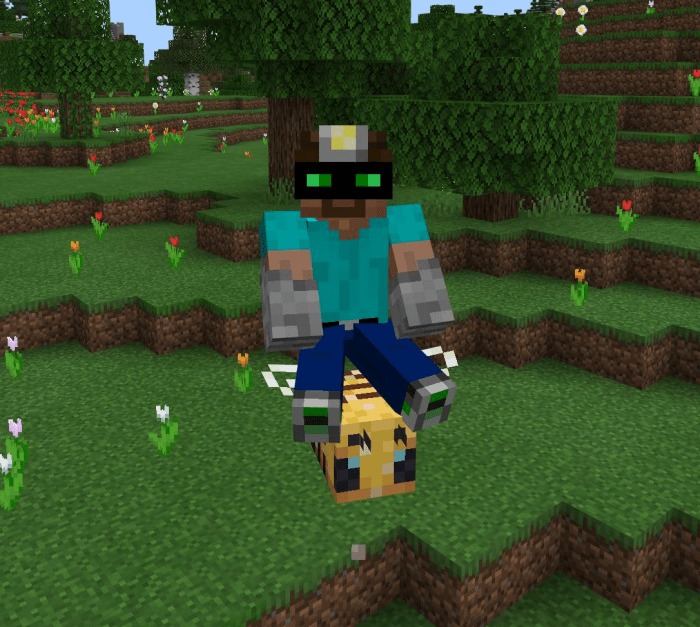 ONLY WORKS ON 1.14.0.1 BETA and above! It modifies the bees in the official release. Not an add entity Bee 😀
Visit www.jigarbov.net for more cool Minecraft stuff… Want to support me? Head over to the Minecraft Marketplace where I do much more than small addons like this including huge adventures and more! Just search for "Jigarbov" 😀
- just fixed the warped bee featured image,
- also fixed the description so i wasnt crying about 1.14 not being selectable
- added a video explaining how it works. It's quite detailed!
Installation
ONLY SUPPORTS 1.14.0.1 BETA +
Install the behavior pack for the rideable bees. Just run it.
The resource pack is so it says the right thing on the action bar to "get off" the bee with jump or sneak. Not required.
Downloads
Supported Minecraft versions
1.14 (beta)