This is my 400 hour Medieval Kingdom project that Ive been working on for 10 months now. Its a 1500x1500 size map with tons of details. The main features are a giant castle with over 200 rooms, passageways, and staircases, 4 villages, and over 100 houses. I originally built it in Java Edition, and Ive converted it to bedrock so more people can play on it. Due to the conversion, there are some minor errors such as redstone doors not working. However, most things converted properly and the map is still playable in whatever game mode you want. If you want to get the full experience, I recommend you play the Java version.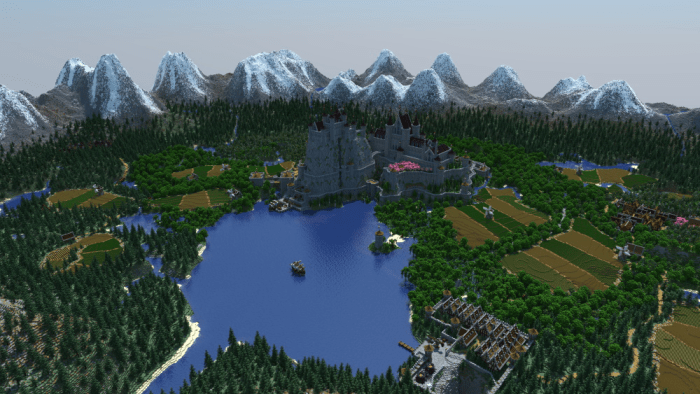 Features:
Approx. 1500x1500 size map
Giant Castle with over 200 rooms, passages, staircases
Over 100 houses
4 Villages, one of which is next to a large mine
Farmlands, windmills, and farm houses
Every building has a full interior, no exceptions.
Fully custom trees and terrain done with world painter and world edit
Sewer systems and catacombs under the main village and castle
So much more stuff I literally can't write all of it out here. Go see the rest for yourself!
Original Map:
https://www.planetminecraft.com/project/snowcoal-s-medieval-kingdom-project/
Disclaimer:
Feel free to do whatever you want with the map after downloading it. Just please credit me and post a link to this post if you feature the map in a video or something, and please don't use it for commercial server purposes (eg. uploading it to a server and then making money off of the server). I don't intend to make any money off of the map either. I built it because I wanted too and no other reason than that.
Select version for changelog:

Changelog
I made a .mcworld zip file from all the files in the world folder and linked a download of that. Im new to doing this on bedrock, so please let me know if there are any other issues.