Yes! Wither storm! Your dream comes true! I bring you this addon come in and see it! 
It has 6 stages you can kill it if you are strong and clever enough.
WITHER STORM! Yes! I brought you the wither storm! This addon restore it greatly! Let me present this addon for you !Wither storm has 6 stages. You can kill it if you are enough strong and clever.
The first stage
It is still a withe .Just with a command block.It is going to kill everything but you can kill it easily.It can shoot wither head and attract blocks.
Health:999999
Strength:1313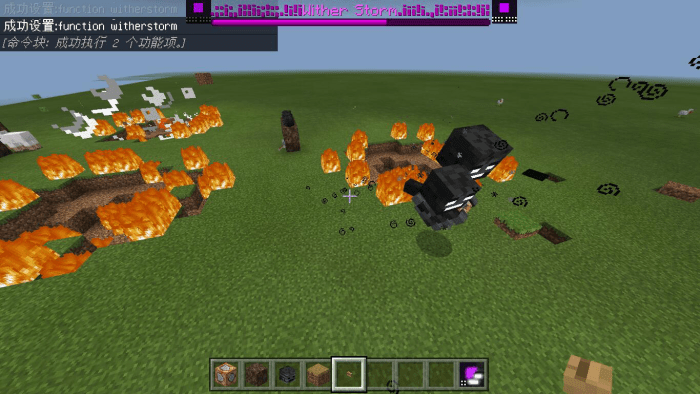 The second stage——The fourth stage
If you don't stop the wither storm in time,it will be packed by some unknown black object slowly.At the fourth stage it will totally grow 3 heads just like wither storm.
Health:999999
Strength:1313
The fifth stage——your final chance
If you want to beat this monster the fifth stage will be your final chance. Now thousands of blocks evolve this monster.The laser from its eyes will kill everything.
Health:999999 999999
Strength:1313
The final stage——end of the world
It is impossible for you to beat this mutant wither.It will also change the weather to thunderstorm.Its mortal loser can kill you quickly as flash.
Health:999999 999999
Strength:1313 1313



How to summon it?
This is a big update of this addon.
You can summon it by summon egg.
But you can also summon it in a special rite.
(press the button, Wither Storm is summoned correctly.)
About ultra drowned
Ultra drowned is chargeable in MC Chinese Edition.
To buy it, download MC Chinese Edition.
(Ultra drowned and wither storm)
About this addon
This addon's creator is not me.My friend 安瑞CN create this addon.I hope you will enjoy it.
IF YOU WANT TO MAKE A VIDEO OF THIS ADDON PLEASE MAEK THE CREATOR'S NAME安瑞CN THANK YOU
About RedBoyGamer
I am sorry that RedboyGamer stole 晚枫歌's idea of wither storm and titan zombie.


(left is 晚枫歌's wither storm and right is Redboygamer's wither storm.their pack_icon is identical. One is made on 2020/03/05,redboygamer's wither storm is made on 2020/03/22.)


(Their files is identical. but redboygamer's files are later than 晚枫歌's)


(So identical.Only their create time is different.So redboygamer steals 晚枫歌's wither storm.)
What about the titan zombie?


(left is redboygamer's titan right is 晚枫歌's titan)


(this is 晚枫歌's code)


(this is redboygamer's.I swear that I don't use the same picture.)
SO WHAT DO YOU WANT TO SAY?
REDBOYGAMER?YOU STEAL 晚枫歌'S IDEA!YOU MADE ME ANGRY AND SICK!
ABOUT 晚枫歌
I will give you 晚枫歌's wither storm and titan zombie. You can compare them with redboy's. He is just a thief and made me angry.
To summon titan zombie use/summon titan:zombie.
I want you to know the fact and the fact is redboy is a thief. He steal our idea and show it proudly. He just translated it to English and don't mark the original creator.
If you watched his channel carefully, you will see that he use Chinese software called MC box(In his video called 'You need a diamond to get it). Titan zombie and wither storm are in MC box too so it gave him chance to steal it.
But Idk why you open the ultra drowned? This addon is made by my friend H2Vwither123 . He is a Chinese and he only submit it in MC box. But you provide free ultra drowned addon while it's for sale in MC box.
STOP REDBOY OR YOU WILL PAY FOR IT.
STOP.
YOU STEAL CHINESE IDEA AND STEAL CHINESE ADDON.
BUT YOU HAVE NO AUTHORIZATION.
It's unbelievable that people like you have fans.
YOU ARE A THIEF REDBOY
YOU ARE A THIEF!!!
Select version for changelog:

Changelog
We fix a lot of bugs and then improve the model of wither storm.
Hope you like it.
Please enable turn on Experimental Gameplay.
Installation