The Coca-Cola Truck finally gets to Bedrock Edition of Minecraft! Introducing fully functional, drivable (4 seats) truck with semi-trailer. The original Cola-Cola Christmas Truck advertisement comes from 1995, up to date this ad has literally gone around the world and today it is quite hard to find someone, who doesn't know about it. So, if you've ever dreamed of getting into the vehicle or driving the truck, this is chance for your dream to come true, through Minecraft.
About
I am always very busy at the end of the year and when it was before Christmas 2018, I just couldn't release it in time (see tweet). So, then I had same objective for 2019, but it also didn't really work out. I really apologize for such a delay. It's more than two months after Christmas now and I have finally prepared the addon for release. But better late, than never, right?
Features
Coca Cola Truck Addon adds two new vehicles (entities) in the game: Coca-Cola Truck and Coca-Cola Semitrailer.

You can attach semitrailer to your truck, when you get near to its hit box (gray circle/shadow). The connection will be made automatically. If you want to disconnect the trailer, you have to kill it (35 lives = 5 hits with diamond sword). Because I wanted the trailer to react to steering, the hit box of the semitrailer has to be only in the front part of the model. So, if you want to kill it, you have to hit it there. Same applies, when you want to open inventory of the semitrailer (27 slots). The vehicles are currently not obtainable in survival mode without cheating. You do not have to enable experimental gameplay.

All features of Coca Cola Truck and Coca Cola Semitrailer can be found in the picture below.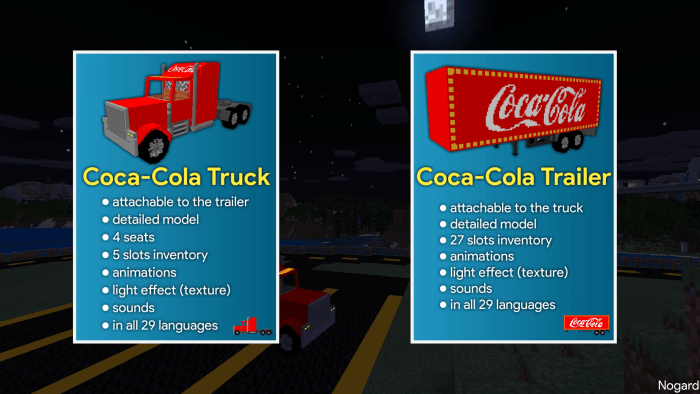 Both vehicles have movement animations, sounds and inventories etc. There is a lot to discover! The addon was also translated in all 29 Minecraft supported languages to make it easy to understand for all the people on the world.
All registered names and trademarks mentioned in Minecraft Addon and Trailer are used only for identification and are the property of their respective owners. (Coca-Cola)
Trailer
Coca Cola Truck Addon Trailer: https://youtube.com/embed//4wT89sxJS2Q
License Terms
All rights reserved. By downloading of this Minecraft addon you agree with these terms. No part of this work may be reproduced or transmitted without author's permission. The person with permission must share the addon only with official download links and credits to author. Illegal distribution of this addon in apps, websites and YouTube videos and earning money from Nogard's ownership will be punished by law. For other ways of sharing and editing the source code, you must contact the author.
Contacts:
Email: [email protected]
Twitter: @Nogard_YT

Select version for changelog:

Changelog
Coca Cola Truck Addon V1.1 Bugfix Update. Fixed error in animation controllers, which could stop animations on the semitrailer. Precised truck's rotation point for the semitrailer. Semitrailer is no longer partially in the truck, when you stop driving. Added suport for Minecraft 1.15.
Edited manifest.json: 
Edited description
Added new UUIDS (no duplication with older version)

Installation
Download Coca Cola Truck Addon.mcaddon, click on the file in a file explorer to import into Minecraft. Importing will occur automatically. Once it is finished, choose a world, go to Add-Ons section and enable resource and behavior pack for the world. When you import one of the packs, the second one should be enabled automatically, thanks to defined dependencies in manifest.json.
Download Coca Cola Truck Addon.mcaddon
If you prefer to download the addon in .zip file, then you have to unzip it. Inside of this package you will find Coca Cola Truck RP.mcpack and Coca Cola Truck BP.mcpack. Import one after another of packs to Minecraft and then do the same procedure for your world as listed above.