Insane combats, shooting and explosions everywhere, tanks, weapons, grenades, and tons of different arenas for take on COMBAT FORCE! Call your friends and let's start this party now! All addons and stuff included.
Welcome to COMBAT FORCE!
You always asked who of your friends is the strongest into the battlefield? Time for test it!
Combat Force have few choices of Weapons, Grenades, and arenas to play, on different ways: Singleplayer and Multiplayer.
Tanks are included on this party, as much Combat Force is an remodelation of a old project called TANK ROYALE, by the same map creator, LucasMegaStriker.
Have also specific arenas called "Warfare Battlezones" intended for be a EXCLUSIVE WEAPON-ONLY arena.
Choose between Military Base, an Brazilian Favela or even a Warehouse for battle!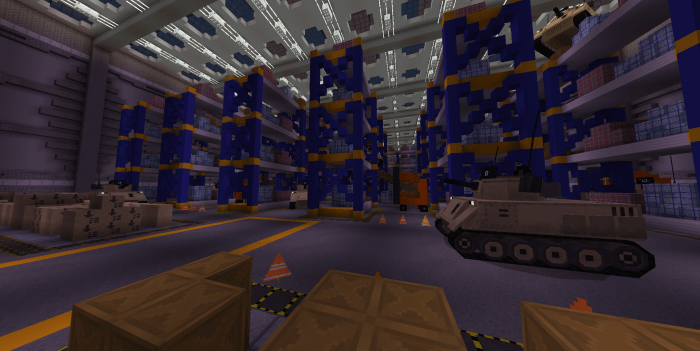 Lots of choices, lots of places, but also, have some mechanics for be learned:
Before starts your match, make sure SET EVERYTHING NEEDED inside the safe zone, when you can EQUIP YOURSELF and set time, weather, etc. And then, CHOOSE A TEAM (A or B) for play. Some of the arenas will have maps for show the spawn places, such as Military Base.
How to use tanks/weapons:
For use the tanks, get closer, and press the ride button. You can shoot cannonballs holding or pressing SHOOT button. For leave, just crouch.
For use the weapons, make sure they have ammo (and you are holding some extra ammo clips for safety) and you just need CROUCH to start shooting. I know isn't very comfortable, but for now is the only way we find to use them.
ALL this project get life thanks by the Actual Guns team (for the weapons resources), MyoHtet (tank addon) and MCPEDL WEBSITE for hosting and sharing our progress along the way. Thank you for downloading, and have fun.
Installation
THIS DOWNLOAD LINK ARE FREE OF ADS, so, just click on download button, relax, and wait your download safely. :)
Working on version 1.12 with experimental gameplay enabled. Most recommended for 1.13+ or more. BEDROCK EDITION ONLY!