The Vampire Addon introduces a few new mobs and items to the game. The mobs include three new vampires which are extremely dangerous. All of them are hostile toward any friendly beings they come across. However, they do have a weakness and that's the daylight. So a great recommendation is to avoid the night and only go out during the day.
Creator: ZachMC
Updated: 17 October, 2017 (updated sounds and textures)
How does it work?
Here is a list of the new mobs and their abilities.
Mobs:
Vampire Source (Zombie): Increased health, attack damage and speed.
Vampire (Husk): Increased health damage and speed.
Vampire Villager (Zombie Villager): Same stats as the source. Use a Potion of Weaknes and the Healing Star (Nether Star) to cure it.
(The vampire textures on the screenshots are outdated.)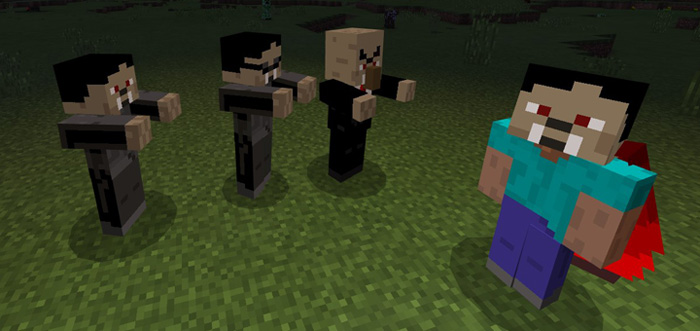 All of the vampires are hostile toward players and friendly mobs. They are incredibly fast so there's really little possibilities being able to escape them.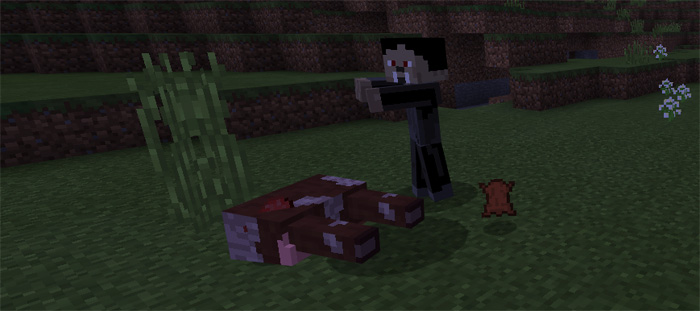 Here is a list of replaced items and their uses.
Items:
Healing Star (Nether Star): Used for curing vampire villagers. Obtained by killing the Forbidden Boss (replaces the Wither Boss).
Vampire's Cape (replaces Elytra): Dropped by vampires.
Storyline
There are legends that dark and strange things rest in the deepest parts of the forest. Some people in a tribe called Shugaruhkadoo do rituals for the powerful and legendary red-eye man with two big teeth. "The Vampire sha-la-lam!"
Installation
Activate the packs for a world in-game