When using a texture pack, sacrifice performance for quality: This shader doesn't add anything new. Instead it removes the limits placed on the default vanilla shader to fix common graphical issues with distant water and plant textures when using certain texture packs, and allows you to set a lower mipmap blur level to keep the details in high-resolution texture packs.
Example 1: John Smith texture pack (water)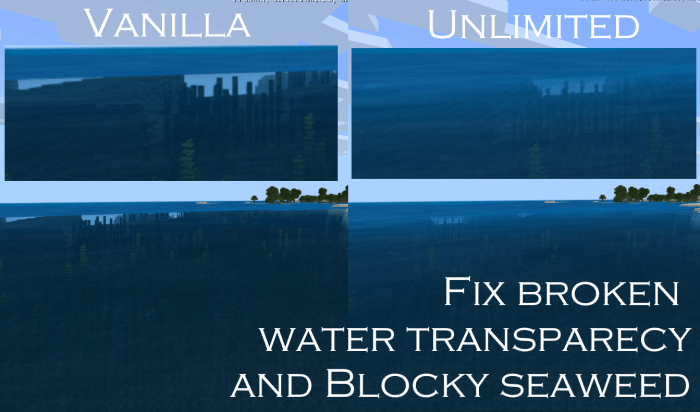 Example 2: Old Quadral texture pack (leaves)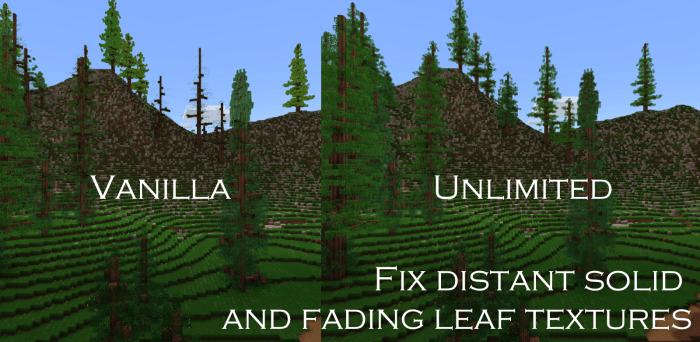 Features
Smooths out the sharp border between transparent and solid distant water that occurs when using certain texture packs
Prevents other blocks with transparency from becoming completely solid when in the distance

Eg: leaves, seaweed, crops, vines don't become blocky

Selectable levels of lowered mipmap blurring that:

Keep the details in high-res texture packs
Prevent blocks with transparency from "fading" (occurs before they become blocky) when using certain texture packs.
Limitations
This shader is made to work on Win10, IOS, and Android. It wont work on any consoles due to the new render engine
Lowering the mipmap level to reduce blurring has the side effects of:

Making distant textures look "noisy"
Increasing the memory usage of the shader

The distance that grass/bamboo/door blocks disappear at cannot be changed currently
Usage
Feel free to use this pack however you like - I made it to help out others who were experiencing bugs with their high-res textures. If you do end up including this in your own pack, It'd be great to see it!
Select version for changelog:

Changelog
Removed the old download link
Added a few details to the post description
Installation
Warning: this shader increases the required memory for rendering distant blocks, and is not suitable for low end devices.
This shader is compatible with Win10, IOS, and Android, but has only been briefly tested on Win10 and Android. Feedback and detailed bug reports are appreciated!
If borders appear around blocks (which can occur when used with regular resolution textures), increase the mipmap blur level in the resource settings by clicking the pack, and then the gear icon.