yBiomes is here! HAVE MANY FULL NATURAL GENERATION biomes in your game! For you to have fun with many new trees, structures and biomes very interesting and great to complete your survival and their worlds!
The diversity of biomes to make your game even more exciting is so huge! Frozen, cold, flooded, hot, tropical, islands, flowering, muddy biomes among many other different types !!
Creator Channel (Brazilian): yBrothers
Creator Twitter: @Gbiel_yBrothers
THIS ADD-ON CANNOT BE PUBLISHED IN APPLICATIONS LIKE:
Mcpe master
Add-ons for minecraft
UTK.io
And in NO other add-ons app! It is unique to MCPEDl, disregarding this requirement can cause various problems.
It can NOT be published on other sites or create applications!
Respect for the add-on to continue updating!
Always leave credits !!
ATTENTION! IF YOU ARE RECORDING SOME VIDEO, YOU HAVE NO AUTHORIZATION TO MAKE YOUR OWN DOWNLOAD LINK, USE THE AVAILABLE LINK, OR SHORT JUST THE ADD-ON OFFICIAL PAGE LINK ON MCPEDL!
ATENÇÃO! CASO VOCÊ FOR GRAVAR ALGUM VÍDEO, VOCÊ NAO TEM AUTORIZAÇÃO PARA FAZER SEU PRÓPRIO LINK DO DOWNLOAD, USE O LINK DISPONÍVEL, OU ENCURTE APENAS O LINK DA PÁGINA OFICIAL DO ADD-ON NA MCPEDL!
D'ONT USE THIS ADD-ON ON MAPS TO DOWNLOAD WITHOUT CREATOR AUTHORIZATION!
yBiomes!
Many amazing biomes for your worlds! Here you can find rare biomes and more common biomes, and even sub-biomes!
The biomes are completely natural generation, this means that NO structures will appear throughout your game!
The biomes are already generated and rendered with their own trees!
Check out the list of biomes, with their photos and a brief description of each!
Biomes are not invasive and the rarity of some is still being worked on!
You can find game animals through biomes and lots of wood, so biomes are great to survive!
Required:
BIOMES:
Steep Bayou!
It is a new biome 80% made of water, it has dense vegetation with many willows of different sizes! Vines, weeping herbs, custom mushrooms, lotus flowers and lots of moss in the water!
Autumn Grove!
You can't find anything more welcoming than this biome! It has a dense orange mist and trees of 5 shades of different colors, in addition to lots of pumpkin and flowers. Foxes and 4 other animal species from the add-on spawn here. It's a grove!
Cherry Grove!
A very calm and welcoming grove too! You will find playful squirrels and deers! Also new woods, leaves and sweet cherries!
Spring Orchard!
Nothing better than a spring orchard, with weeping oaks with lots of sweet berries fruits that you can harvest! Also new flowers that feel even more like spring!
Alps!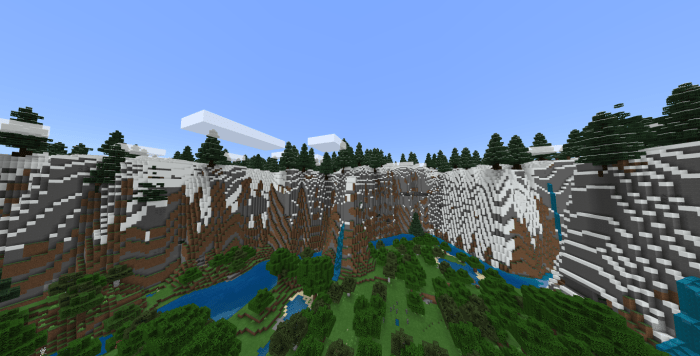 Rocky mountains, covered by a large and thick layer of soft snow! You may find little vegetation and some dead and frozen trees!
Charparral!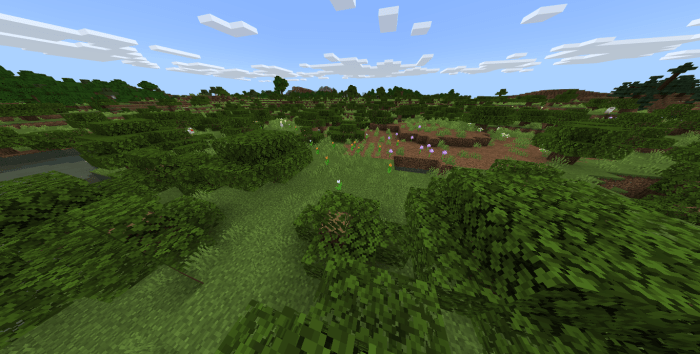 Plain seasoned with loads of coarse dirt and grass! You will also see in this biome a vegetation of small sneaky trees!
Coniferous Forest!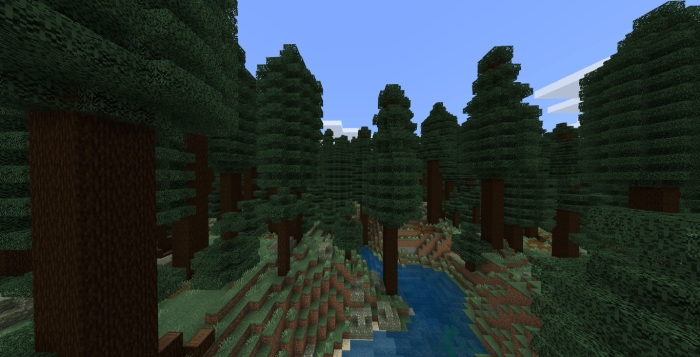 Cold forest with large conifers and mixed soil between thick dirt and mud, and lots of grass and rocks!
Grove!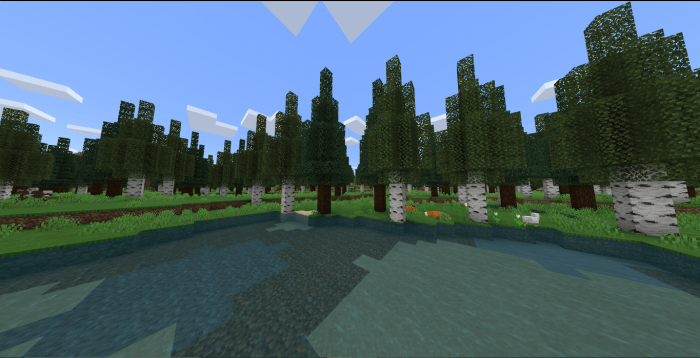 Temperate grove of birch and pine trees, completely refurbished and majestic!
Mangrove!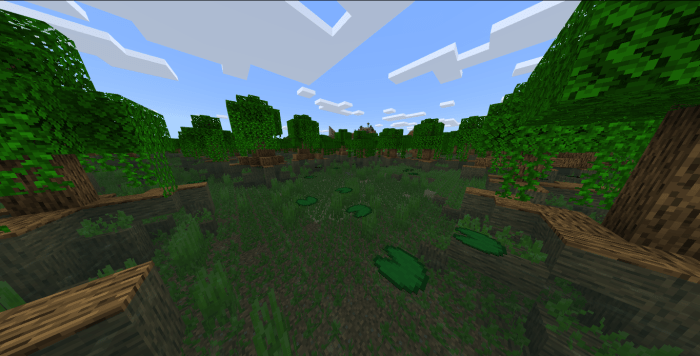 Mangroves full of custom trees and full of great roots! And a lot of water!
Shield!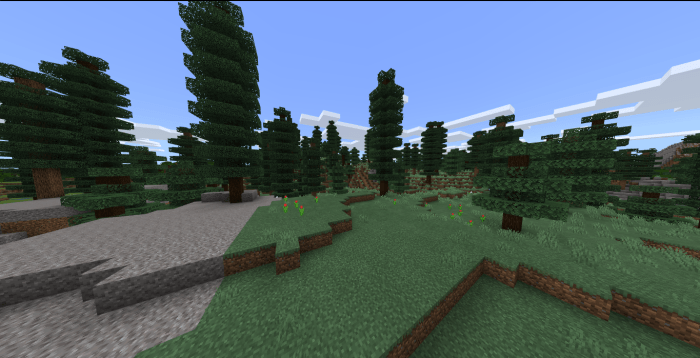 New coniferous forest mixed with taiga, temperate / cold climate, with lots of rock, gravels and tall trees!
ANIMALS:
Yeah! We have animals! And they are cute, and fun, you can tame them or enjoy them, see:
Deers, there are two variants, with and without horns. They will avoid you, they are reproduced with wheat. You can get leather and meat from them!
Fireflies will appear in dark places, and during the night, they do not emit light, but have an incredible glow, very GLOWING!
Ladybugs are attracted to flowers in the groves. They are frog's favorite foods and are a little fragile!
Raccoons, they act like foxes, hunting chickens and ladybugs. You can feed them with sweet berries! They can breed and are super docile!
Squirrels, jumping, playful and fast! They are afraid of big creatures, love cherries and sweet berries. You can attract them and feed them with these same items!
Frogs, appear in steep bayou and mangrove! They hunt any insects, such as bees, ladybugs, moths and spiders, and use their extensive tongue to catch them! You can use sugar to attract and feed them, they offer special effects for player when feed!
The add-on provides you with very welcoming landscapes!
BLOCKS AND ITEMS:
There are also many blocks and items to compose the vegetation of this biome, check out:
Have fun exploring these amazing biomes!
Select version for changelog:

Changelog
News:
GENERAL:
- Added New panoram of the add-on update yBiomesCraft!
BIOMES:
- Added the Steep Bayou Biome!
- Added the Cherry Grove Biome!
- Added the Autumn Grove Biome!
- Added the Spring Orchard Biome!
ANIMALS:
- Added Fireflies!
- Added Deers!
- Added Ladybugs!
- Added Raccoons!
- Added Squirrels!
- Added Frogs!
BLOCKS:
- Added five new leaves related to the autumn grove biome!
- Added two new variants of autumn logs!
- Added many variants of autumn woods, like planks, polished planks, stripped logs and woods, and more!
- Added autumn saplings!
- Added new flowers: blue peony, white peony and purple peony!
- Added two new leaves related to the cherry grove biome!
- Added two new variants of cherry logs!
- Added many variants of cherry woods, like planks, polished planks, stripped logs and woods, and more!
- Added two new cherry saplings!
- Added Orchard Leaves, in two stages!
- Added the steep moss and steep moss with flowers!
- Added swamp mushrooms in three stages!
- Added Pink and White Lotus Flower!
- Added Willow Leaves!
- Added Weeping Willow Herbs!
- Added Willow Sapling!
- Added Cattail Plants!
- Added Cherry Plant!
ITEMS:
- Added cherry, cherry blossom and autumn Boats!
- Added icons in creative inventory for all plant and flower blocks of the add-on!
- Added Cherry Fruit!
PARTICLES:
- Autumn and Cherry leaf particle added. They will fall off the leaves and stay on the ground, disappearing after a while! Make cool sounds when you hit the floor!
STRUCTURES:
- Added new Autumn Wood House!
NATURAL GENERATION:
- Improved generation for all biomes!
- Improved generation for bayou vegetation!
- Steep Moss and Flowered Steep Moss can generate in bayou water!
- Lotus flowers can generate in bayou water in smaller quantities!
- Willow Trees can generate with oak leaves or willow leaves!
- Weeping Willow Herbs can generate in willow leaves!
NEW CUSTOM BLOCKS CONFIGURATIONS:
- Interacting with bone meal in a willow leaves brings out weeping willow hanging herbs!
- Interacting with bone meal in swamp mushrooms can change your stage by up to three!
- Steep Moss prevents your can jump in blocks if you are in the water.
- Use an axe to stripping all add-ons logs!
- Bone meal can be used in all add-on saplings!
IMPROVEMENTS AND FIXES:
- All add-on biomes now can be generate tall grass in your extension!
- Incresead the quantity of flowers in all biomes!
- Some new tags have been added so that you can use ybiomes, yfarm and ycreatures together!
- Removed some biomes that caused performance problems in the game, they will come back smoother and updated later!
- Remade all the designs, behaviors, models and animations of the add-on animals!
- All the wood in this add-on can be used to craft wooden items from the game, as well as wooden items in yfarm craft, if you use them together!
- The add-on swamps have the waters more clear now!
- Fixed lag and excessive server time increase by fireflies!
- Alps can no longer spawn near beaches, deserts and savannas!
- Monsters in the game can normally spawn in additional biomes!
- The rarity of cherry grove has changed!
- Removed the excess of vines generating in swamps!
-Removes "is_cre" error that happened repeatedly when opening the content log!
Installation
The link works correctly, CLICK HERE if you have difficulty to installing!