yCreatures, an amazing super complete add-on that brings even more fun to your Minecraft worlds!!
This addon contains several new animals for your game, some cute, some not so friendly, but all amazing and super fun, with various varieties of animation, behavior, models and textures.
Creator Channel (Brazilian): yBrothers
Creator Twitter: Gbiel_yBrothers
THIS ADD-ON CANNOT BE PUBLISHED IN APPLICATIONS LIKE:
Mcpe master
Add-ons for minecraft
UTK.io
And in NO other add-ons app! It is unique to MCPEDl, disregarding this requirement can cause various problems.
It can NOT be published on other sites or create applications!
Always leave credits !!
ATTENTION! IF YOU ARE RECORDING SOME VIDEO, YOU HAVE NO AUTHORIZATION TO MAKE YOUR OWN DOWNLOAD LINK, USE THE AVAILABLE LINK, OR SHORT JUST THE ADDON OFFICIAL PAGE LINK ON MCPEDL!
ATENÇÃO! CASO VOCÊ FOR GRAVAR ALGUM VÍDEO, VOCÊ NAO TEM AUTORIZAÇÃO PARA FAZER SEU PRÓPRIO LINK DO DOWNLOAD, USE O LINK DISPONÍVEL, OU ENCURTE APENAS O LINK DA PÁGINA OFICIAL DO ADDON NA MCPEDL!
Explore, and have fun with this amazing add-on!!
Check out changelog to see all the changes from yCreatures Savanna !!
This Update supports Minecraft Versions:
1.17.30
1.17.40
1.18 betas (In case some feature doesn't work in this version, create another world)
ENABLE EXPERIMENTAL GAMEPLAY TO HAVE ALL ANIMALS IN YOUR GAME!
Required:
THIS UPDATE BRINGS A GIANT SPECIES EXPANSION TO SAVANNA! MORE BIOMES WILL BE UPDATED SOON !!
ANIMALS AND FEATURES: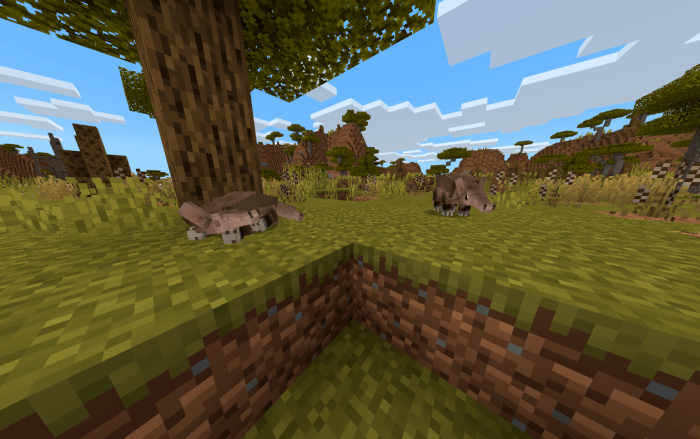 Aardvarks are docile animals that live in the savanna, termites and termite nests are their favorite foods! They like to take a nap.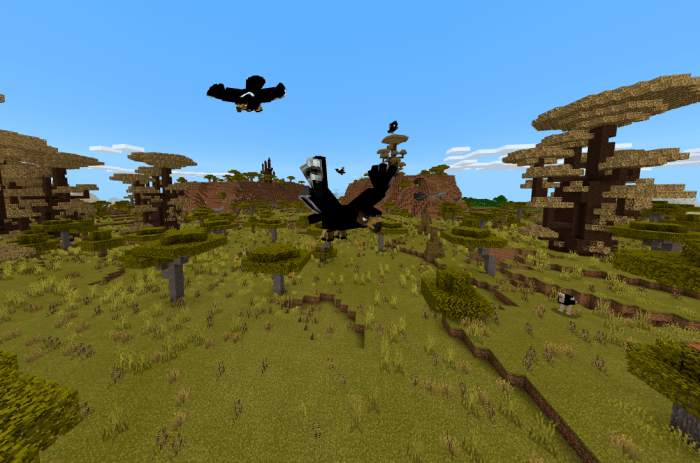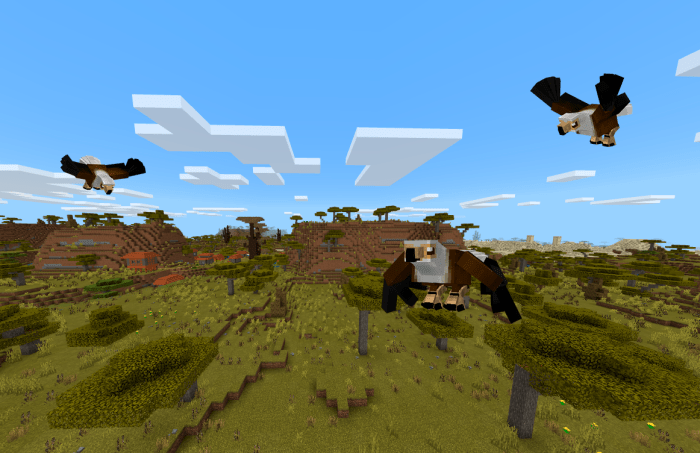 Eagles are always prowling the savannah skies, looking for small defenseless mammals!
2 variations: African black eagle and African fish eagle!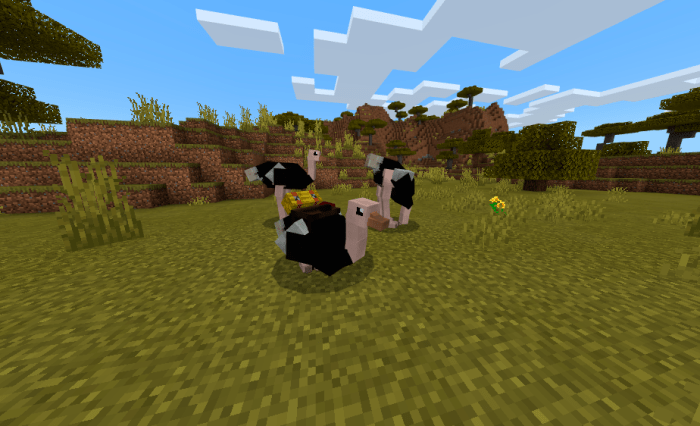 Ostriches are neutral, this means that it will attack you if you attack it first. Can be tamed and serves as a mount, jumps high and runs fast !!
Babies are afraid of their approach and will hide their heads in the ground!
They lay eggs!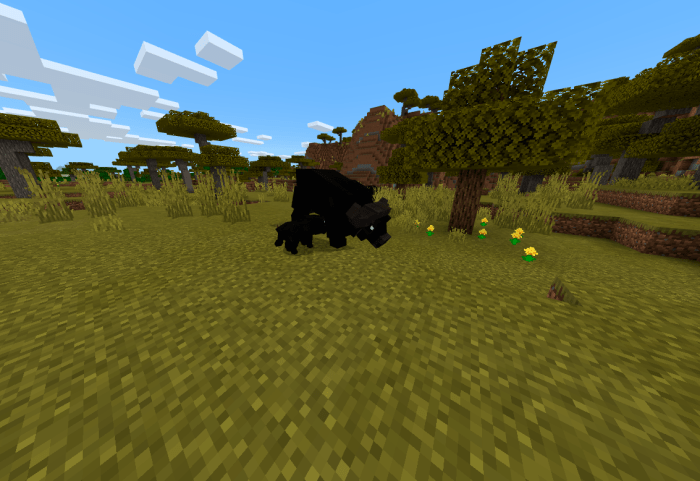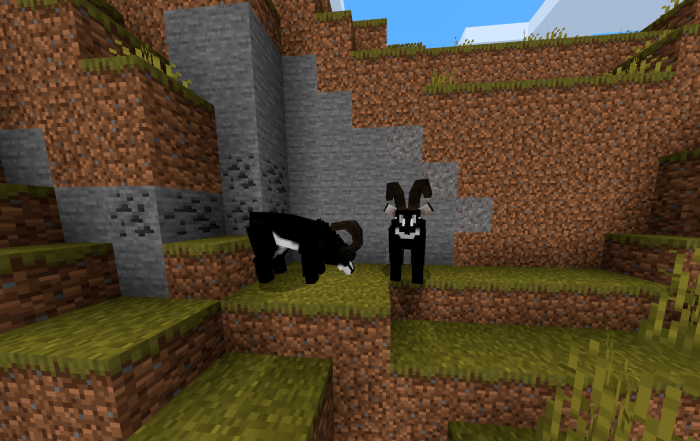 African bull and black Palancas will attack you if you get too close!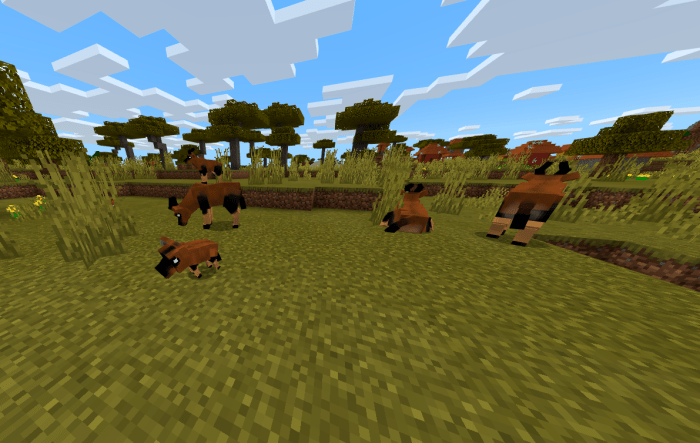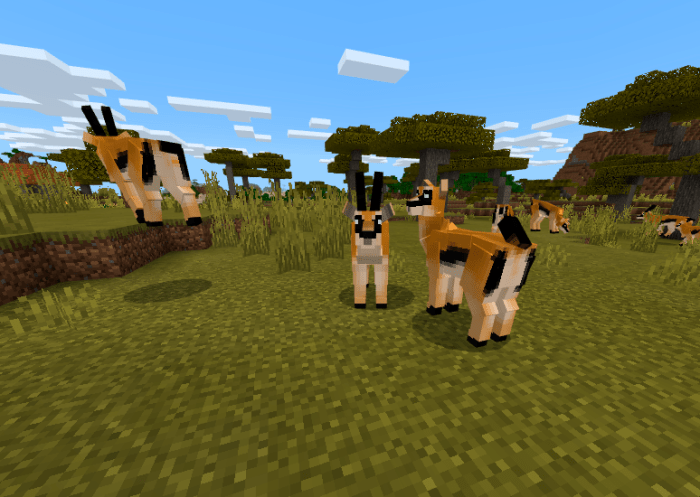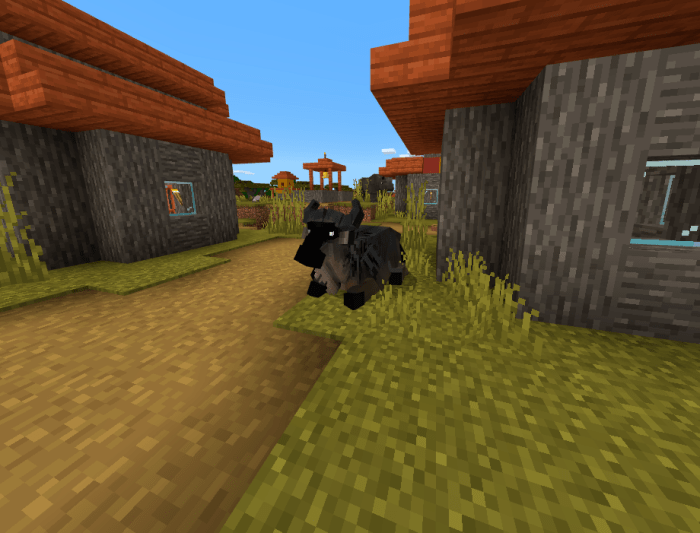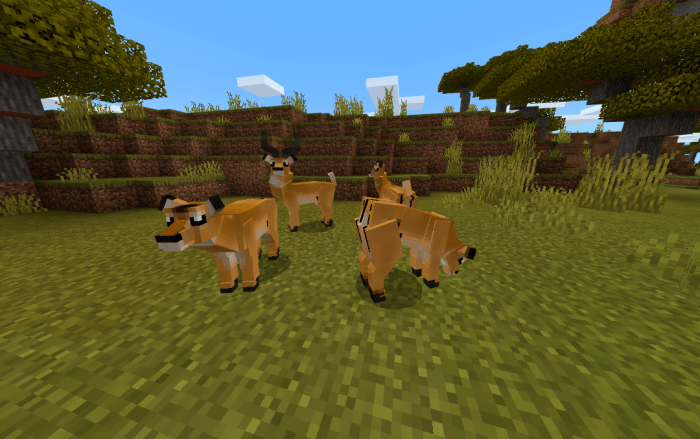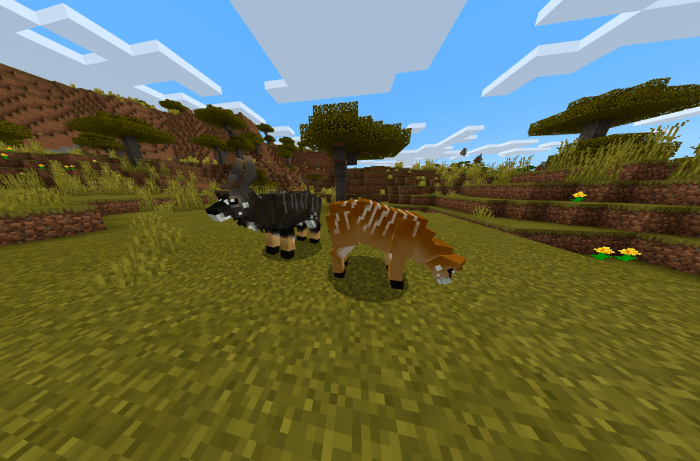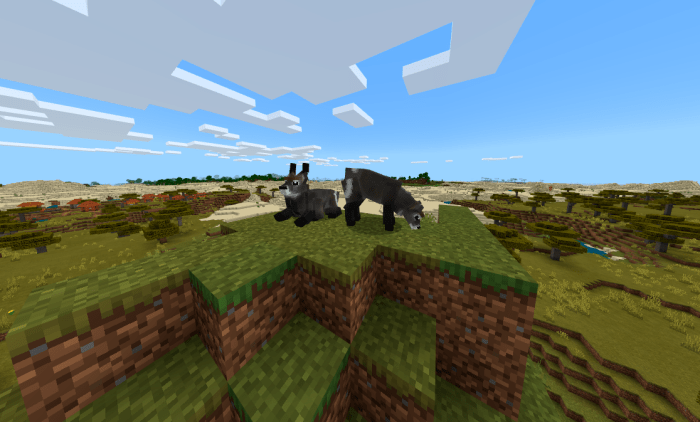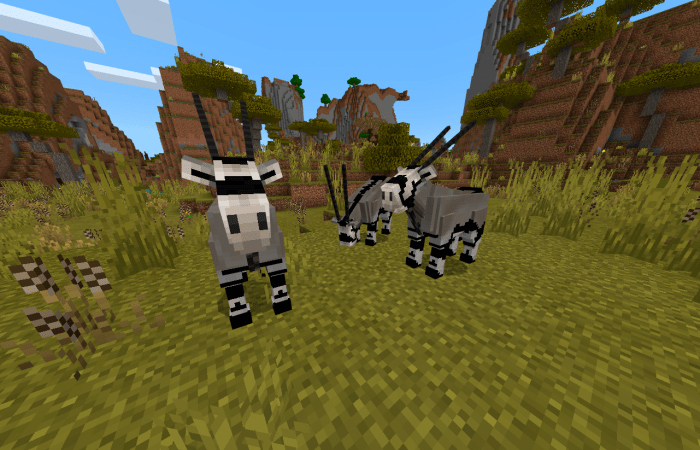 Antelopes avoid getting too close to you and aggressive cats, if it has horns they will probably attack you if threatened! They are quick and smart. They are always sniffing the ground but only graze grass!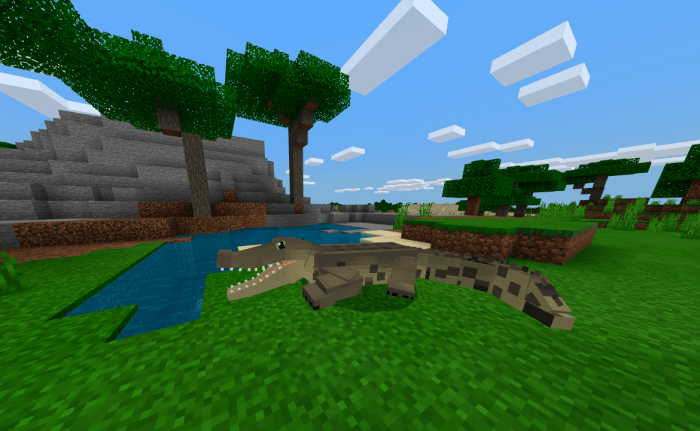 Nile crocodiles are aggressive to any animal, except those of the same species as them, and neither do they attack hippos and tortoises!
When they breedable, they will lay 4 eggs on the ground! Custom blocks that will take some time to hatch!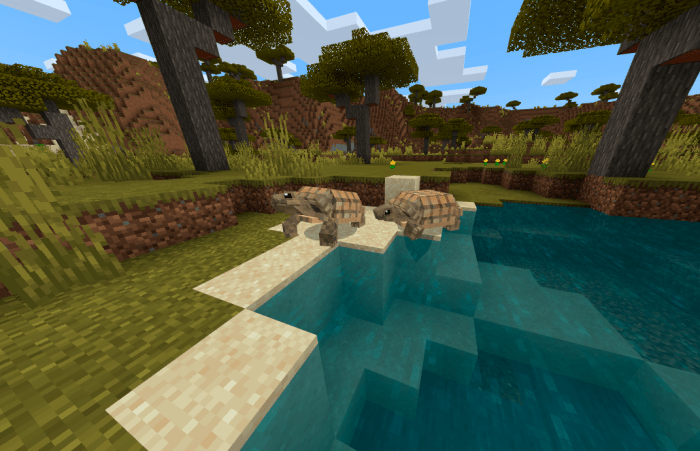 Tortoises are skittish! They don't like approaching players and crocodiles and will hide in their hull! They are slow and also lay eggs on the floor to reproduce!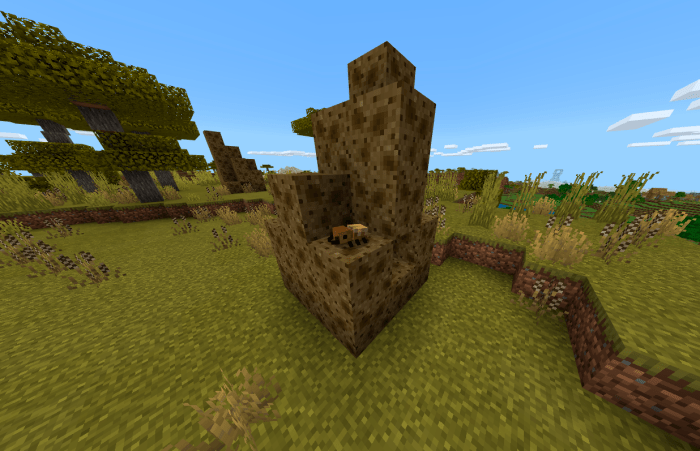 Termites are small and work cooperatively! If you attack one or break its nest, everyone will revolt! They go in and out of termite mounds every time!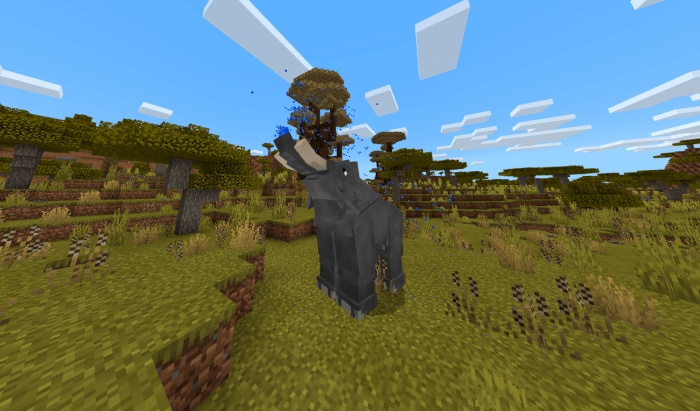 Elephants are beautiful, but if you get too close, they will attack you! They can also release water from their trunk, to cool off the savannah heat!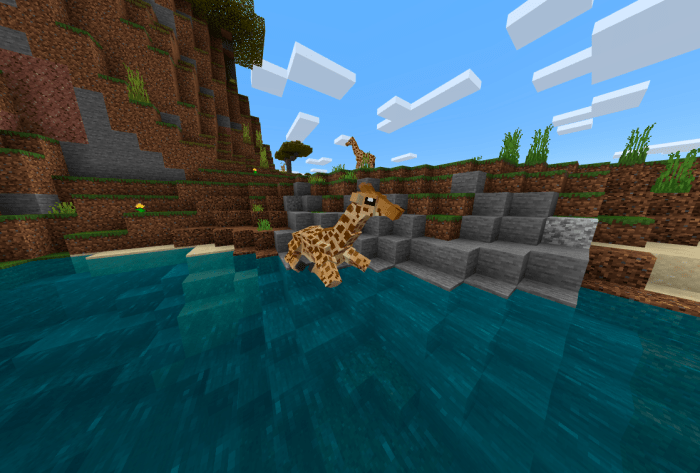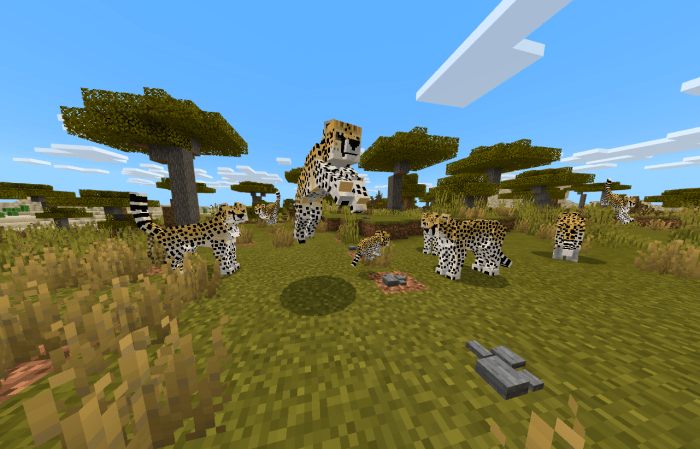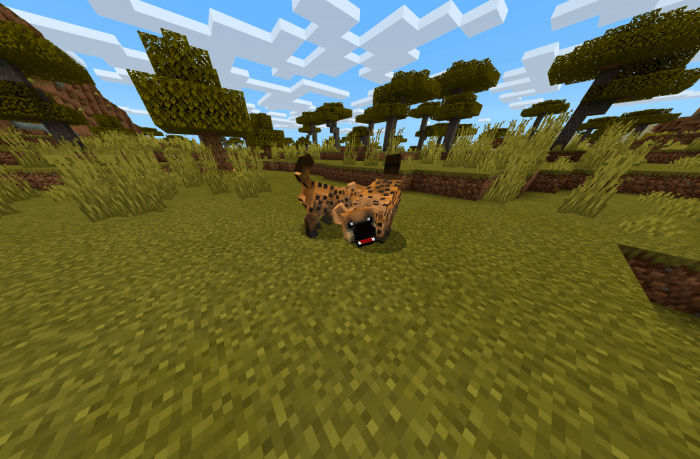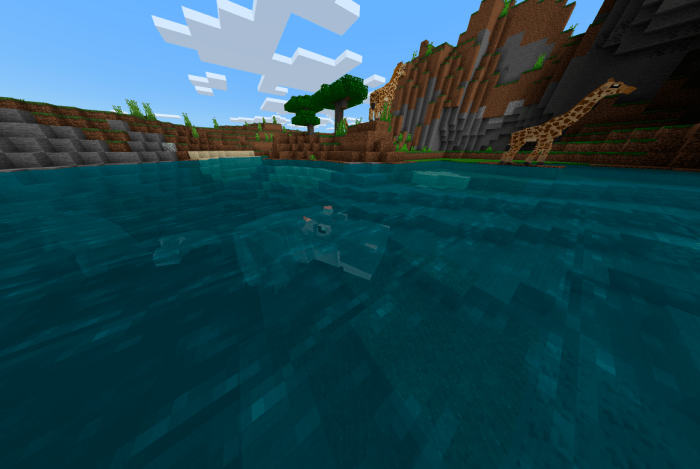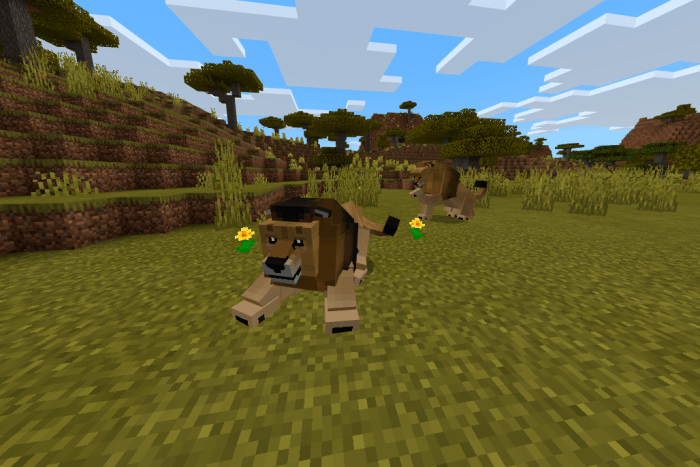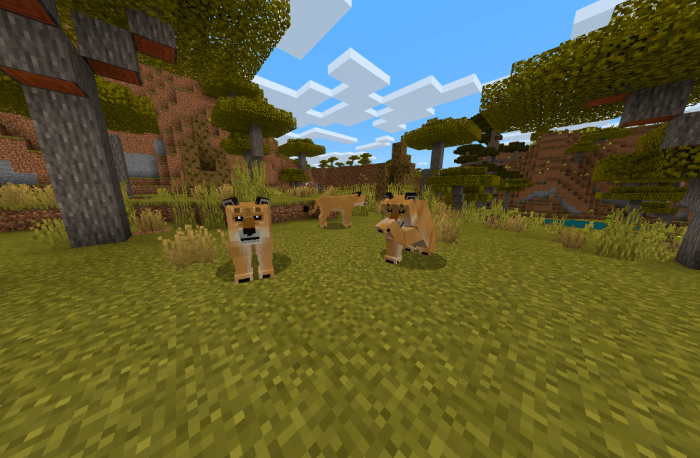 Lions will fight each other! Lionesses live in harmony together! They spawn in groups across the savanna! Lionesses can grab buffalo and wildebeest!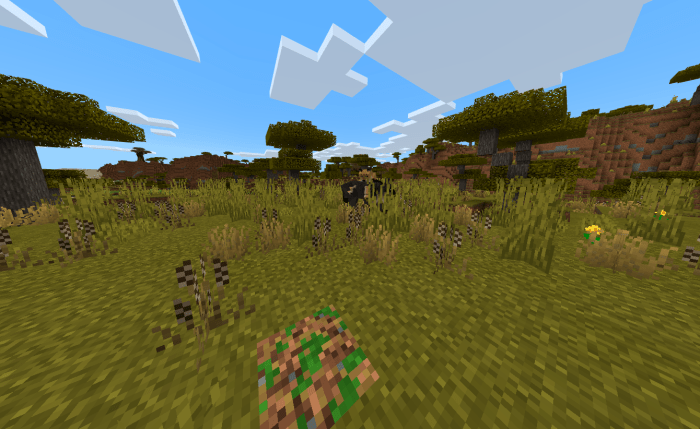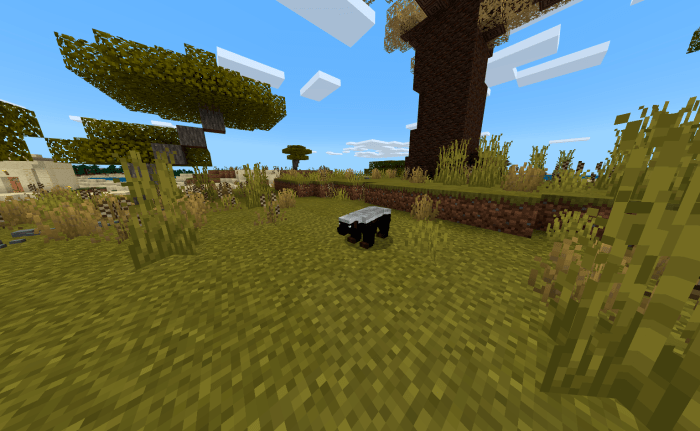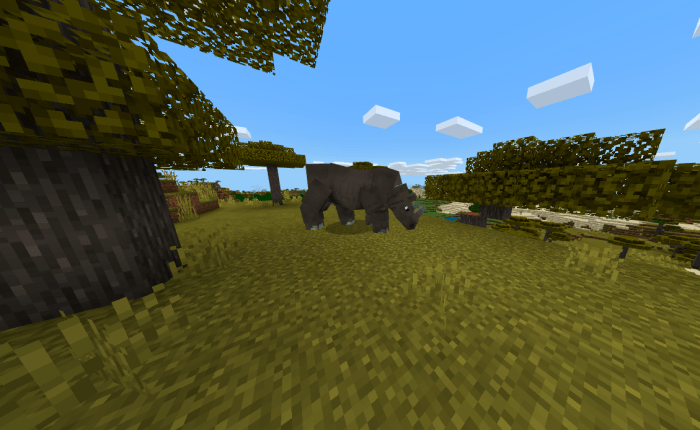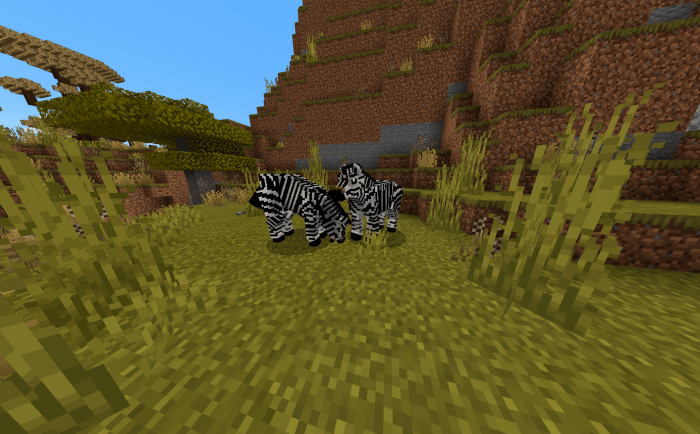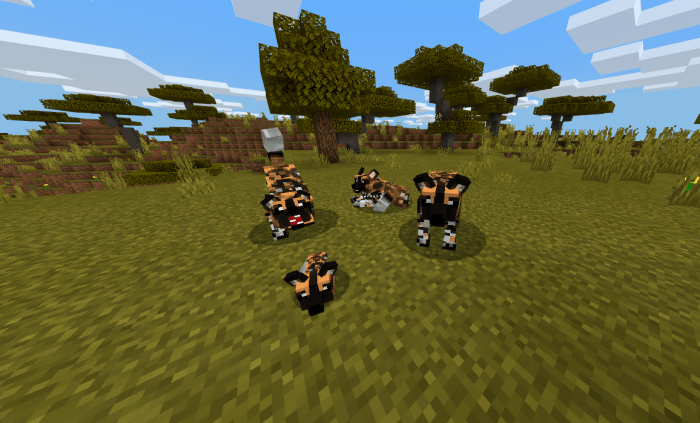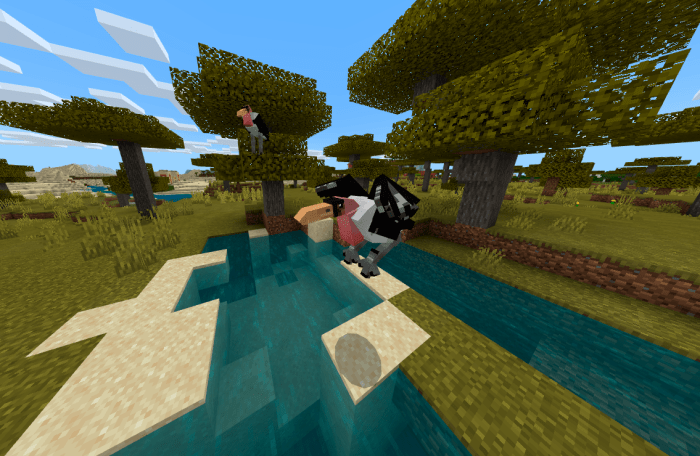 BEYOND ALL OF THAT, WE ALSO HAVE NEW ITEMS, ARMORS, BLOCKS, DUNGEONS, TREES AND STRUCTURES!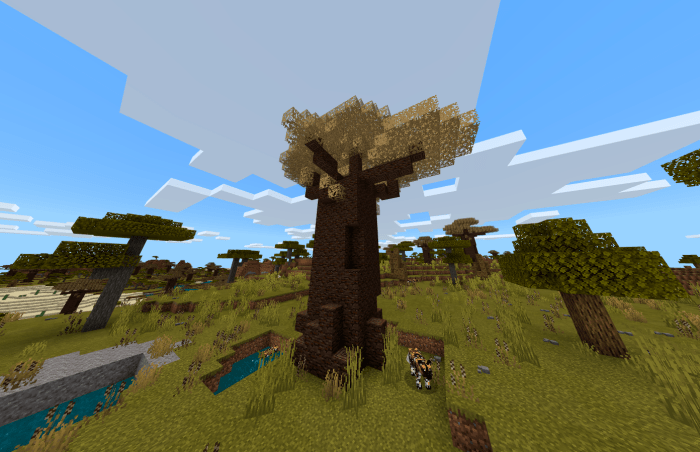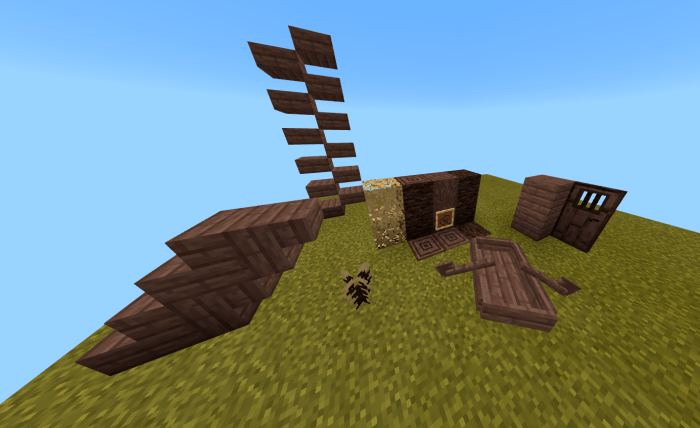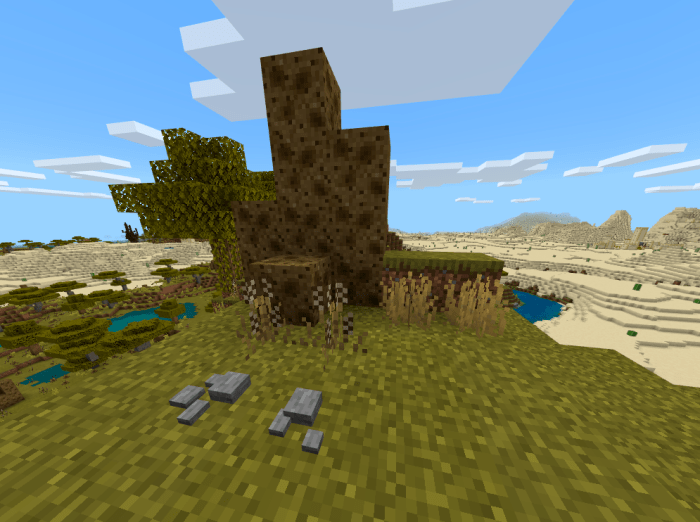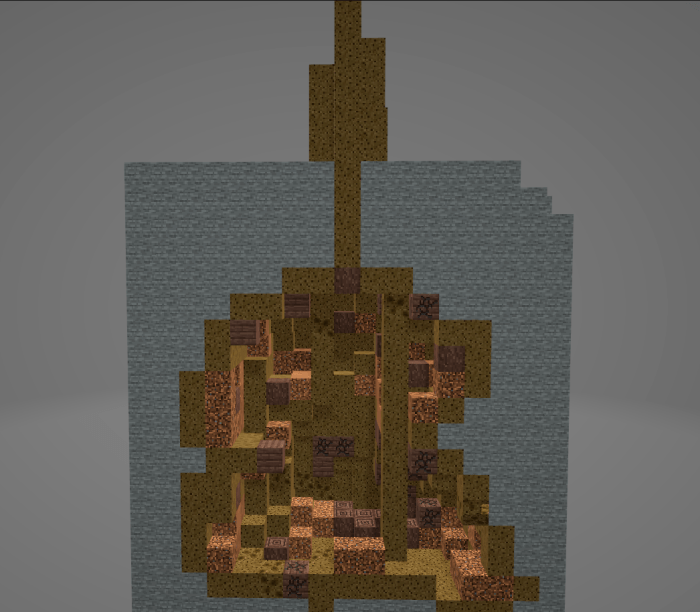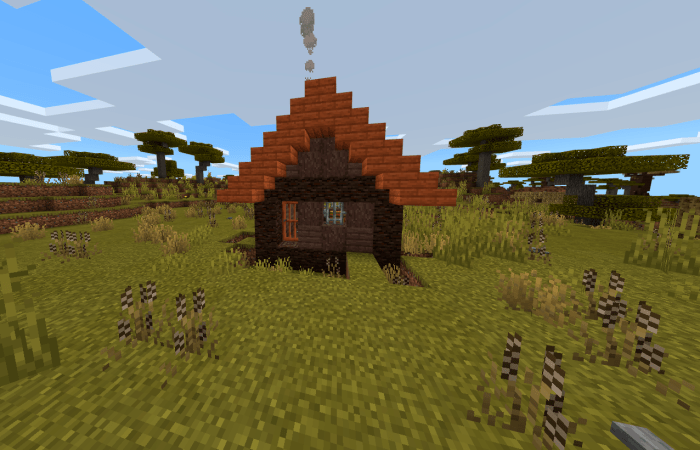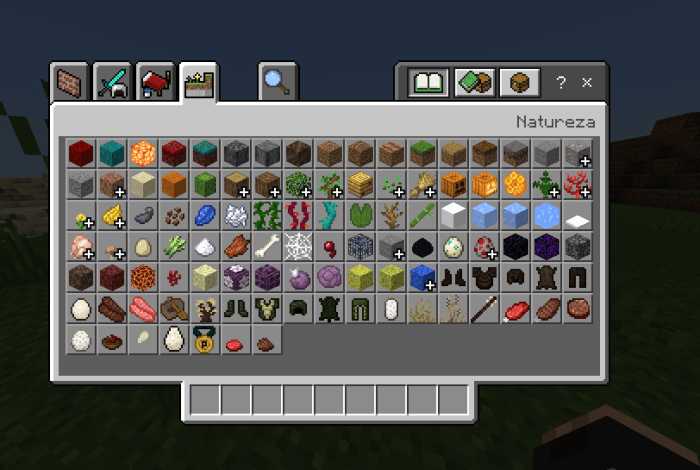 By downloading the add-on you will see much more, notice the amazing animations, behaviors and textures!

ANIMALS! (Beside, food to tame them) Note: In some cases only babies are tamed
More creatures will be added soon !! News are coming!
REVIEW WITH RECIPES IN CREATOR CHANNEL: YBROTHERS!
Models worked by:
@GabrielCas29007
@vitor32695769
Select version for changelog:

Changelog
General:
- Updated to 1.17!
- Added fog to create savanna ambiance!
- yCreatures no longer supports 1.16!
- Updated Addon Panorama!
- Improved the translation of the addon to English!
ANIMALS:
- Added: White Lion!
- Added: Cobra!
- Added: Viper!
- Added: Monitor Lizard!
- Added: Mamba-Negra!
- Added: Serval!
- Added: African Leopard!
- New behaviors for all animals!
- New animations for all animals!
- Ostrich can now only buries their heads in blocks of grass or dirt!
- Hippos can now take blocks of watermelon and eat them!
- Elephants can now pick acacia leaves and eat!
- Aardvarks can now dig termite mounds and extract termites!
- Gazelles, Giraffes, Hyenas and Wild Dogs can now walk in flocks!
- Antelope can now graze grass!
- Hyenas now attack in flocks!
- Brats can now pick up bones left by their fangs!
- Hyenas will now catch and eat their prey's dropped meat!
- Eagles can now walk on the ground, or fly!
- Ratel can no longer be attacked by termites or bees!
- Fixed the position of fixed loops on animals!
- If naturally spawned, a group of gazelles can sometimes walk together!
- Sables can fight each other now, but they don't kill each other!
- Adult eagles and marabouts will fly to escape if the player approaches them!
- Giraffes are now only attacked by crocodiles!
- Hippopotamus and Ratel are no longer natural prey for other animals!
- Ostrich may be commanded to sit again!
- Ostrich sitting can no longer be mounted or controlled!
- Fixed the gravity of ostrich and marabout eggs being thrown!
- Fixed the damage that ostrich and marabout eggs received when they came in contact with blocks!
- Lion has a 0.80% chance to drop a Savanna Disc if killed by a player!
- Only domesticated and adult elephants can be saddled now!
- Changed hit points and attack of all animals, for greater balance!
- Most neutral and passive animals are now tamed only as adults!
- Hostile animals can only be tamed as puppies!
- Puppies can no longer follow thrown eggs!
- Eagles can drop feathers randomly when flying!
- Any domesticated animal will prioritize defending the player over following him!
- Changed food to breed, feed and tame multiple animals!
- The player can offer a bucket of water for tamed elephants to play with!
- The player can offer leaves to feed elephants and watermelon to feed hippos if they are domesticated!
- Animals now have a chance to drop 1 bone when killed!
- An antelope that is killed in flames will now drop properly roasted meat!
- If a domesticated animal carrying a Talisman dies, it will drop the talisman!
- Decreased the chance of generating a puppy animal!
- Domesticated animals can no longer attack other domesticated animals!
- Changed the texture of all spawn eggs!
- Significantly increased attack radius for lioness!
- Decreased to 16 the radius of attack of a lion!
- Puppies will properly become adults when they grow up!
- Adjusted the kitten lion collision box!
- Marabus and Eagles will no longer fall from the sky and die alone!
- Marabus can now only graze or rest if they are landing!
- Made Gazelles and Impalas slightly faster!
- Cheetah is now faster to escape and sneak in to repeat a silent attack!
- Tortoises now have their 3 correctly generated size variants!
- Attacking termites will no longer make all nearby animals want to attack you, only termites!
PARTICLES:
- New particle: Termite nest dust!
- New Particle: Cut Sheets!
- New particle: Fresh melon remains!
BLOCKS:
- All addon blocks are now registered in the creative menu!
- New block: Strata!
- New Block: Strata Bricks!
- New Block: Strata Bricks with Moss!
- New block: Strata Carved!
- New block: Soaked Soil!
- New block: Baobá Nailed Tables!
- New block: Baobab Column!
- New block: Laje de Baobá!
- New block: Baobab Stairs!
- New block: Savanna Jukebox!
- New block: Monitor Lizard Egg!
- Compacted coarse earth block has been given new random textures!
- Jumping under termite nests will bother them and take them out of the nest.
- Surface stones can now be placed on top of any block!
- Wild grass and wild grass flower can now only be collected with scissors.
- Baobab leaves can now drop fruit too!
ITEMS:
- New item: Disco The Savanna!
- New item: Cobra Egg!
- New item: Monitor Lizard Egg!
- New item: Horned Viper Egg!
- Increased the resistance of the crocodile leather breastplate a little!
- Baobab boat no longer stacks entities!
GENERATION:
- Compacted coarse earth and strata will now spawn at the highest points of the savanna, above layer 73!
- Soaked soil and water pools will generate by the savanna at sea level!
- Now there are 4 different designs for termite mounds, their filling blocks vary between occupied and unoccupied termite nest, creating infinite possible variations!
- Once again improved the generation of the savanna and its vegetation!
- Fallen acacias can now spawn across the savanna surface!
Installation
The link works correctly, if in doubt check the option below the downloads: "learn how to install through the link"