This skin pack includes the skins of 34 different content creators. All of the included creators have released their creations either on MCPEDL.com, Minecraft Forums or some other website or application. Hopefully this pack can grow and include more creators in the future. If there is someone in particular you would like added then comment down below!
Combined by: Jujustyle7 (Twitter), MrMinechest (Twitter) Updated: 6 October, 2017 (added 11 new creator skins)
How does it work?
After you've imported the skin pack you can open the skin picker and select one of the included skins.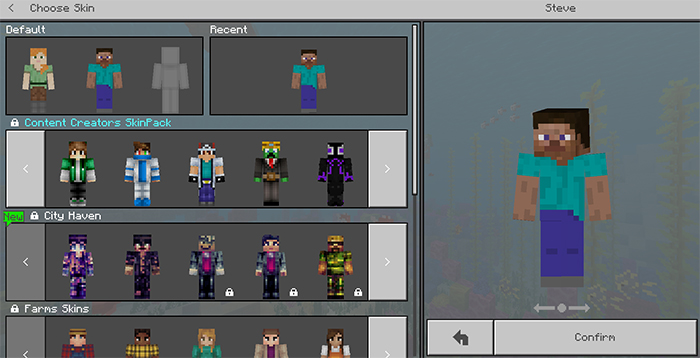 Some of the skins, such as JPlaysPE and Jujustyle7, wear capes.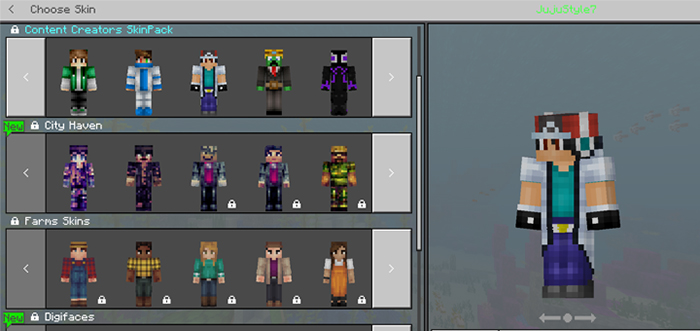 List of Included Creator Skins
BlockyPlaysMC, Twitter Account - Maps
Gona, Twitter Account - Add-ons
JPlaysPE, Twitter Account - Add-ons, Piston Cape
Jujustyle7, Twitter Account - Add-ons, Chemical X Cape
minecraftstyler777, Twitter Account - Maps
MrSenpaiPlayzMC, Twitter Account - Maps, Senpai Cape
StarkTMA, Twitter Account - Add-ons
TheEnderface, Twitter Account - Add-ons and Maps, Ender Cape
HeroPlayz_YT, Twitter Account - Add-ons and Maps
RedStudios, Twitter Account - Mods
Andrew99, Twitter Account - Add-ons
AlexFirey1411, Twitter Account - Add-ons
MyoHtet, Twitter Account - Add-ons
CreeperGamerZXZ, Twitter Account - Maps
HemaMetwaaly, Twitter Account - Add-ons
MicoLets_MC, Twitter Account - Add-ons
RylandPlayzYT, Twitter Account - Maps
_bisher / SamdaLlama, Twitter Account - Add-ons
Sprintermax, Twitter Account - Add-ons
Vladu11, Twitter Account - Add-ons
BilltheZombieG, Twitter Account - Add-ons
OdOGamer1, Twitter Account - Add-ons and Maps
Myself lol
ItzDieciesYT