Fend off the dangerous mobs of the night! Seek shelter that provides protection, and find resources as you replenish your hunger. Engage to the Java-exclusive yet Hardcore Mode– all in this add-on!
created by: r4isen1920
pack version: v4.1
Hardcore Gamemode
Hard difficulty only


More aggressive hostile mobs
Ranged hostile mobs has higher accuracy
Iron Golems deal massive damage to players
You easily get hunger, more food is needed
etc.
Spectator Mode



Hardcore mode is dependent to the world's host; while connected players have their own independent life.
You only have one life, and you'll respawn only as a spectator.
If you want to be able to fly in Spectator Mode, you can optionally enable Education Edition:

Enabling the Add-On
To enable and experience Hardcore mode, do the following steps: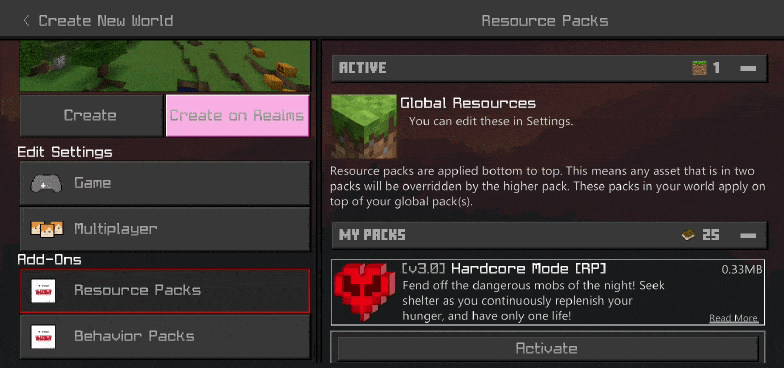 Download the Add-on from the link below
Enable Education Edition (optional)
Apply both Resource Pack & Behavior Pack in a new or existing world
Open or Create the world. It should automatically be active.
Realms Compatibility Information
The following are my requirements for this add-on to work on Realms:
Version Required: 1.16 atleast. This version also fixes the bugs regarding running commands using animation controllers on Realms.
Experimental Gameplay: Not needed. So it works on Realms.
Education Edition: You may not be able to enable this feature. Features such as being able to fly in Spectator Mode will not be possible on Realms.
Select version for changelog:

Changelog
Updated download links. (A A A A A A A A)
Installation
Make sure to delete the old version first, before installing or importing the pack!
Recommended 1+ GB of free memory (RAM).