Ever felt the loneliness in your quiet minecraft world? Well this is a sound pack for you. It has beautiful environment sounds which will make your world livelier instead of just being silent. This is not an addon and can be used in your survival worlds.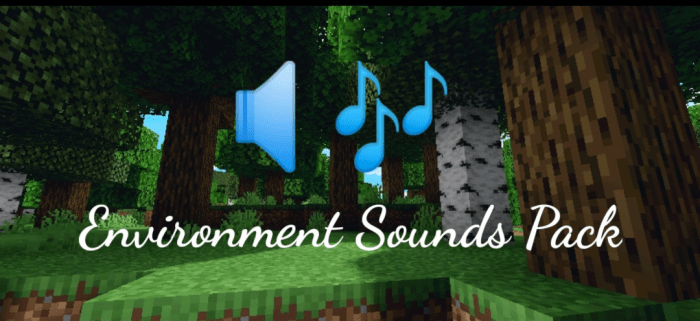 If you are wondering how it works, it works by REPLACING some of the sounds that animals make. They have Environment sounds according to their biomes and time to spawn:
REPLACED MOB SOUNDS OF/WITH
- Chickens have Birds Chirping.
- Cows have Birds chirping and wind sounds.
- Pigs have Birds chirping.
- Sheeps have Wind sounds.
- Zombies have Owl and night sounds like insects, and other night birds.
- Husks have Hawks and desert wind sounds.
- Drowneds have water flowing sounds when water is still. Flowing water sound has been replaced.
- Better rain
- Turtles have beach sounds like water surfing, Seagull sounds.
- Ocelots have tropical jungle sounds rich with animals and ambience sounds.
- Echo sounds are actually replaced sounds of walking on stone, even if you walk on stone in broad daylight and on surface it will have echo.
Animals still have some of their respective sounds, not all of their sounds have been replaced.
Watch this video to hear all the sounds. (Use headphones)
https://youtube.com/embed//bKDHQL9Ma3E
The reason why I had to replace the sounds instead of adding new is because bedrock edition is extremely limited and this is the best I could come up with and custom sounds arent possible on bedrock yet.
Even if you kill the mob which makes sound, the sound will stay until it is completed(some are 2-3 min long).
Important
I am the creator of this pack and the sounds are from non- copyright sources or either are recorded by me. I edited them, converted them , adjusted them myself.
You are not allowed to copy this sound pack or Publish it as your own. IF YOU WANT TO MAKE A VIDEO ABOUT IT THEN GIVE MCPEDL PAGE LINK.If you dont do it, i will track you and slap you on your face.
There is a bug in current versions of minecraft that when texture packs are applied to new worlds dont work, to fix it simply remove the pack from world , GO BACK, then go back to the world again and apply it.
You don't actually need to be close to the entities that make sound, once the sound has started, you can go away as much you want but they will only stop after their time has completed.
If you cannot get through the link or want to contact me, My discord is
Fused Bolt#9525. , I can give you direct link.
Select version for changelog:

Changelog
V1.1 Bug fixes Only
- Fixed the uuid/pack failed to import
- Fixed zombies making water sounds
- Fixed some of the delay in stone echo sounds
NEW SOUNDS COMING SOON! DROP YOUR SUGGESTIONS
Also if you find ANY bugs then please dm me on discord. I will fix them as soon as possible.
Installation
When you click one of the link , you will be redirected to adf.ly 
Wait for 5 seconds and click SKIP AD, do not click anything else.
Then a new page will open , if it isn't adf.ly then close it and go to adf.ly page
It will say ALLOW NOTIFICATION , and a pop up will keep coming , just ignore that and keep clicking BLOCK OR DENY , the page will refresh several times and you will be automatically redirected to Mediafire from there download the pack and open it , it will automatically import to your minecraft.
If you cannot get through the link or want to contact me, My discord is
Fused Bolt#9525. , I can give you direct link.