Want a little more atmosphere and immersion to your nights in Minecraft? Fireflies will probably do the trick for you!!  They glow and flash and float about with an enigmatic aesthetic… but then the sun kills them!
Balanced as all things should be,
This addon adds Fire Flies to the nights in Minecraft! All non-frozen biomes will get them and they spawn *just enough* to avoid being overdone!
They have no special characteristics and while they *can* be killed for one XP point – they otherwise cannot be interacted with! They're just here to look pretty and make your world more immersive!!
Fireflies will occasionally drop glowstone dust upon death!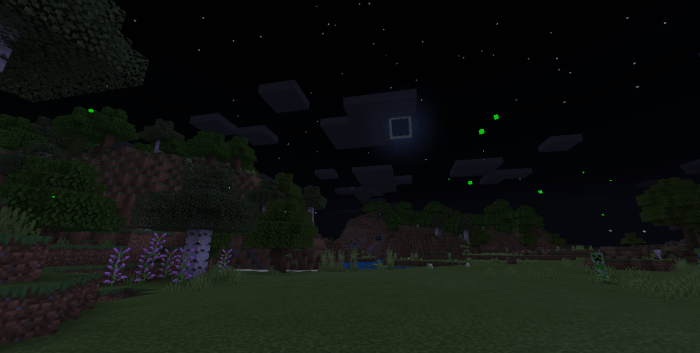 I would like to give credit to the enigmatic CodanRaigenXXI for the original texture used – and for tons of inspiration/motivation in general!
Fireflies bring a sense of wonder into the night and are increasingly threatened by extinction due to climate change – do what you can to protect them and everything else that also calls this planet home – there is no Planet B!!
Cheers!
- Fixed the download!
- Adjusted the texture and speed for fireflies.
- Fireflies will now sometimes drop glowstone dust upon death.

- Fixed the addon downloads! Sorry about all that, if it doesn't work now, i'll eat my hat. Had a couple folks test it.

- Added a .zip download link for mobile users!
- Fixed a typo.

Installation
Install it as you would for any other addon.
Runs on all devices that support Bedrock Edition.

Downloads
Supported Minecraft versions
1.14
1.15 (beta)
1.16