Experience Minecraft like it was on your first day: Scary, challenging and full of wonder! Disables most crafting recipes for tools and armor. So you have to either find them or trade for them in villages.
About Explorer Mode
Remember the first time you started Minecraft? Being put into an unknown world that was yours to explore. Digging a little hole in the dirt to survive your first night? Being excited when after hours of playtime you found your first diamond? The good old days, when "Survival" mode actually meant you have to struggle?
Compare this feeling to modern Minecraft. You skip your first night by killing some sheep, strip mine at y-level 12 and find your first diamonds after an hour in game and get fully enchanted diamond equipment before a day is up. Making the rest of the game absolutely trivial. You then spend the rest of your time to make it even more trivial by creating huge automated farms taking all challenge out of the game.
Removed Crafting Recipes
This add-on aims to bring the feeling of your first days in Minecraft back. It achieves this goal by disabling the crafting recipes for stone, iron and diamond tools and armor. It also disables the recipes for shears and buckets. So you have to either find them or trade for them in villages. This means that you will have to explore the world, gather loot and emeralds and fight for every bit of progression. No longer can you ignore all those different villager trades because all of them are now useful. Llamas and donkeys will become your best friend, when they transport your loot while you travel from village to village looking for that enchanted pickaxe trade. When you delve into abandoned mineshafts or dive for sunken ruins and you find that iron pickaxe or gold ingots to repair your enchanted golden armor you will rejoice!
Enhanced Loot and Trade Tables

Explorer mode also enhances some loot tables for mods and chests. To prevent sleeping through your first night by murdering sheep, they will not drop wool anymore when killed. So you have to shear them in order to get wool. On the other hand some mobs and all loot chests have enhanced loot so you will usually find something you can use. It also edits the trade tables for the villagers so you are not offered a bell for 36 emeralds anymore.

Restricted Breeding
In order to prevent massive animal farms that make obtaining food and leather trivial, breeding now requires golden food. To breed rabbits or chicken you need a golden carrot, to breed pigs and sheep you need glistering melon and to breed cows you need a golden apple. This makes breeding less trivial (and incidently helps with the spawn limit, therefore making hostile mobs more likely to appear in caves).
Rebalanced food
Not all food is created equal now. Food consumption time now corresponds to the amount of hunger restored. So a berry can be eaten very quickly while rabbit stew takes five seconds to slurp.
Rebalanced Ore Spawn
In vanilla Minecraft exploring the underground lacks variety. No matter in which biome you mine, the underground stays the same. In Explorer Mode it actually makes a difference where you mine. Right now there are three significant changes to the ore spawn. The amount of coal and lapis lazuli that generates in the world has been significantly reduced. To compensate you will find a lot of coal underneath a swamp biome and a lot of lapis when mining below a desert biome. Additionally when you face the dangers of the frozen biomes (Strays will spawn underground now!) you can find diamonds up to y-level 32.
New Ores
Explorer Mode adds Nether Gold Ore and the rare Nether Emerald Ore to the nether. They can be mined with any pickaxe (even wooden) and will drop gold nuggets or an emerald respectively. So it might be worth it to take the risks of the nether to get your hands on some precious gems and metals. You can also smelt them in a furnace to get an emerald or a gold ingot.
Added Mobs
Explorer mode also adds some new (retextured) mobs to the game, to make exploring more interesting and challenging.
Pygmy Skeleton
In the jungle, instead of normal zombies and skeletons there will now spawn pygmy skeletons that shoot arrows of poison and weakness. They can also drop those arrows if you slay them.
Nether Golem
In the Nether you can now find the mighty Nether Golem, a hostile mob that is very powerful and probably best avoided. If you kill it, you will be rewarded with some nether bricks and a bucket of lava.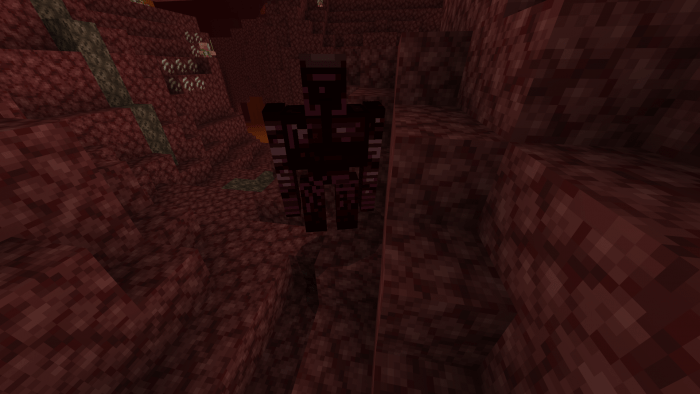 Obsidian Golem
Another golem added to the world is the obsidian golem. These huge ancient guardians roam the deepes recesses of the underworld. They are neutral towards the player but if you manage to slay one of those rare entities you will be rewarded with obsidian and a block of diamond.
Hellhound
Another new resident of the nether is the hellhound. These creatures hunt in packs and will drop leather when slain.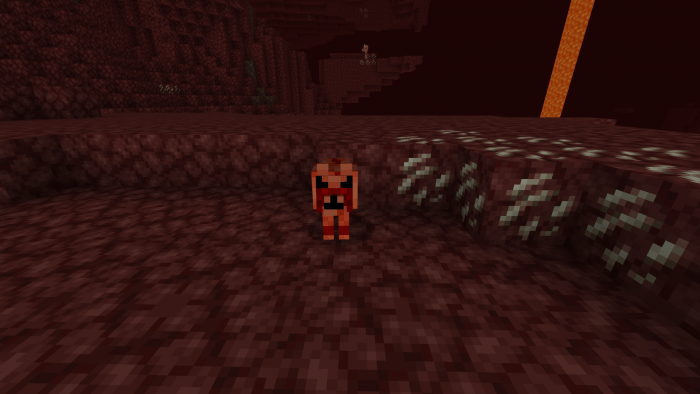 Cavecreeper
This creeper replaces it's surface variant when underground. It behaves just like a ordinary (green) creeper but with a much more powerful explosion (less powerful than a charged creeper though).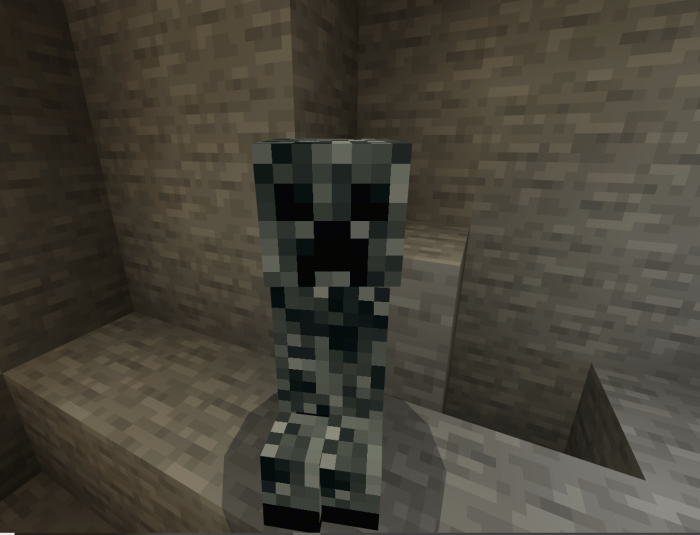 Golden Creeper
This creeper variant will spawn very rarely when underground. In contrast to a normal creeper the golden variant will flee from the player at very high speed. If you manage to catch and kill it, the golden creeper will explode in a "lootsplosion" dropping many valuables.
Red Husks
This variant of the Husk replaces Zombies in Mesa biomes. They drop red sand on death. Normal husks will also drop normal (yellow) sand when killed.
Parting Words

Explorer mode makes the game much more challenging. You can spend hundreds of hours before facing the Ender dragon or the Wither. There is no "optimal" way to play Minecraft anymore and when playing Explorer Mode you are here for the way not for the destination.
Will you take up the challenge and enter Explorer Mode?
Full list of changes in version 1.1:
replaced the possibility to find horse armor in dungeon chests with the possibility to find enchanted stone tools
if you smelt down chainmail, iron or gold equipment you will now receive an ingot instead of a nugget
restored the saddle as a possible master trade for the leather worker (turns out you lose a lot of donkeys!)
restored horse armor to ender city chests
I figured that a hoe cannot be sold or found enchanted. Therefore, I replaced the iron hoe that the toolsmith sells as an apprentice trade with a diamond hoe. Removed the diamond hoe as an option for the journeyman trade accordingly
replaced zombies and skeletons in the jungle biome with Pygmy Skeletons that shoot arrows of poison and weakness (and drop them accordingly)
getting hit by a zombie or baby zombie will now afflict nausea for eight seconds
added the hostile nether golem to the nether
added the neutral obsidian golem to the deepest caves
added compatibility with the Minecraft Earth Add-On
added Nether Gold and Nether Emerald Ore that spawn randomly in the Nether
removed version number in the addon manifest
-added cavecreepers and golden creepers
-increased spawn rate of obsidian golems
-added a recipe to the stonecutter so you can turn one stone into eight buttons
-added an offer to buy heart of the sea for five emeralds as fisherman master trade
-rabbits now breed in 10 minutes instead of 20 and always drop rabbit meat
-snow golems now spawn naturally in the Ice Spikes Biome
-you can now craft arrows with prismarine shards instead of flint
-all stews and soups are now stackable to 16
-food consumption time now differs depending on food points restored
-zombies now drop baked potatoes instead of potatoes when killed while on fire
-spawn bonus chests now always include a book & quill
-woodland mansion chests now may contain emeralds
-you can now find exploration maps in stronghold libraries
-you can now catch a gold nugget while fishing
-snow golems now drop zero to two sticks on death
-you can now smelt a pumpkin to get orange dye
-silverfish may now drop clay balls when killed by the player
-husks may now drop sand
-mesas will now spawn red husks instead of zombies
-swapped the prices for iron and chainmail armor at the armorer villager
-fixed a bug where snow golems would spawn everywhere instead of other passive mobs
-Ravagers can now drop leather
-Cakes now need sweet berries for crafting
-Strays now spawn in all cold biomes instead of skeletons, they also spawn underground
- increased the amount of coal found in swamp biomes
- decreased the amount of coal found in all other biomes
- increased the amount of lapis lazuli found in desert biomes
- decreased the amount of lapis lazuli found in all other biomes
-in frozen biomes you can now find diamonds up to y level 32
-should now work in 1.3.0.17. Haven't changed anything else, just let Minecraft update the pack itself. Please report any issues!
-updated mobs to 1.13.0.18 format
-removed recommended mods since I cannot be bothered to check if they are still working
-updated the add-on to beta 1.14 
-please report any bugs you encounter!
Installation
Make sure you are on the 1.14 Beta! (Instructions)
Download the mcaddon
Double-click and Minecraft should open
Create a new world and enable experimental features
Choose "Explorer Mode" under behaviour packs
Downloads
Supported Minecraft versions
1.14