This add-on adds many decorations, more villagers. There is everything from kitchen utensils and bathroom equipment to things like a stove, shower products and entertainment-related things, like a pool table and a PC for games. It is a great addon if you want more options to decorate your home.
Creator: ROBERTGAMER69, Twitter Account, YouTube
How does it work?
Since most furniture is an entity, this means that you can easily rotate the furniture in the direction you want. Some furniture, such as chairs and sofas, also have some functionality in that regard so you can sit on them. Currently, all the furniture is in the creative inventory when you search for FURNICRAFT and you will see all the furniture there. You can use the rotator to rotate furniture.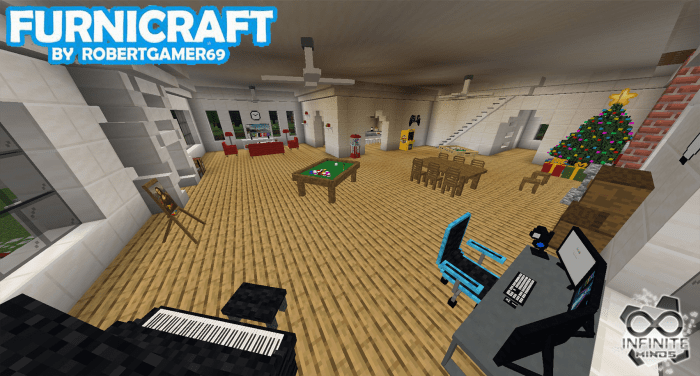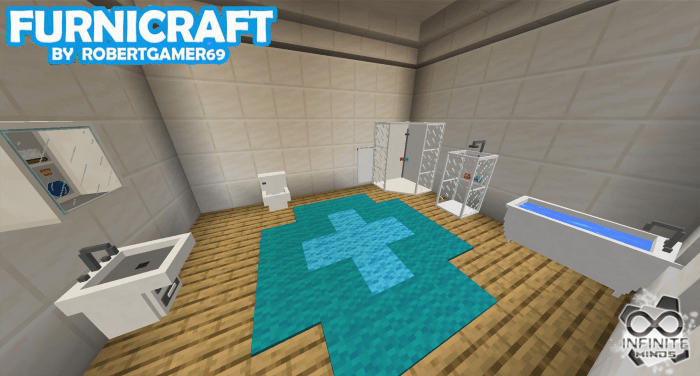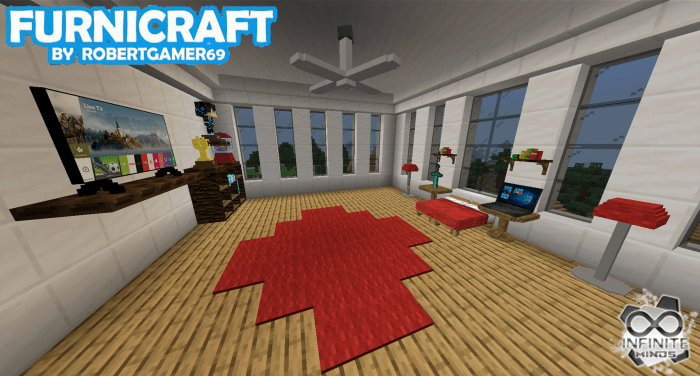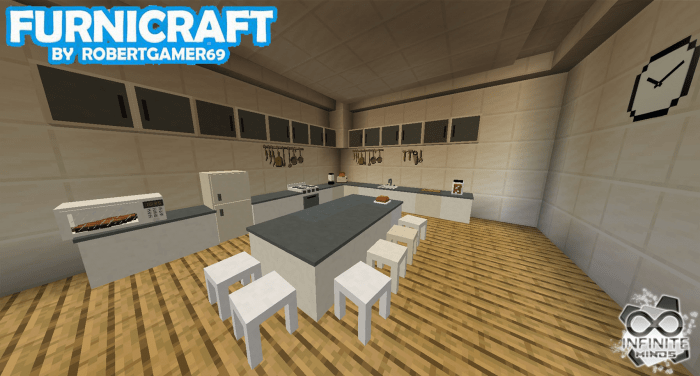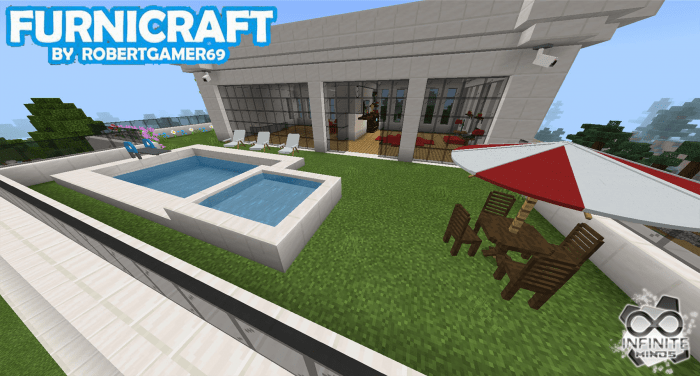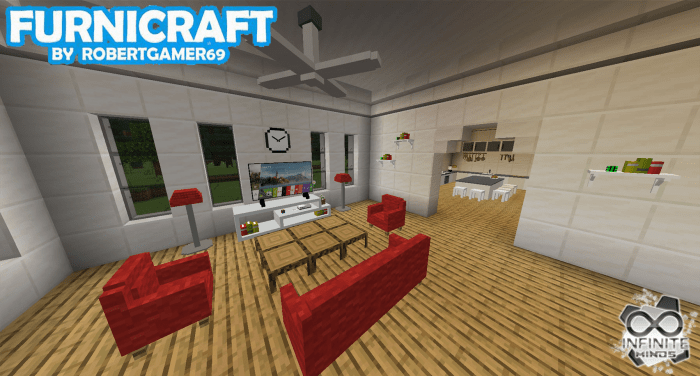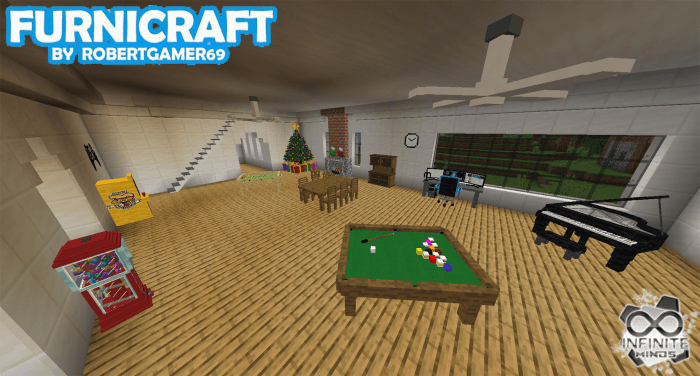 Furniture
Here's a list of the furniture included with this add-on.
Trampoline
Swing
Slide
Trampoline for the pool
Christmas tree
Gamer PC Set
Piano
Park bench
water source
Satanic ritual
Ceiling fan
Pool table
Soccer Table
Big chewing gum machine
Small chewing gum machine
Recreational Machine
Teddies machine
Laptop
Bath
Sink
Toilet
Watering can
Fridge
Stove
Microwave over
Laundry
Trophies
shelves and furniture
Closet—(16 materials)
Beach chairs—(16 colors)
Umbrellas—(16 colors)
Armchairs—(16 colors)
Lamps—(16 colors)
Gamer chairs—(16 colors)
Beds—(16 colors)
chairs—(16 materials)
Small tables—(16 materials)
Big tables—(16 materials)
bench—(16 materials)
Players—(16 skins)
Tv—(16 texturas)
Furniture for Tv—(16 colors)
gifts—(16 colors)
Etc…
How to get them?
First you will have to obtain the clay for furniture, its elaboration is the following: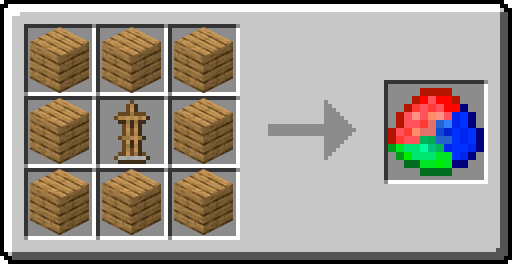 When you have the clay for the furniture, you will have to get a stone cutter to get the furniture.
Here is an example of how furniture is obtained in the stone cutter: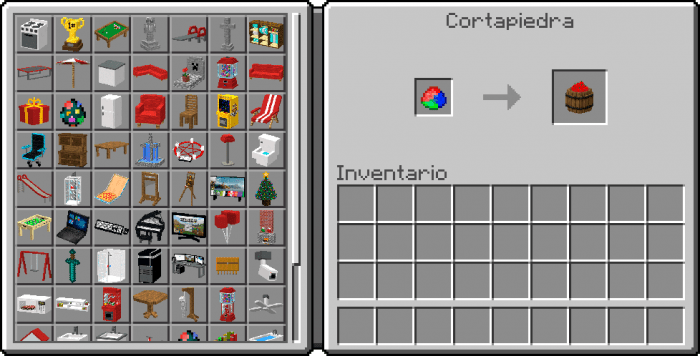 and with that done you can get all the furniture in survival
Obviously you can also find them in the creative inventory
The ROTADOR was also added to rotate the furniture can also be obtained with the stone cutter…

  1.compatible with more devices
  2.kitchen furniture was added
  3.microwave oven
  4.blender
  5.cookie jar
  6.meat dishes
  7.Etc...
a version with the Russian language was created
compatible with more devices
some textures and models were changed
some errors were corrected that made creasheara
etc..

Compatible with more devices android,ios,windows,xbox.

some furniture models were changed
some textures were changed to work on more devices
the barrel with apples was added
a support with paints was added
the park benches are now of more materials (16 materials)

a functional bridge was added (replaces the heads)
a white fence was added (replaces the heads)
added modern stairs (replaces the heads)
changed the model of the beds (3d beds)
the single chair was added (16 colors)
the furnicraft clay was added
now with the furnicraft clay you can get the furniture in survival
you can get the furniture in the stone cutter using the furnicraft clay
Support in Russian language

Now compatible with more devices
bugs fixed
Now you can get the furniture with the stone cutter

the open grave was added
the closed grave was added
the gallows were added
guillotine was added
the bathtub model was changed
large watering can was added
steve's grave was added
the tomb of the villagers was added
security camera was added
now you can change the furniture designs with the brush
Now all the furniture will release a clay that with the stone cutter you will be able to get the furniture again
now the security camera and the fan has animations
now gifts can give you random things
remote control and brush added (to change the appearance of furniture)
new model for the normal tomb and cross tomb
NPC and NPC baby added
The chimney model was changed
the model of water sources was changed
try giving a cake to the creator's NPC
several errors were corrected
compatible with more devices
Rotator was added to rotate furniture
now the coffins can be placed in several positions
Now the furniture is not rotated by being on top of them. you will have to occupy the rotator

ALL items of furniture were changed
park bench model changed
the house for the dog was added
now the slide can change color
now the swing can change color
now the jumper can change color
the swing model was changed
textures were reduced by 50% for compatibility with more devices
computer monitor added
computer CPU added
keyboard and mouse added
now the gamer pc can change the screens
more trophies were added
wooden furniture was added
the armchair was added for the corners
colored balloons were added
now the piano has a bench where to sit
Now the satanic ritual has the candles burning
a sword buried in the ground was added
wall shelf added
several textures were corrected

Fixed some bugs from the previous update
some textures were changed
textures were reduced to be compatible with more devices
full version changes v11.1

several errors were corrected
compatible with more devices
Rotator was added to rotate furniture
now the coffins can be placed in several positions

Now the furniture is not rotated by being on top of them. you will have to occupy the rotator
ALL items of furniture were changed
park bench model changed
the house for the dog was added
now the slide can change color
now the swing can change color
now the jumper can change color
the swing model was changed
textures were reduced by 50% for compatibility with more devices
computer monitor added
computer CPU added
keyboard and mouse added
now the gamer pc can change the screens
more trophies were added
wooden furniture was added
the armchair was added for the corners
colored balloons were added
now the piano has a bench where to sit
Now the satanic ritual has the candles burning
a sword buried in the ground was added
wall shelf added
several textures were corrected

Installation
Download Resources .McPack
Download Behaviors .McPack
Apply the packs for a world
Enable "Experimental Gameplay" in the world settings
Create the world


Downloads
Supported Minecraft versions
1.10
1.11
1.12
1.13 (beta)