Hi, I'm Jackson. This is a parkour map that I see lots of command blocks, hence the name. There are lots of different types of parkour, including a secret level! There is slime block parkour, honey block parkour, disappearing platforms, anvil runs, speed runs and much much more. Find all 3 secrets and you get to play the secret level! Good luck on finding them all! 
This is a heavily "command blocked" map with lots of things to do! First is the parkour, which stretch's over 1000 blocks with all sorts of crazy parkour using a vast system of command blocks PLUS the bonus level!
Bonus level
To get to this level you have to first find all three secrets! After you have you get to play whole other level!!
What's included
In this parkour we have honey block jumps, slime bounces, tower to climb crazy speed runs and disappearing platforms and that's not even counting all of the command block creations!!! Go check out all of them for your self!
First half
in the first half of the level you going through the parkour designed to look like the stages of Minecraft survival. First spawn, then the caves, then the nether, then the end and so on!

Disclaimer: the first half of this map is not my creation. All credit goes to the original creator: elingo. Everything after this point is mine
Second half
In the second half of this map you go to a dungeon like level with lots of lava and lots of big jumps! First there is a speed run, and then there is a slime-honey block section followed with barrier mazes and anvil runs! After that we have disappearing platforms and speed runs, and then we have the secret level... but you'll have to play to find out what it is!!
This map uses a vast collection of command blocks, hence the name, and you will find very cool things to do in this! For example the speed runs the anvil runs, the lava towers, and last but not least the moving/disappearing platforms! Good luck, your going to need it!

Examples of the parkour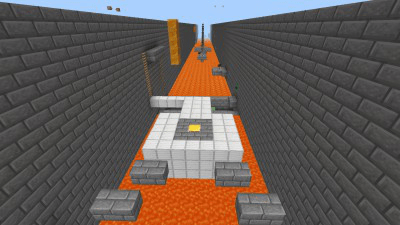 Lava parkour
This part of the parkour is a tower that if you don't get to the top in time it fills with all the way with lava. Your goal is to get out before the lava reaches you
Anvil run/barrier parkour
The Secrets
This shows you the secrets that you have found, and gives you hints on where to find them
Speed run
This is the start of the speed run. The Redstone blocks indicate that the block will disappear if you stand on it for too long

Slime block/honey block
This contains slime blocks and honey blocks parkour
Check out the bonus level too!
There are anvils falling in a line. Your goal is to get to the other side without them hitting you. The part next to that is a parkour with barriers, you have to use the blocks in the wall to help you know where they are
Select version for changelog:

Installation
It's a media fire link and an android download, let me know if you have any other questions.