Are you a space lover? This texture pack changed all the default paintings into space pictures from Pixabay.com. But that's not enough, This texture pack is a 512x HD texture pack! It makes the paintings look more comfortable.
My bilibili channel: 秋寂菌又自闭了
This is the kz.png picture, included seven 1×1 paintings, five 2×1 paintings, two 1×2 paintings, one 4×2 painting, six 2×2 paintings, two 4×3 paintings, and three 4×4 paintings.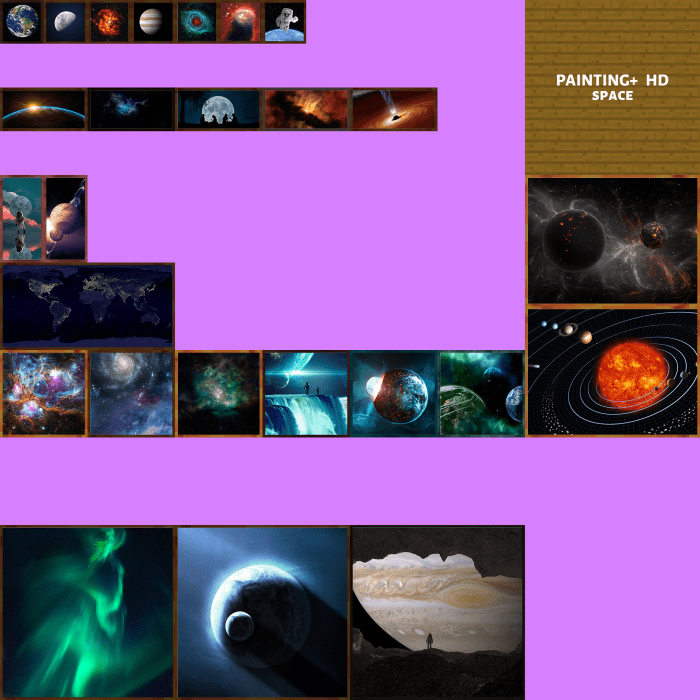 Added two external links (Mediafire) on the website and one on the apps.
Sorry everybody, but I have no idea why you guys can not import the texture pack because the texture pack can import successfully on my device. So I provide you another link to download a zip file, you can try to import the texture pack by unzipping the zip file to the texture pack folder called resources_packs. If you can't find this folder, try to change the storage location into External and try again. You can change your storage location in Minecraft > Settings > Profile. :P
Have a nice day!
Installation
Hope you like it!
Downloads
Supported Minecraft versions
1.14
1.15 (beta)
1.16 (beta)
Resolution
512x