I have always been of the idea that Minecraft needs to be more scary, if you think about it, it is almost a survival horror, so I hope this add-on gives that terrifying touch to the game.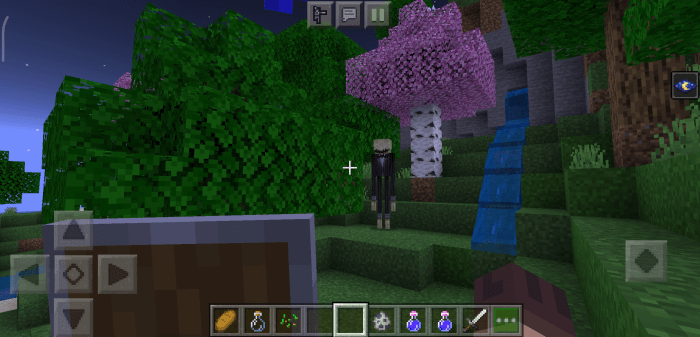 This Slenderman does not behave like the one in his games, this demon will kill you with a single blow and you cannot kill him, in fact if you manage to hit him he will laugh at you.
WARNING: This mod is not designed to fight him, its designed so that as you would in real life, if you see him, run like if there is no tomorrow.
You will find him mainly at night in all biomes with high density of trees, such as forests and taigas, if you see him from afar then run, if you hear him teleport or make noises near you, it is most likely that he will kill you because his teleportation abilities are far superior to the Enderman's.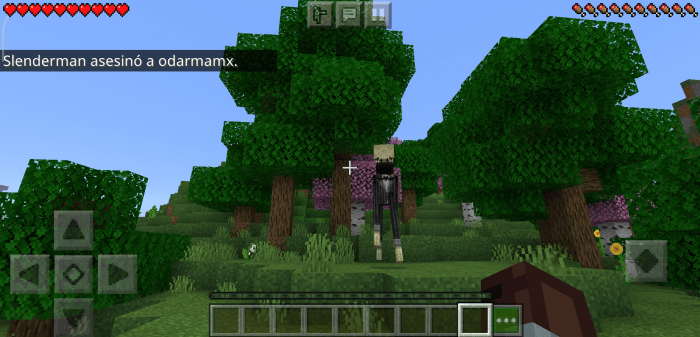 NOTE: The texture of this mob is not mine, unfortunately it is a skin that has been republished so many times that i could not find the original designer, however i want to thank him for designing this skin so good, i tried to make one by my own and the truth is that my texture, although it was good, it was not as terrifying as this.
FOR THE TOXIC ONES: Yes, i know that this is not the "original" design of Slenderman (although that does not exist), i know that in this add-on he has a mouth and does not have a tie and his suit has stripes and does not make static noises, but this is a creepypasta and in the collective imagination everyone can give it their interpretation and design… this is mine.
Remember, don't fight him, run for your life!
Select version for changelog:

Changelog
This update has been developed from scratch.
Damage reduced from 200 to 100.
It's easier to escape from Slenderman now.
Slenderman will only attack you if you look at him.
Slenderman will spawn more frequently.
Fixed a bug that caused it to spawn underground.
Installation
Once you have downloaded the behavior and resource mcpack files, open each one with Minecraft and it will do the rest.
If you download Full link, just open the mcaddon file with Minecraft and it will install itself.
The ZIP link is for manual installation by copying and pasting folders.
Remember not to click or touch any of the ads.
Una vez que hayas descargado los mcpack de comportamientos y recursos ábrelos uno por uno con Minecraft y éste hará el resto.
Si descargas el enlace Full sólo abre el archivo mcaddon con Minecraft y se instalará automáticamente.
El enlace ZIP es para instalación manual mediante copiado y pegado de folders.
Recuerda no dar clic ni tocar ninguno de los anuncios.
Do not republish this addon as your own or modify it's contents without my consent. If you are going to review or publish this add-on elsewhere, don't make your own links, use the link to MCPEDL and always give credit to me, you can find my social media and channels on my profile.