Hello Everyone My Name Is Lander and I am an addon Creator who was inspired to make addons just like BendyTheDemon18 someday and here I am now, I present to you, The Unknown Figure Addon, an Addon that brings a new mob into your world that has an advanced AI and that tries to hunt you down and Kill you for sport, his appearance is a mixture of The Crooked Man and Slenderman, he has many abilities and can do many things.




The Unknown Figure Entity

The Unknown Figure Is Up to 3 blocks tall and can teleport like the enderman, and can do everything above except for jumping extremely high and flying, it does not spawn in the world like normal minecraft mobs so you are gonna have to spawn it in by going into creative mode to look for the spawn egg, or by doing the summon command, this creature is not only terrifying by appearance but it can also talk to you and hints you when its coming.
This does not replace any mobs in minecraft.
Important Info :
Do not use it in one of your favorite worlds without making a backup first because he has the tendency to destroy everything in his path as he pursues you! :/ , make sure to create a new world before using this addon because this mob can edit Some of the settings of the game, And also make sure you turn up Your Sound for this will give you a clue that the monster is getting closer :} This Mob can also almost break every block in the game, so keep your eyes peeled he could come up from behind you, on top of a tree, or from underneath you. Once You Hear Mining you will soon experience the wrath of the Unknown Figure…..
Once You see a caution text followed by a Warning Text Your Done for YOU BETTER RUN FOR YOUR LIFE.
The Unknown Figure Knows a lot of things……
"Do Not Spawn More Than One Of The Unknown Figure Other Wise you won't experience the full AI"
If You Choose To Try And Kill Him Or Spawn In Cartoon Cat With Him In The Game, You Will meet your demise :}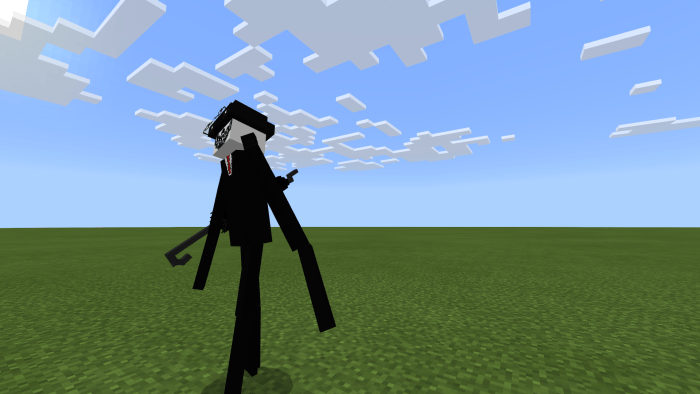 * Health : 40 (But It Is Invincible because it is smart and can use commands)
* Follow Range : 1000

* Damage : 7
* Abilities : Levitation Umbrella, "New Even Smarter AI Teleportation" , "New Commands"
* Height : 3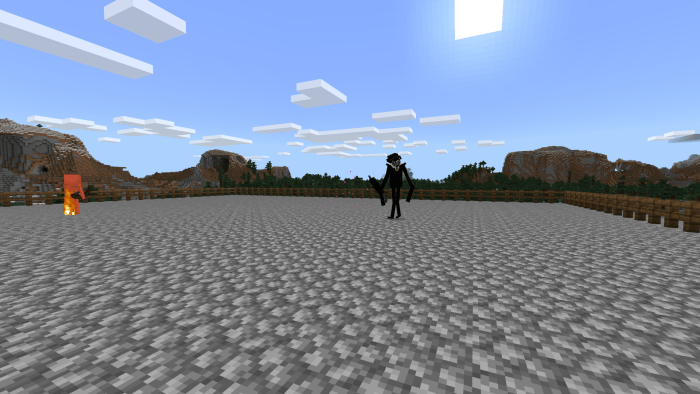 REMEMBER YOU ARE NOT TO RE-UPLOAD THIS ADDON WITHOUT MY PERMISSION
!
Terms And Conditions

from when Using This Addon
Rule 1. Make Sure To Credit Me When You Are Using This addon In Your Map.
Rule 2. You are not to mess around with or change the files of the addon without my permission.
Rule 3. Have Fun And Scare Your Friends! 😀
If You've Enjoyed Please Make Sure To Rate And Comment Down Below! 😀
v.4.1 Changes And Updates 
- Added More Abilities
-Fixed Despawning (he will no longer despawn) to test if he exists do /testfor @e[type=landerboss:unknownfigure] or /tp @e[type=landerboss:unknownfigure] ~ ~ ~
-More Monsters Coming Soon! 
-Added More Scary Stuff :}
v 4.1 Updates And Changes
- More Monsters Coming Soon!
- The Unknown Figure No Longer Despawns when You go past 1000 blocks (Not Entirely Sure Please Reach Out To Me If He Ever Despawns, to check if he didn't despawn either do a testfor @e[type=landerboss:unknownfigure] or do tp @e[type=landerboss:unknownfigure] ~ ~ ~ thank you)
- Added More Scary Stuff
-Added The Chat Back And A New Way For Him To Chat
4.0 Updates and Changes
* Removed TNT, to make something even better in the future
*Added More Style To Clothing And Walking Animation
* Fixed Watermark and sounds from not loading in the game
*Changed Presence Bar
*Added Evil :}
3.0 Updates and Changes
* Added GLASSES
*Added more abilities and 1 more sound (so that you don't hear the same thing over and over again)
* Got rid of chat and added A Presence  bar at the bottom of the screen instead of chat
*Added the ability to update itself or make itself unstuck
* More sounds will be added soon!
v.10 added Unknown Figure To The Game 
v.30 Behavior Changes And Secrets Coming Soon!
v1.0 Added Sounds And Talking
v2.0 Umbrella and More Abilities Coming Soon
Installation
Make Sure To Download Both Packs Other Wise The Addon Will Not Work Properly In Game!
Downloads
Supported Minecraft versions
1.14
1.16