The function pack implements some structures like tents into your Minecraft worlds. The idea is that you have to build a small special structure and then stand on a special block and the base will be automatically spawned.
First of all you must add the function (you find it under the behavior packs section) into your world.
Then you follow these steps:
Go into gamemode creative
Give yourselfe a command block
Set it to repeat and needs redstone
Type in: /function travel_base
Go into gamemode survival
Place a redstone torch or block at the command block (so you can stop and start the function)
Ready
(Because the function creates a tickingarea, it works over the whole world)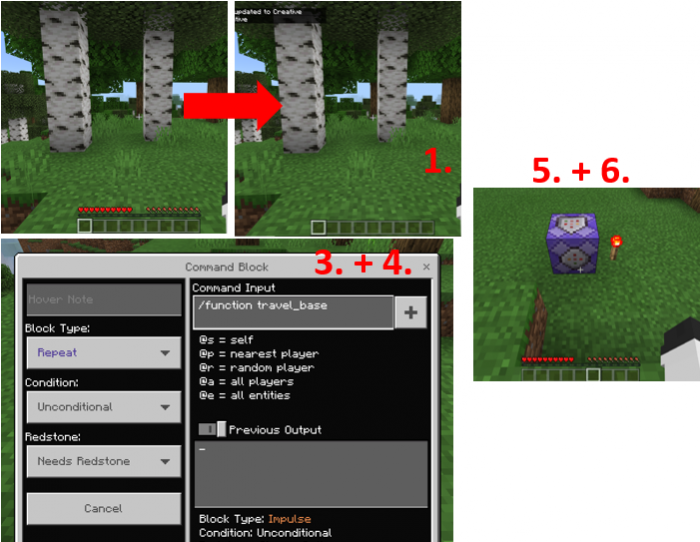 Now you can build the following plans, which will spawn the different tents and camps.
imagine this situation: you are traveling through your world far away from home and it will be night. So you need a little base where you are save and can stay over night.
For this you can build one of the following plans (at the next six pictures at the left side) and stand on the block where my figure stands.
The funtion proofes, if there is a plan and if the plan was built correct. If everything is ok the tent or camp (at the next six pictures at the right side) will be created at your position and the plan will be destroyed.
Note: You need exactly the same materials like at the screenshots and the plans have to be aligned in positive x-direction.
normal simple tent:
materials: 3 cobblestone, 9 brown/grey/orange/lime/pink wool, 4 oak logs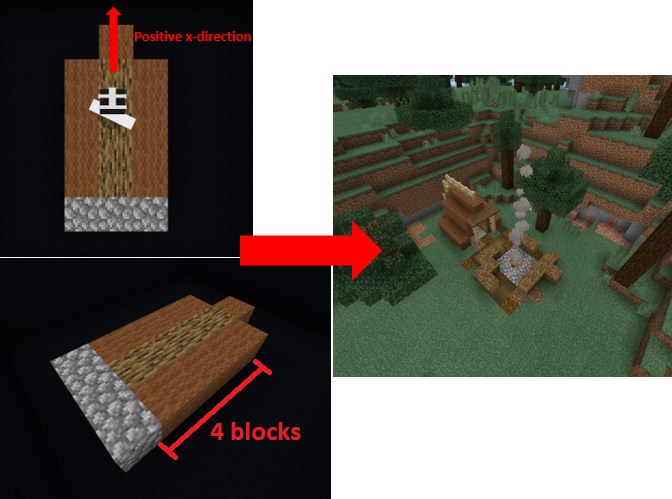 this different colours are possible: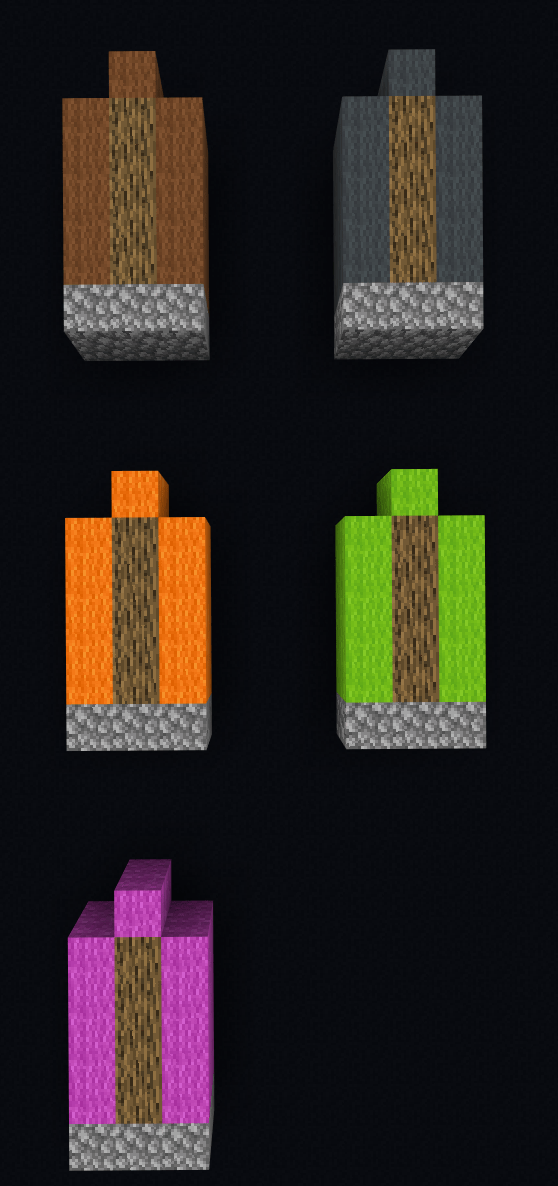 For example this wouldn`t work, because the plan insn`t aligned in the right direction and so the function can`t find a right plan: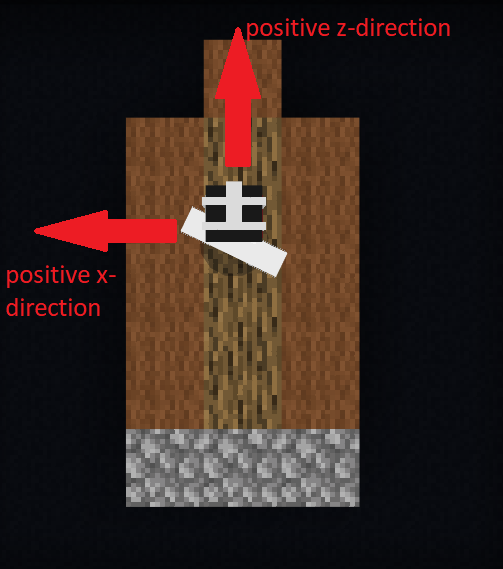 Jungle tent:
materials: 10 oak planks, 5 oak logs, 20 green wool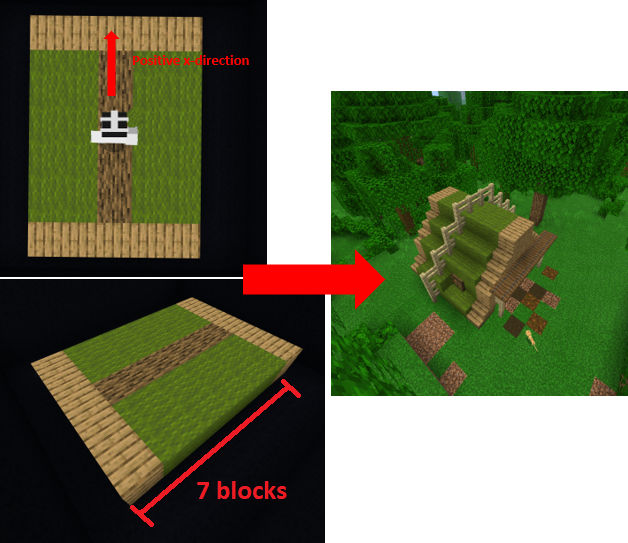 Desert tent:
materials: 1 cobblestone, 5 oak logs, 7 spruce planks, 23 brown wool, 1 (red) sandstone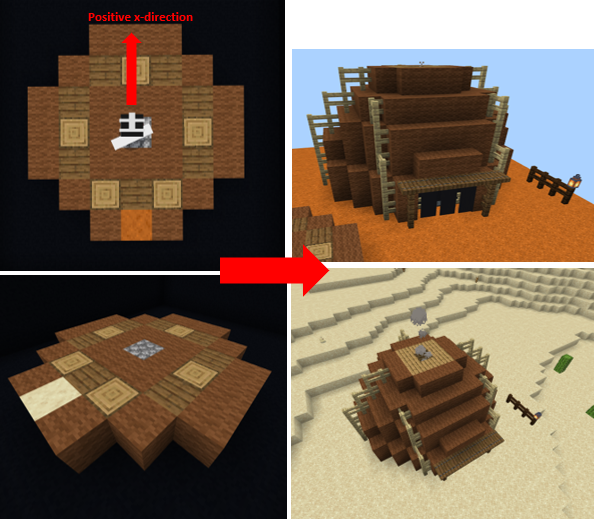 Note: in a red desert, it looks exactly the same except the ground (the plan needs a red sandstone block instead of a normal sandstone block).
igloo:
materials: 1 spruce planks, 8 blue ice, 16 packed ice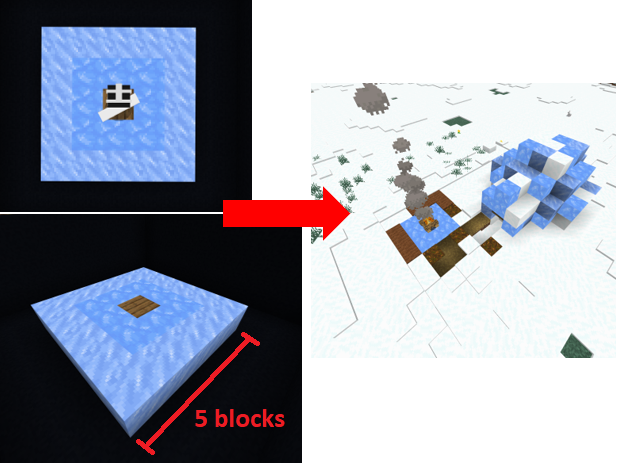 Note: here you don't have to pay attention to the direction, because the plan looks the same in every direction.
Small camp:
materials: 24 oak logs, 4 spruce planks, 4 white wool, 3 cobblestone, 1 coal block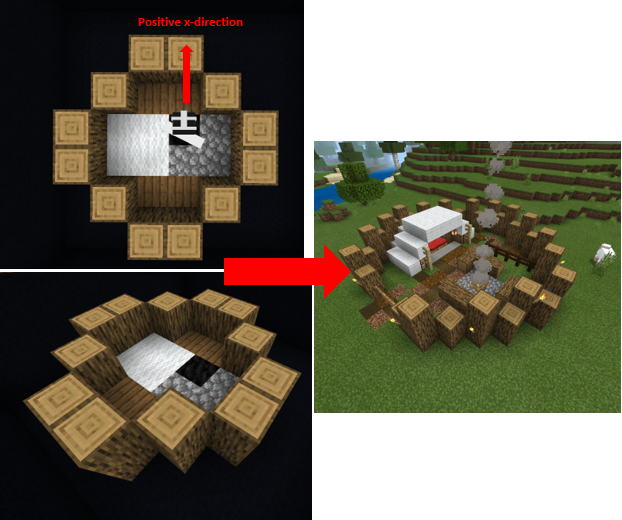 Big camp:
materials: 40 oak logs, 4 cobblestone, 5 white wool, 4 iron blocks, 1 emerald block, 23 spruce planks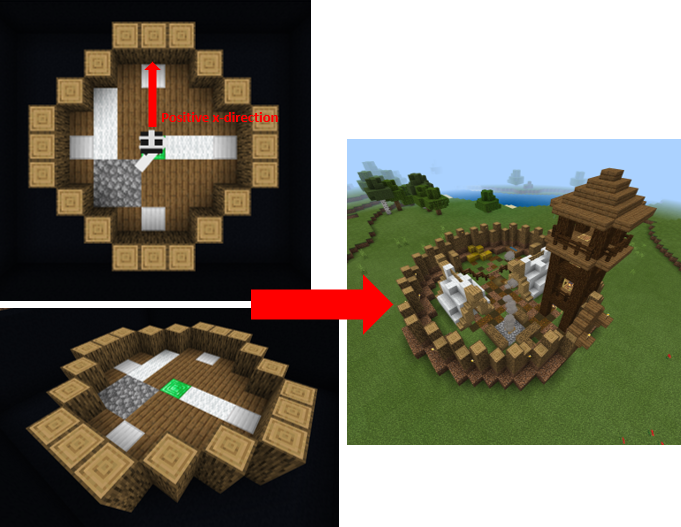 Note: because you can´t create a normal double door with commands (everytime I tried, the door breaks), I use another possibility and so the door looks a bit different.
modern tent:
materials: 25 grey wool, 12 light grey wool, 2 cobblestone, 1 iron block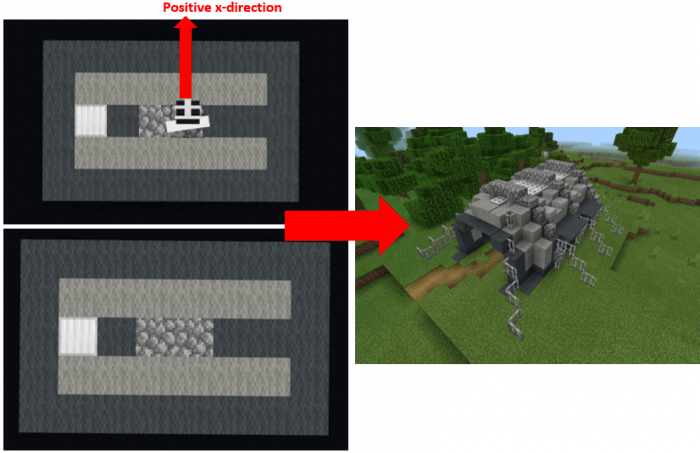 teepee camp:
materials: 30 white wool, 2 green wool, 2 red wool, 2 orange wool, 12 cobblestone, 18 oak planks, 6 spruce logs, 1 emerald block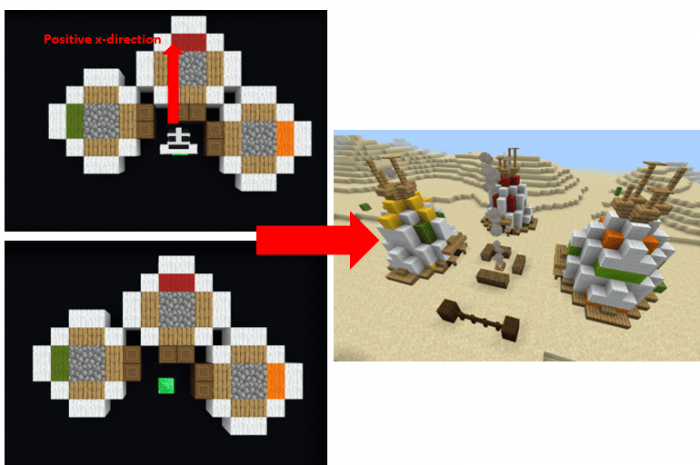 Note: the emerald block must be placed one block lower than the other blocks of the plan (in the ground)
raft:
materials: 21 oak logs, 9 spruce planks, 5 white wool (and 35 water source blocks under the plan)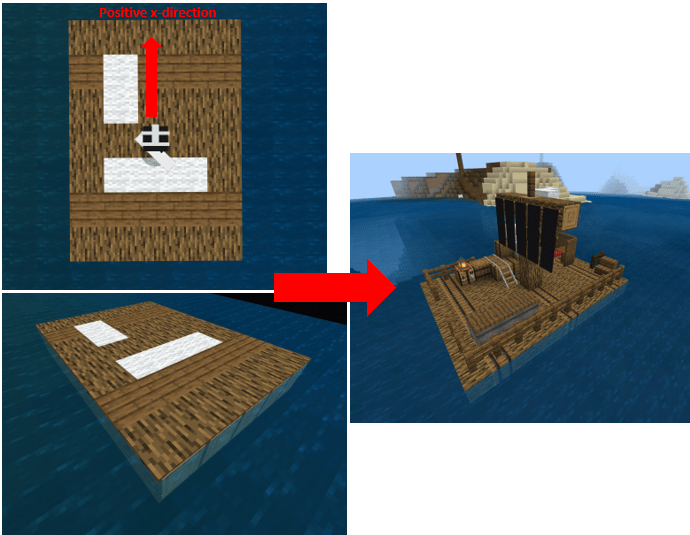 caravan:
materials: 14 stone brick blocks, 6 dark oak planks, 10 quartz blocks, 10 light blue terracotta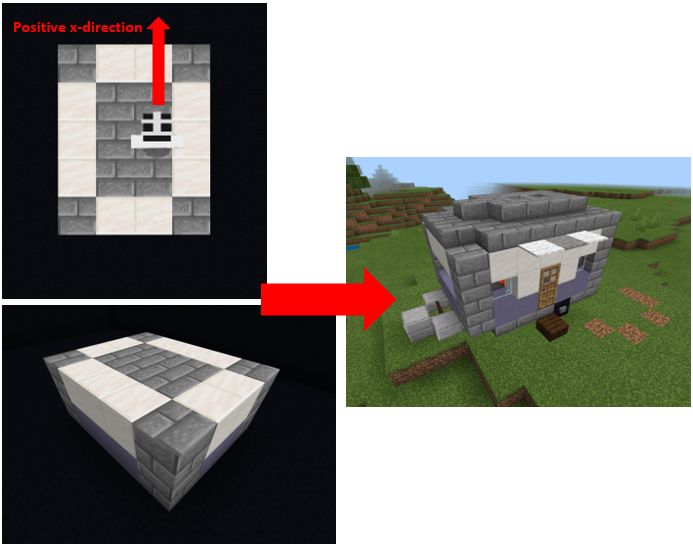 garden hut:
materials: 16 oak logs, 16 spruce planks, 9 oak planks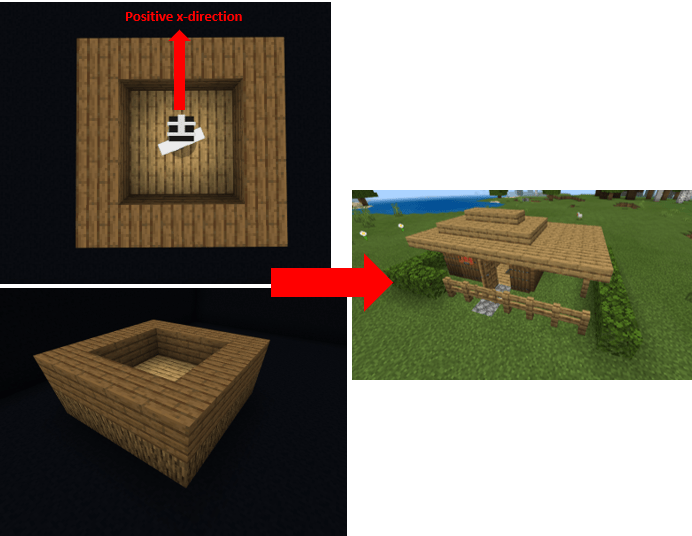 mesa house:
materials: 12 white terracotta, 12 light grey terracotta, 8 brick blocks, 4 spruce planks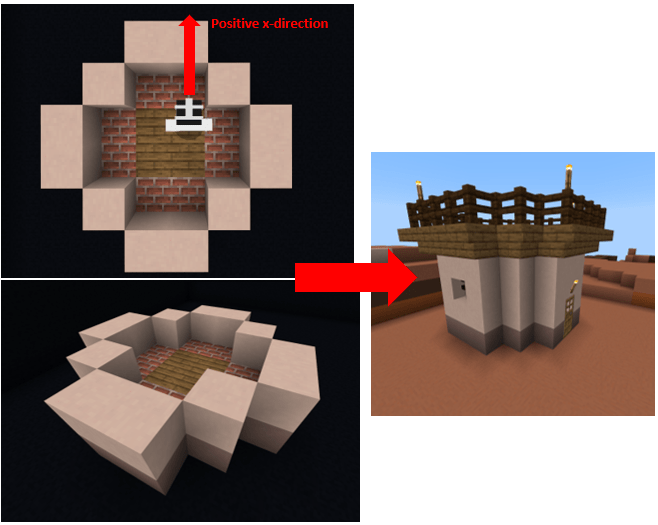 pink house:
materials: 5 white concrete, 5 pink concrete, 2 spruce planks, 12 birch planks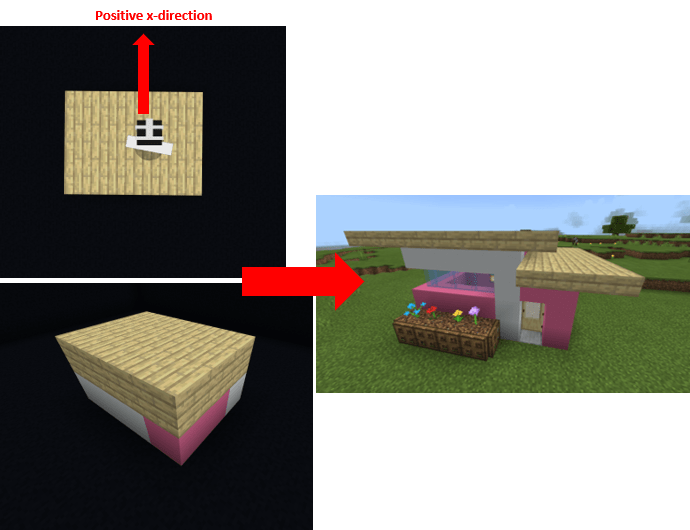 small modern house:
materials: 16 grey concrete, 9 white concrete, 17 acacia planks, 7 grey stained glass blocks, 1 iron block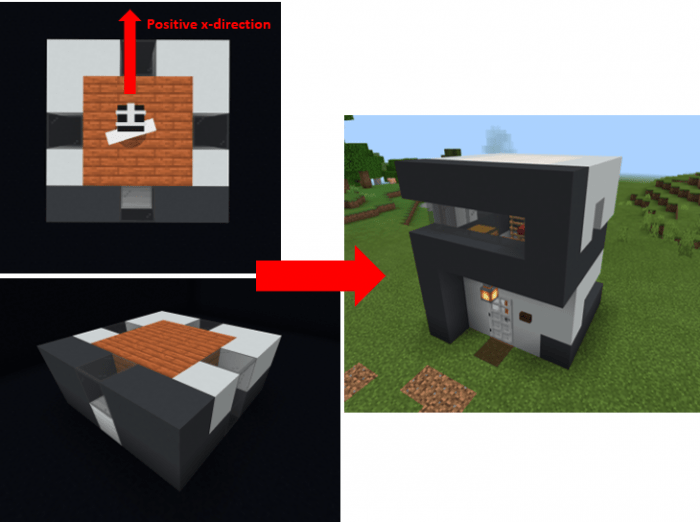 Finally, after you built the plan (you were standing at the right block), the base was created and the plan was destroyed, it looks like that: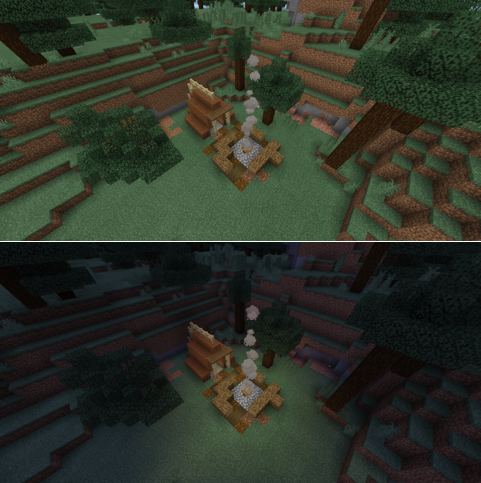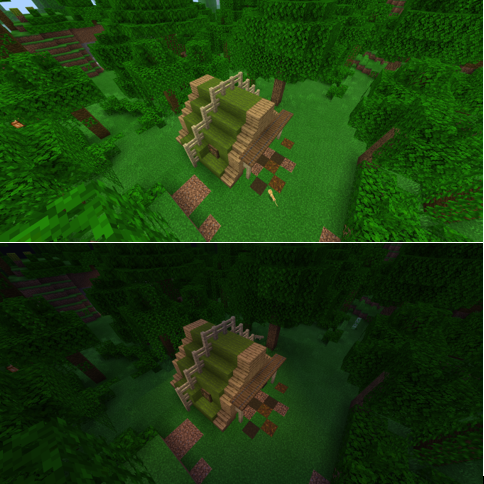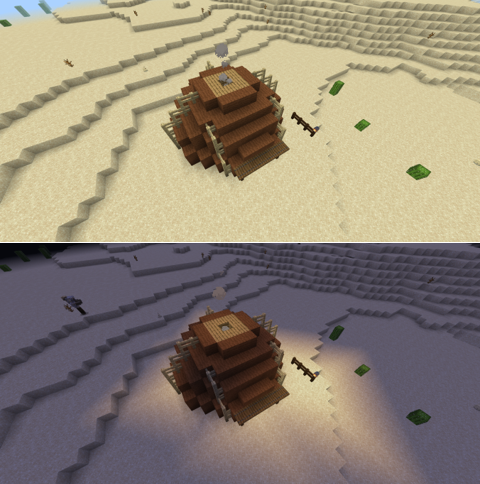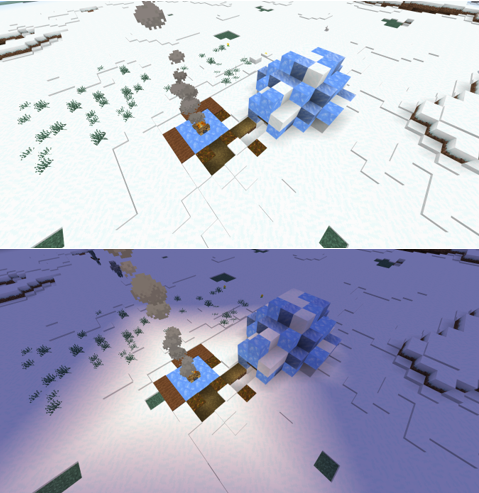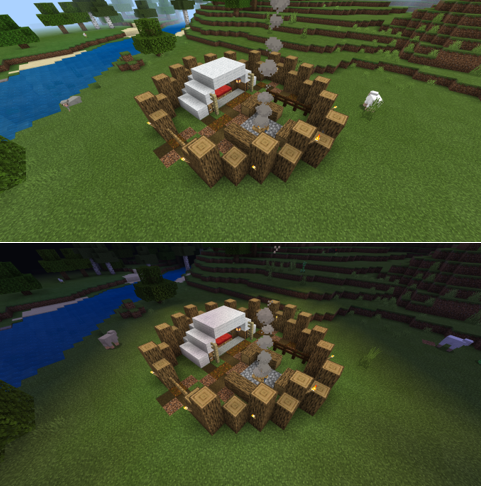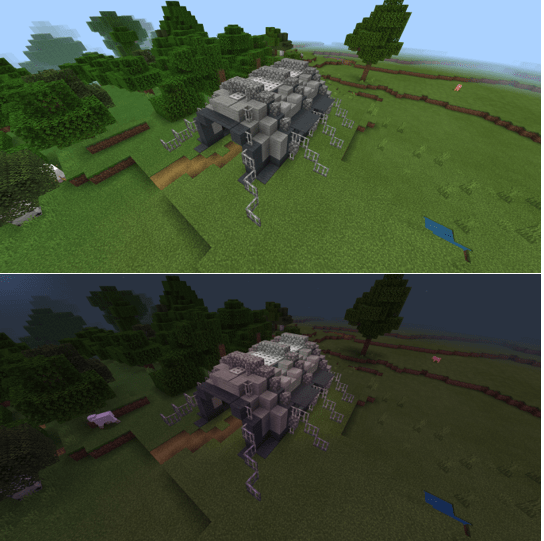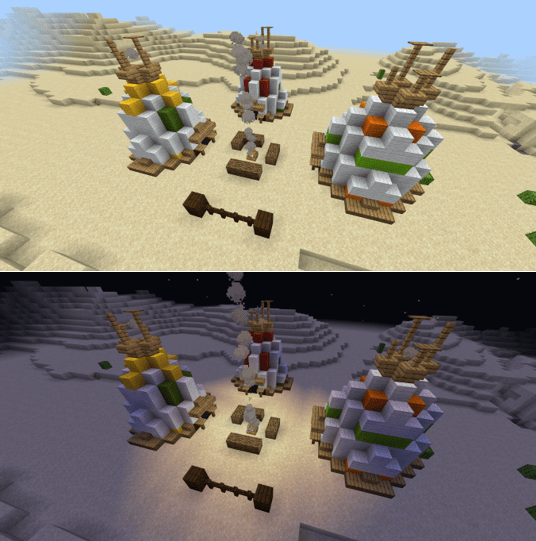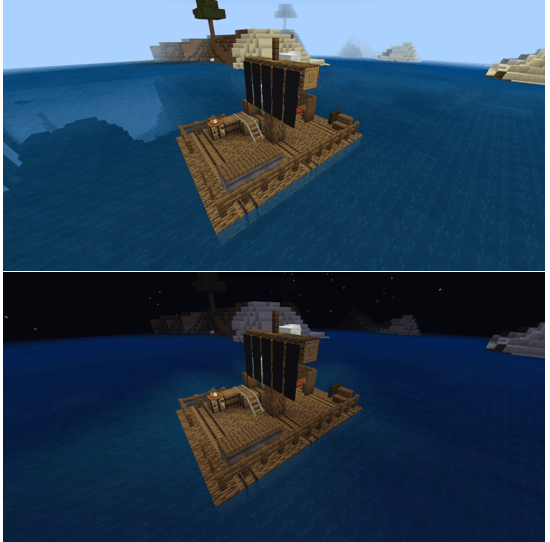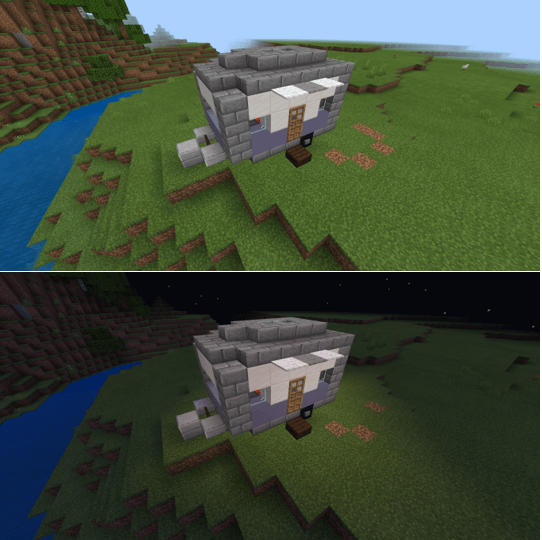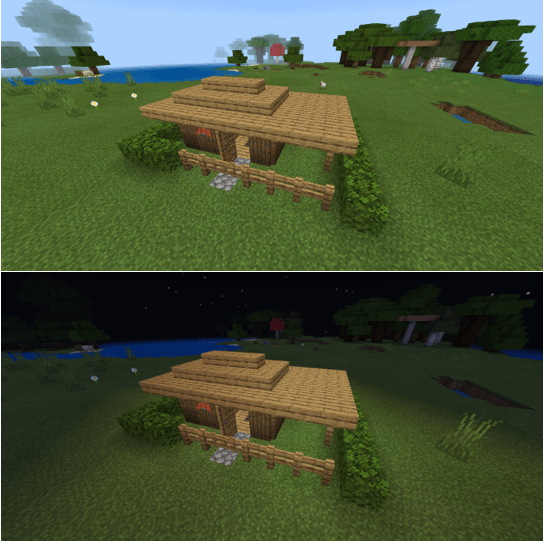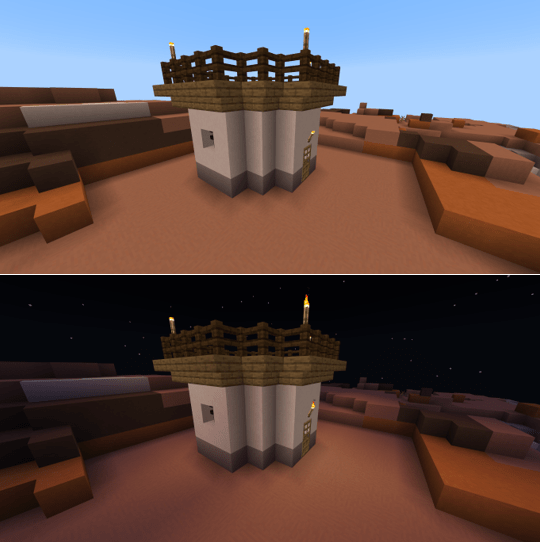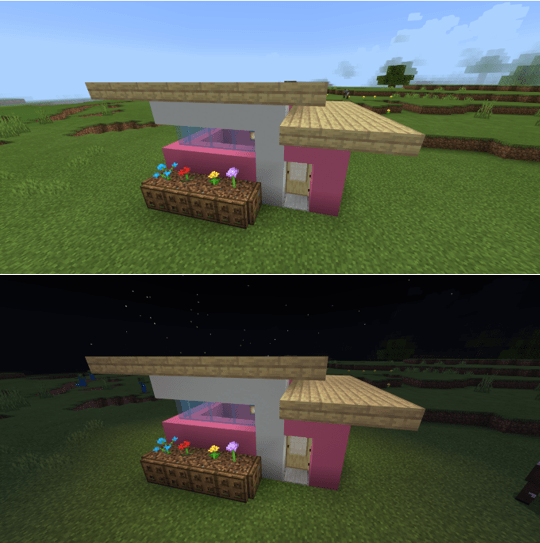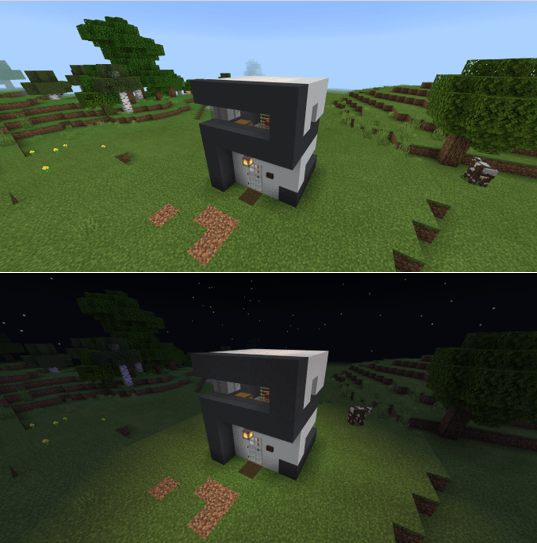 If you want, you also can download my testworld for this function to try it all out:
Travel_Base-Function_Test_World
(–> mcworld file, Mediafire)
Note: You also must add the function to the test world.
Here you have pictures from all plans and 3D-modells from all tents and camps:
Travel Base Function – Pictures
(–> zip file, Mediafire)
And here you can download a little video in which I show you, how you should use my function (as an additional explenation/instruction):
Instruction Video
( –> mp4 file, Mediafire – Attention: size: 140MB)
I hope, I explained everything well and you have fun with this function. 🙂
more detailed description
better pictures
added a link for a downloadable video as an additional explenation

wrong picture (desert tent) replaced by the right one
--> block in the middle must be cobblestone
--> now it should work
added anvil sounds, which will be played when a base was built
added information on how many materials you need
thanks for your much replies, ideas and hints  :-)

added new structures:
modern tent
teepee camp
raft
caravan
garden hut
mesa house
pink house
(small) modern house

added different colours for the (small) tent
fixed the double door from the big camp

Downloads
Supported Minecraft versions
1.11
1.12