Everybody loves UHC! It combines PVP, mining and surviving into one exciting game mode. However, most servers on bedrock edition do not feature this game mode, and UHC maps just aren't the same!
UHC function addon is an add-on that turns your game into an exciting game of UHC! It is only 570kb, but it features anything you would need in a UHC game!
This pack:
Does NOT require a command block(prevents command exploits too)
Requires only TWO commands to set up
Supports as much players playing at the same time AS YOU WANT!
Different from other ones(I know packs like these already exist.)
Setting up
Requirements:
You will need at least one friend to play with you.
A local world(realms and servers are also supported, but it is NOT intended for use on multiplayer servers.)
This pack
Set up and start the game
Click on "Create a new world".
In the world settings, turn on "activate cheats". This is required for you to start the game.
In the behaviour packs, apply the pack.
Open the world.
In your chat, type in "/function UHC_setup" and press send.
You should now see the confirmation message. You will also get teleported to 0, 0. This is necessary for the game to run smoothly.
You can now ask all the players to join! They should spawn near you.
When everyone has joined, you can type "/function UHC_start" in chat to start the game. All players will be teleported to a random location in the 512*512 area.
You can now start gathering resources and defeat all players to win!
If you are new to this game mode, you can check out About UHC!
About UHC
Ultra Hardcore is a custom game mode where the goal is to defeat other players in the game. Normally, it can be played in team mode, but due to the restrictions of bedrock edition, you cannot team in it.
Borders
The game area is 512*512, surrounded by a border which prevents players from going out. In order to optimize the game, the border does not shrink, and only appears when you walk to them.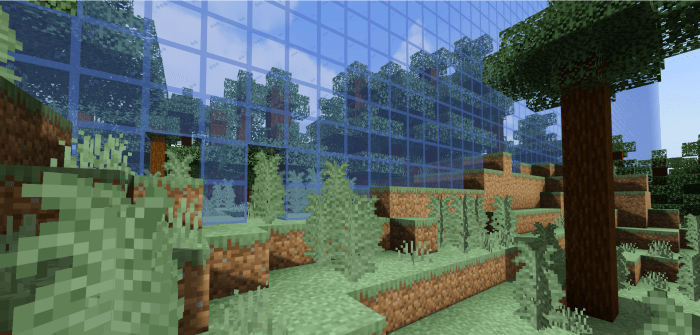 PVP
The PVP in this game is turned off when starting, and turn on shortly after. You can see the time until enabling PVP on the scoreboard or by the system message.
Healing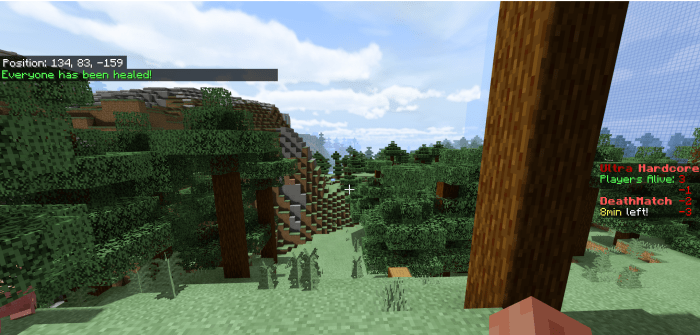 All players will be healed every 2 minutes when they are in the game. It will recover your health and hunger. The game will stop healing in the last few minutes and it will tell you when is the last one.
Death
Once a player dies, this player will NOT be able to respawn. In the current version, the players will only be able to spectate in an overhead view in the centre of the map. The spectating feature will be added in future versions.
Scoreboard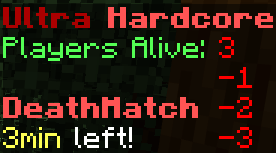 The scoreboard displays information about how minutes are left in the game, and how many players are left.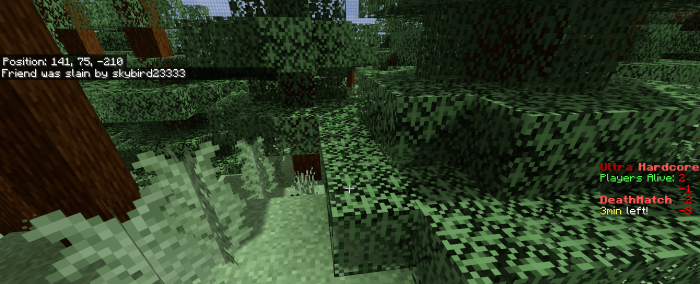 It is updated once every tick.
Deathmatch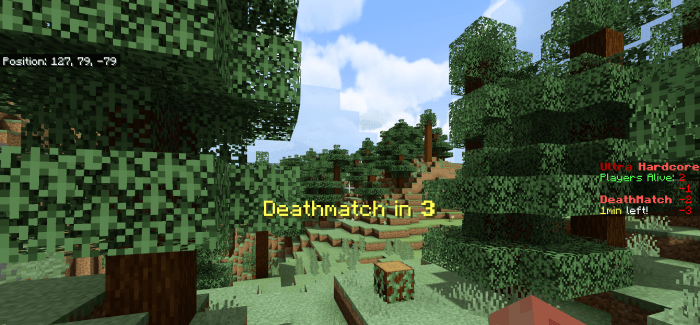 Deathmatch will start 20 minutes after the game has started. If the game ends before that, it will no longer start.
All players are teleported to an arena surrounded by lava.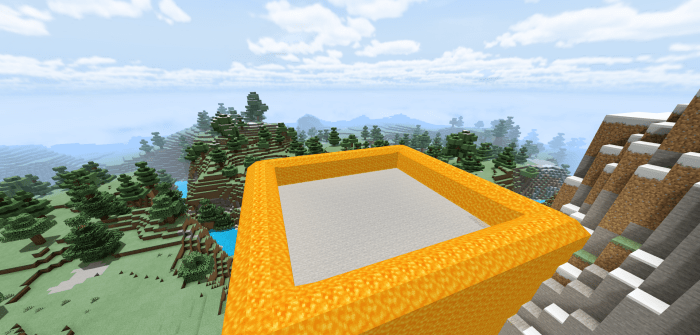 Winning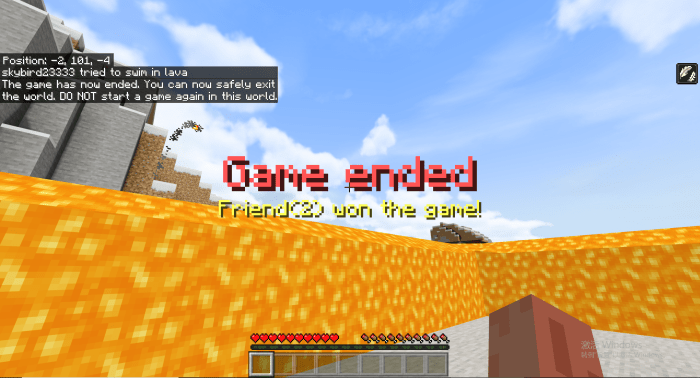 If you have won, you should get a message saying "Congrats". Else, you get the message shown above, with the winner's name displayed.
Notes
This pack is still n development, meaning that there are still a lot of features to be added.
The game event timer might go too fast or too slow depending on the device you are using,
More stuff
There is also a help site for this pack that you can visit if you want to know more about settings.
Credits
Thanks a LOT to Floshox for helping me with the world border commands! If you want to add a bit more fun to your game, you can check out his Better Bedrock addon here!
Download not working/Support
If you have any problems while downloading the pack, or you would like to give us a suggestion, you can join our discord server to get the download or support!
i forgot to add download
k e y s t r o k e
Spectating
Yes, I finally added spectating.
Dead players or players who join after game start will enter spectate mode until the game ends.
The spectators' view will be locked to where the spectating player is looking at, in third person.
The spectating player is random.

It will change every 30 seconds.
The spectating player name is displayed on the bottom.

Spectators will have effects to prevent them from dying

Fire resistance to prevent them from getting on fire
Instant health to prevent them from dying
Invisibility for obvious reasons
Golden Apples
 When you pick up an apple, it becomes golden apple automatically.
If you somehow picked up an actual apple, drop it and a golden apple should appear in your inventory.
Settings
Option name change:

time => mode

long => classic
normal => arcade
Fixes
Players no longer "die" when their level reaches 2 or more.
Disabled end portals and nether portals.
PvP should now enable correctly in classic mode.
you can now make the time one hour long which is like what they have in hypixel or somethin
3.1.2 hotfix
-Fixed a bug which causes the scoreboard to not display.
Update 3.1.1
Help menu Do "/function uhcHELP" to open the help menu.
Bug fixes Fixed some commands
HOTFIX: I forgot the manifest file bruh moment right there
Sorry about this stupid mistake I made
Patch notes 3.1.0
The last version adds a starter kit to the game, and this version brings you the new settings feature(still in beta).
Gameplay
-Settings
-You can now have options before starting the game.
-Available Options: healing, scoreboard
-You can use "/function settings/[option]/[on/off]" to turn these features on and off.
Bug Fixes
-The scoreboard should now display properly.
Patch note 3.0
Starter Kits
- Added starter kit. You are given the leather armour set on start
Player
- Now has 2 lines of hearts, just like in Hypixel
Scoreboard
- It kind of looks like what they have in Hypixel now
- Deathmatch time will not display until PVP time ends
Fixes
-Optimized the world border code
-Bug fixes
forgot exp gameplay
k e y s t r o k e
Downloads
Supported Minecraft versions
1.14
1.15 (beta)