Ultra Hardcore is a custom game mode where the goal is for all players to defeat all the other players. This mode is mostly found on Java Edition servers, but now you can enjoy the game with your friends with this lightweight, easy-to-set-up addon!
Intro
Although there are many similar addons/server plugins for Bedrock Edition, most of these are quite complex to set up and is not customizable. Therefore, the goal of this addon is to become a vanilla Minecraft alternative that everyone can use. This add-on can be set up in seconds and does not require command blocks. There are also various settings allowing users to customize their game, including setting the game duration and changing world border size.
Get Started
This section will teach you how to start a game, step by step.
After you download and import the addon, go ahead a create a new world.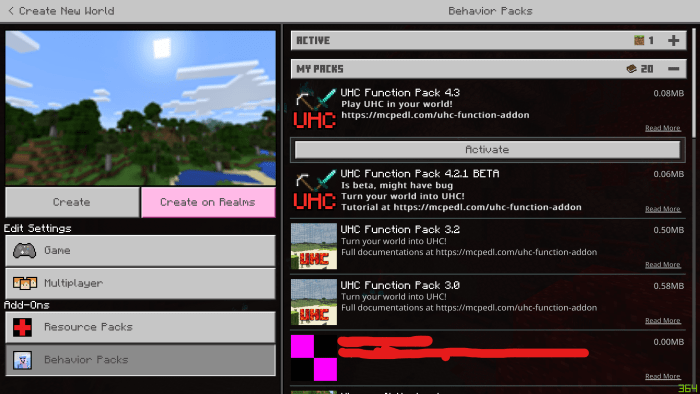 In the world options screen, navigate to "Behavior Packs" in the left-hand screen, and find UHC Function at your right-hand side. Click on "Activate" to apply the pack to your world.
After you apply it, you can then click on the cogwheel icon and choose the world border size for your game.


Then, navigate to Game at your left-hand side, and scroll down. Turn on Activate Cheats.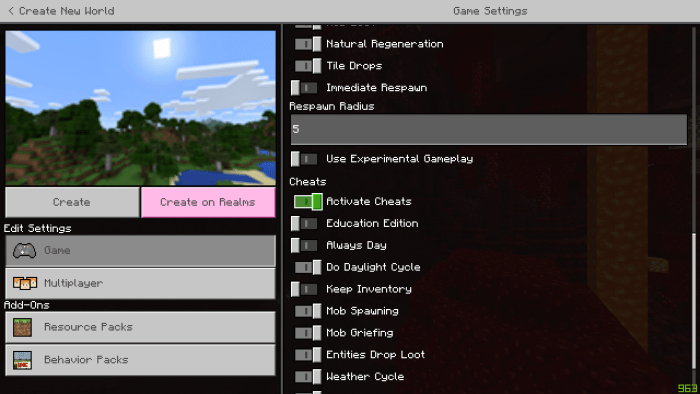 Then, click on Create and wait for the world to load.
Upon entering the world, open the chat menu, and type "/function UHC_setup"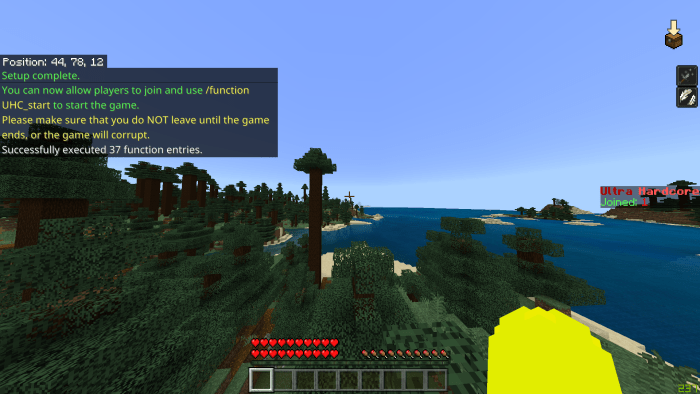 You should now see the confirmation message. You can now change settings(refer to Customization) and ask all players to join.
NOTE: You can let players join before you set up, but players will still be in survival mode.
After the players have joined, you may now start the game by opening your chat menu and executing "/function UHC_start".
If you have done everything correctly so far, you should see the scoreboard showing the next event and all players should be spread around the arena. Good luck to all players!
Realms & BDS Installation guide
Realms and Bedrock Dedicated Server is supported, but highly not recommended.
Check out the articles for Minecraft Realms and BDS here.
Screenshot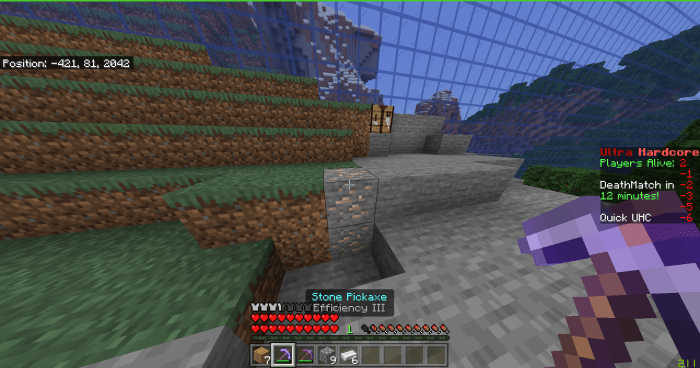 Customization
This section will list all the available options in-game and how to change them.
To change a setting, open the chat menu and type "/function UHC_settings/SETTING/VALUE" where SETTING is the settings and VALUE is what you want to set it to. For example, to turn spectating off, type:

Settings can only be changed before you set up the game.
drop_gapple With this option off, apples will not turn into golden apples when they drop.
healing With this option off, players will not receive heals during the game.
spectating With this option off, players will not be able to spectate other players during the game.
scoreboard With this option off, the scoreboard will not be displayed in the game.
mode When it is set to Classic, the time will be extended to 60 minutes. When it is set to Arcade, the game will only last 20 minutes. Defaults to Arcade.
autosmelt With this option off, iron and gold will no longer be automatically smelted.
Support/Download link
If you do not know how to use the addon or have trouble downloading it, you can get the pack without adf.ly in our Discord server. For glitches or bugs in the addon, head on over to the Github repository and open an issue.
Possibly the last update.
Fixing Diamond rate
Trees drop normal golden apple
Bug fixes
Performance improvements
Gameplay
When the game ends, players are teleported to a thing in the sky which I cannot name
When players die, there is now lightning summoned at where the player died.
Spectators' inventories are now filled with barriers to prevent them from picking up items, dropped barriers are also cleared
More effect improvements
The world border size is now displayed in the scoreboard
World
You can now find more golden apples in the world
Mining iron now gives xp
You can now find gold and lapis underground
Fixes
Having 0 xp will no longer kill you, as a new death detection system has been implemented
Mining iron will now give you xp
Cutclean now works on gold
Spectating for deathmatch is now fixed
Other major bug fixes and improvements
System
Autosmelt is now an option
Added a new help menu
Rewrote error messages
Starting 2 games in a world is now deprecated
Updated post with the latest beta thing
Updated documentation .
update post
delete link for old versions
add beta link and descriptioun
updated documentation.
m i n i m u m w o r d r e q u i r e m e n t 1 0
World
All mobs except for chicken, pig, cow and sheep will no longer spawn.
These 4 animals also now drop cooked meat only.
You can now once again find coal underground.
The spawn rate for all ores has been buffed.
Gameplay
Melee weapons are no longer enchanted in UHC Classic.
All entities(including items) now despawn during the game when the player leaves them for 20 seconds.
All entities are also removed in pre-game.
Fixes
The action bar text in pre-game now displays correctly, with a new animation.
Spectate now works more dynamically, and actually works.
The default border size is now 512x. No more lagging on Minecraft Realms!
Fixing various other bugs.
Updated documentation to comply with the latest version.
If you wish to view the latest addon changelog(4.3), please click the dropdown box above here and select version 1.1.1.
UHC 4.3 Patch notes
Gameplay
Weapons and tools are now enchanted with sharpness and efficiency in-game.
All ores are now replaced with iron and diamond.
When mining iron, iron ingot will drop instead of iron ore.
Customizability
The game now supports custom border size. Border still doesn't shrink in-game, it's just that you can make it bigger or smaller beforehand.
Fixes
Fixing "Waiting for players" text displayed in the hotbar.
Fixing 1.16 compatibility
Fixing spreading players to work for 1.16
Don't forget to join our Discord server for updates! discord.gg/YDHTEXP
4.2.0 changelog
NOTE: As I am unable to run any tests, this version might contain glitches and stuff that makes the game stop working. If you are not afraid of that, go ahead and download! Else, please download the older versions.
-(Experimental) Added auto start, lets you start a game automatically without having to run UHC_start yourself
-Added spectate and gapple to settings
-Fixing a few glitches in spectator mode
-The waiting to start text now has some animation.
More info on how to use the newly added features can be found on the help site.
i forgot to add download
k e y s t r o k e
Spectating
Yes, I finally added spectating.
Dead players or players who join after game start will enter spectate mode until the game ends.
The spectators' view will be locked to where the spectating player is looking at, in third person.
The spectating player is random.

It will change every 30 seconds.
The spectating player name is displayed on the bottom.

Spectators will have effects to prevent them from dying

Fire resistance to prevent them from getting on fire
Instant health to prevent them from dying
Invisibility for obvious reasons
Golden Apples
 When you pick up an apple, it becomes golden apple automatically.
If you somehow picked up an actual apple, drop it and a golden apple should appear in your inventory.
Settings
Option name change:

time => mode

long => classic
normal => arcade
Fixes
Players no longer "die" when their level reaches 2 or more.
Disabled end portals and nether portals.
PvP should now enable correctly in classic mode.
you can now make the time one hour long which is like what they have in hypixel or somethin
3.1.2 hotfix
-Fixed a bug which causes the scoreboard to not display.
Update 3.1.1
Help menu Do "/function uhcHELP" to open the help menu.
Bug fixes Fixed some commands
HOTFIX: I forgot the manifest file bruh moment right there
Sorry about this stupid mistake I made
Patch notes 3.1.0
The last version adds a starter kit to the game, and this version brings you the new settings feature(still in beta).
Gameplay
-Settings
-You can now have options before starting the game.
-Available Options: healing, scoreboard
-You can use "/function settings/[option]/[on/off]" to turn these features on and off.
Bug Fixes
-The scoreboard should now display properly.
Patch note 3.0
Starter Kits
- Added starter kit. You are given the leather armour set on start
Player
- Now has 2 lines of hearts, just like in Hypixel
Scoreboard
- It kind of looks like what they have in Hypixel now
- Deathmatch time will not display until PVP time ends
Fixes
-Optimized the world border code
-Bug fixes
forgot exp gameplay
k e y s t r o k e
Downloads
Supported Minecraft versions
1.14
1.15 (beta)
1.16