Vanilla minecraft isn't that much lively but this pack will bring life to Leaves, Plants, flowers, crops and Water!!! 
This pack simply gives leaves , plants, flowers,crops and water a waving animation which looks pretty cool and lively. It is also pretty FPS friendly so those who cannot use shaders should probably use this!
This texture pack adds waving animation to all leaves (except jungle) grass, and water
AND
Flip book animations to flowers , crops and other plants like saplings and water lily, the Grass block also has a swaying animation when you look closely.
List of things that wave:
-Vines,sugar cane,Tall fern,fern,Tall grass,grass,all leaves except jungle, stems of melon and pumpkin.
-Flowers , crops and other plants.
-Water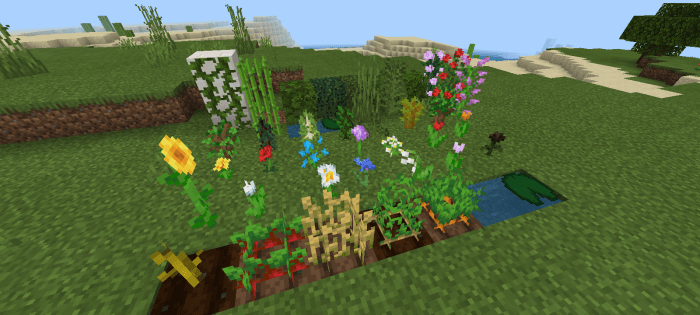 V 3.5 New Animations!
– Changed the timing of previous animations to make them less repetitive
-Big bamboo leaves
– Nether Foliage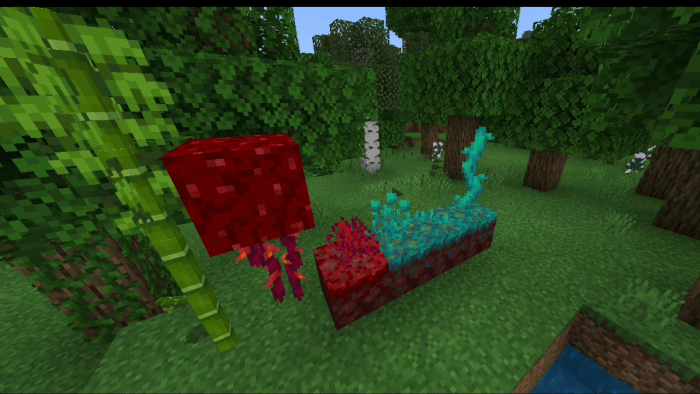 Note: The reason why leaves and flowers,crops and other plants have such difference in between them is because leaves and grass use shaders while flower, crops and other plants use Flipbook Animations 16X
I will make the animations better when i dont have anything else to work on cuz making animations on 16X while still keeping them neat is time consuming.
V3.5 New Custom Options!
– I received alot of suggestions saying to make the waving slow and smooth but alot of people wanted the waving to be fast. But in V3.5 you have the choice to download Normal/Fast waving OR Slow n Smooth waving. Watch the video below to see the difference!
– Alot of people also didn't like the flipbook animations so now you have the choice to turn ON/OFF the flipbook animations. Click on the GEAR icon after applying:

Watch this video to see all the waving animations:
IMPORTANT
WORKS FOR ANDROID AND IOS.
NO LONGER WORKS ON WIN 10.
FLIPBOOK ANIMATIONS WORK ON ALL PLATFORMS
If you cant go through the ads then contact me on my discord, Fused Bolt#9525
I will reply as soon as i can
THERE is currently a bug in which texture pack applied to new world dont work to fix this simply go to world settings remove the pack then go back and again open world settings and apply the texture pack again. This will fix the problem.
Warning
I am the CREATOR of this pack and you are not allowed it to publish it anywhere without permission. If you want to make a video with/about this texture pack then give the link to this page NOT THE DIRECT DOWNLOAD LINK.
If you want to publish it on some other website then you need my permission or i will take necessary actions.
ENJOY!!
- Changed the timing of previous animations.
- New animations for bamboo leaves and nether foliage
- New Slow n Smooth Waving version
- Option to turn ON/OFF flipbook animations
Increased speed of the animation of leaves , grass and water
Added animated flowers, crops and other plants.
Removed all low quality gifs and gave one video with all animations clearly shown.
Increased the speed of Waving animations for grasses ,leaves and water
Added animated flowers, crops and other plants
Edited the description, removed all the low quality gifs and gave link to a single video in which all animations are shown.
Fixed a bug with flipbook animation which caused all glass to be white and added better underwater view
Fixed a bug which caused the water lily to be grey and thats all. Thanks to
Cross-Cut513 for telling about the bug on discord.
Added a new Animation for grass , poppy and grass block.
Support for win 10
Added support for 1.16
Fixed underwater being invisible
Uploaded correct texture pack
Installation
When you click on the link , adfly page will open Wait for 5 seconds and click SKIP AD, do not click anything else.
Then a new page will open , if it isn't adf.ly then close it and go to adf.ly page
It will say ALLOW NOTIFICATION , and a pop up will keep coming , just ignore that and keep clicking BLOCK OR DENY , the page will refresh several times and you will be automatically redirected to Mediafire from there download the pack and open it , it will automatically import to your minecraft.
Downloads
Supported Minecraft versions
1.16.200
1.16.201
Resolution
16x
Shaders