This is an add-on which implements 18 brand-new mobs to the game. The mobs include everything from sea creatures such as the anglerfish and swordfish to pets which live on land such as the skeleton cat, the snail and the pigeon. It's a great addition to the game if you want to make aquariums with cool-looking fish or get awesome pets like a penguin that hunts fish for you or a skeleton cat that brings you items from the nether.
Creator: billeyzambie
Anglerfish
billey:anglerfish
Health: 7 hearts
Damage: 5 hearts + poison for 30 seconds
Attacks: cod, salmon, tropical fish pizzafish and monsters, neutral to players
Spawns in oceans, most commonly in deep ones
Drops: cod, salmon, bones or a new item called the Anger's Light that does nothing
Has 6 variants and 1 rare golden variant that drops precious things
Its light glows in the dark and looks cool underwater
sugar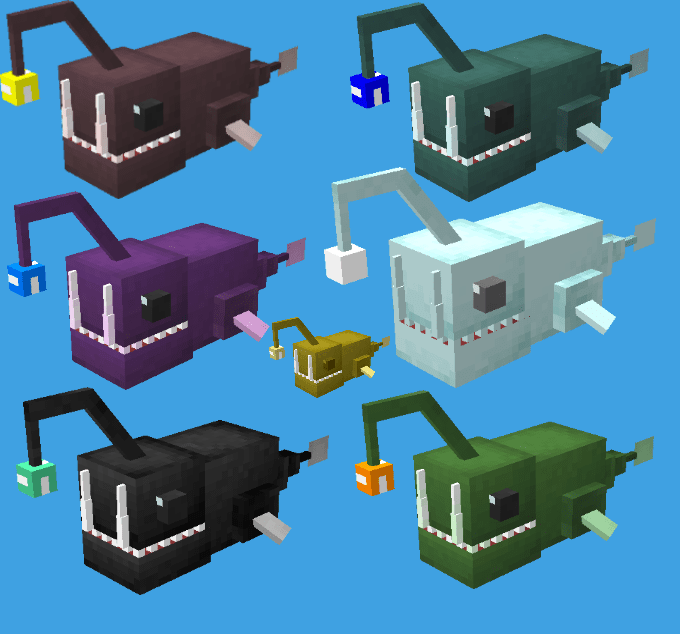 Swordfish
billey:swordfish
Health: 20 hearts
Damage: 6 hearts + poison for 15 seconds
Attacks: anglerfishes, pizzafishes, cods and monsters, neutral to players
Drops: 0-4 swordfish fillets and 2 of these

Swordfish Fin
Swordfish Tail
Swordfish Stick
Raw Cod
Raw Salmon
An extra swordfish fillet

Spawns in oceans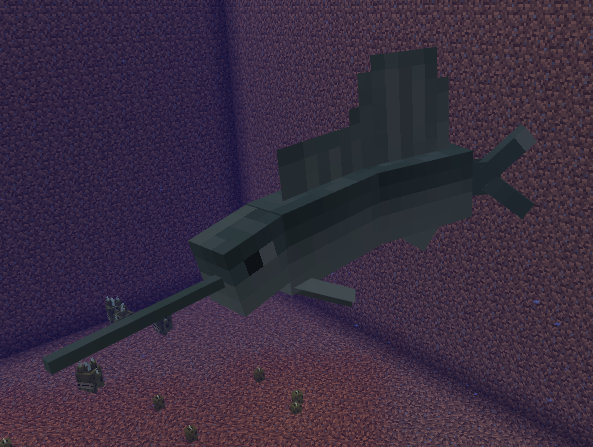 Mercat
billey:mercat
Health: 10 hearts
Damage: 2.5 hearts + slowness for 15 seconds
Attacks: cods, pizzafishes and monsters, neutral to players
Drops: 0-3 Picklepet Fertilizer
Spawns in oceans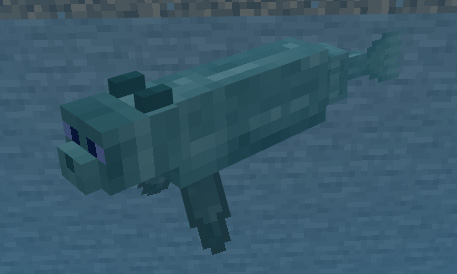 Orca
billey:orca
Health: 60 hearts
Attack damage: 8.5 hearts
Attacks: Every 10 minutes it gets hungry for 1 minute then it's not hungry again for 10 minutes and this keeps happening, when it's hungry it attacks:

anglerfishes, pizzafishes, sharks, cods and monsters, neutral to players

Spawns in oceans, mostly cold ones
Rideable and leashable but not controllable when tamed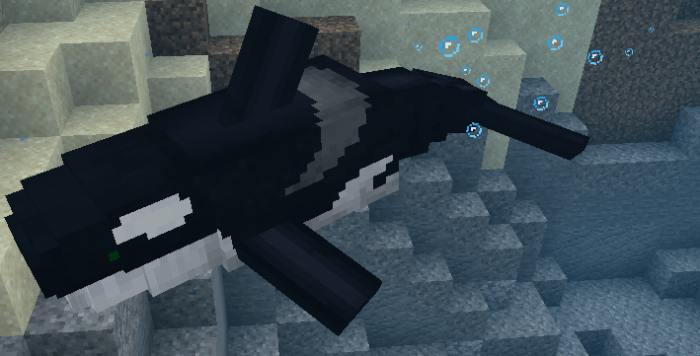 Zombie Cat
billey:zombie_cat
Wild:

Health: 4 hearts
Damage: 2 hearts
Attacks: Cats(cats also attack zombie cats) and players(sometimes)
Spawns in jungle nights
burns in daylight
tameable with fish or strings

Tamed:

Health: 10 hearts
Completely peaceful with normal cats
brings you cool cave stuff when you wake up(kinda overpowered, will fix soon)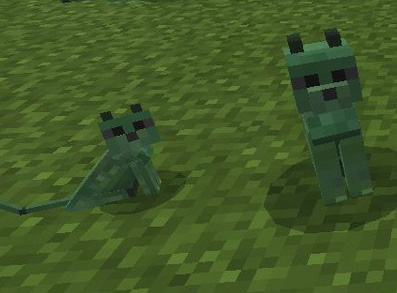 Skeleton Cat
Similar as the Zombie Cat but it's tameable with Netherwart and brings you random Nether items when you wake up. It's also neutral to players but sometimes an aggressive skeleton cat spawns in its place which attacks players and normal cats. Dyeable. billey:skeleton_cat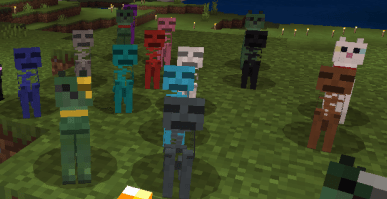 Pigeon
billey:pigeon
3 hearts health
Spawns in plains and flower forests
Poops every 10-20 minutes
0 fall damage
Randomly bites the floor
Switches between walk and fly mode
Wild

Tameable with seeds, bread and carrots
Runs away from players

Tamed

Doesn't fly
Healable with seeds, bread and carrots

Poop stain

Cleanable by hitting it
Drops bone meal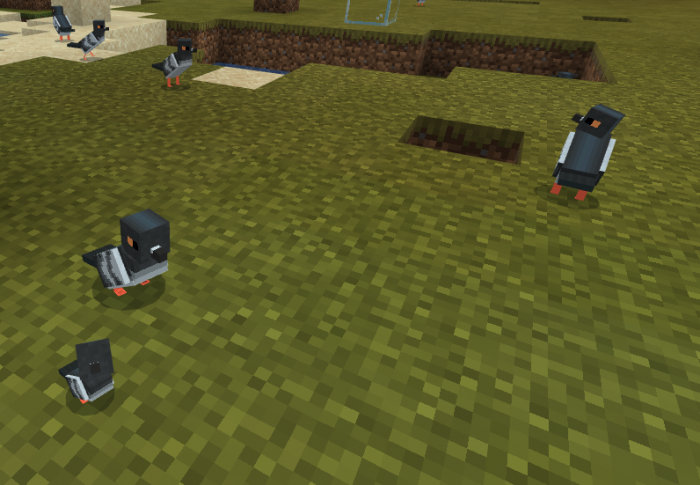 Pizzafish
billey:pizzafish
5 hearts health
Shearable

Tamed pizzafish can't be killed by getting sheared

Drops 2-5 pieces of pizza when it's not eaten
You can put a piece of pizza back on an eaten pizzafish
Friendly to everything expect monsters
Other fish eat it piece by piece
Spawns in coral reefs
Regrow their pieces 10-30 minutes after being eaten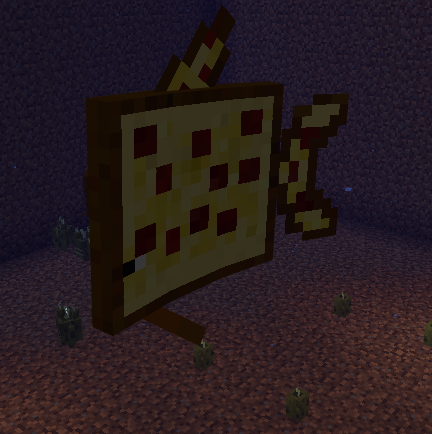 Great White Shark
billey:gwshark
Health: 35 hearts
Spawns in oceans
7.5 hearts attack damage
Damage: 6 hearts + poison for 15 seconds
Attacks: anglerfishes, mercats, swordfishes, pizzafishes, cods and monsters
Drops: cod and bones
Spawns in oceans
Three personalities

Shy: fears players, 25% chance
Hostile: attacks players, 25% chance
Neutral: neutral to players, 50% chance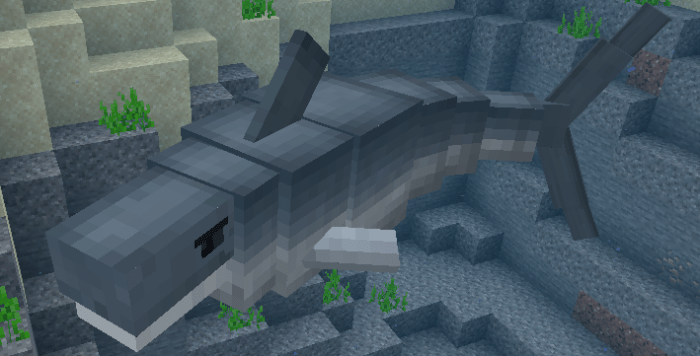 Endercat
billey:endercat
Wild:

Health: 8 hearts
Damage: 2 hearts
Attacks: Cats(cats also attack endercats) and players(sometimes)
Spawns in jungle nights and in the End
Randomly teleports
Tameable with chorus fruit

Tamed:

Health: 16 hearts
Completely peaceful with normal cats
Brings you random End items when you wake up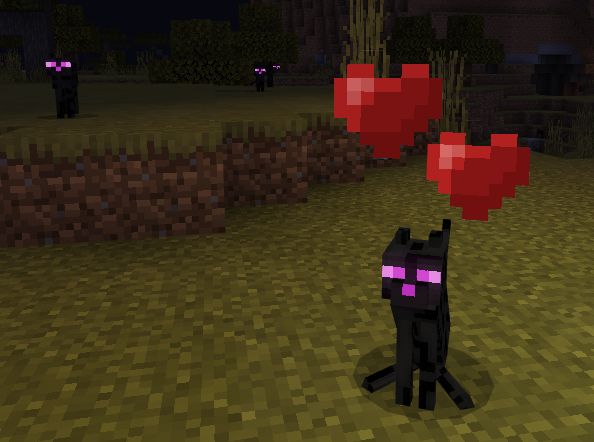 Picklepet
billey:picklepet
Spawns in coral reefs
Attacks drowned and pizzafishes
Eats most of sea items except sea pickles
Can detect targets from even farther away as it grows up
Tameable with the stuff it eats
Level it up by feeding it or by waiting
Can instantly transition to the next level using picklepet fertilizer, using it on an adult one will make it shake and spawn an untamed baby picklepet that can be tamed instantly using picklepet fertilizer
Looks cool underwater when it's dark

Adult ones don't need to be underwater

Level 1

2 hearts health
0.5 hearts attack damage
Can survive out of water for only 15 seconds

Leve l2

4 hearts health
1.5 hearts attack damage
Lays a pickle every 10-20 mins
Can survive out of water for 10 mins
Drops some sea stuff

Level 3

8 hearts health
3.5 hearts attack damage
Can breathe both water and air
Lays a pickle every 5-10 mins
Breedable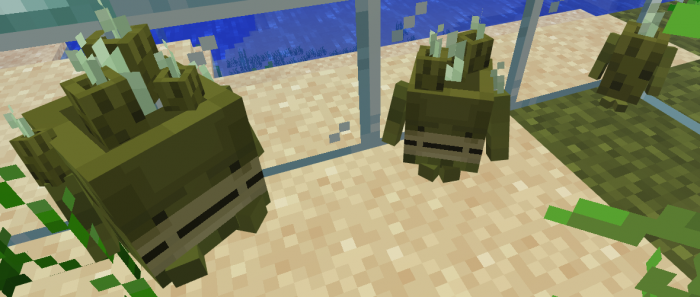 Angel cats
The angel cat has two main variants, the normal one and the end one
Angel cat

billey:flyingcat
Scares phantoms, spiders, creepers and hostile cats
Drops phantom membranes
Tameable with fish
Has all vanilla cat variants
When it's wild it will spawn in still mode for 15-40 seconds or until something hits it
When it leaves still mode it'll fly for 3-5 mins.
Spawns in jungles

End angel cat

billey:endflyingcat
Shoots shulker bullets to mobs that fear angel cats(only when it's standing)
Spawns in the End and jungle nights
Teleports randomly
Tameable with chorus fruit instead of fish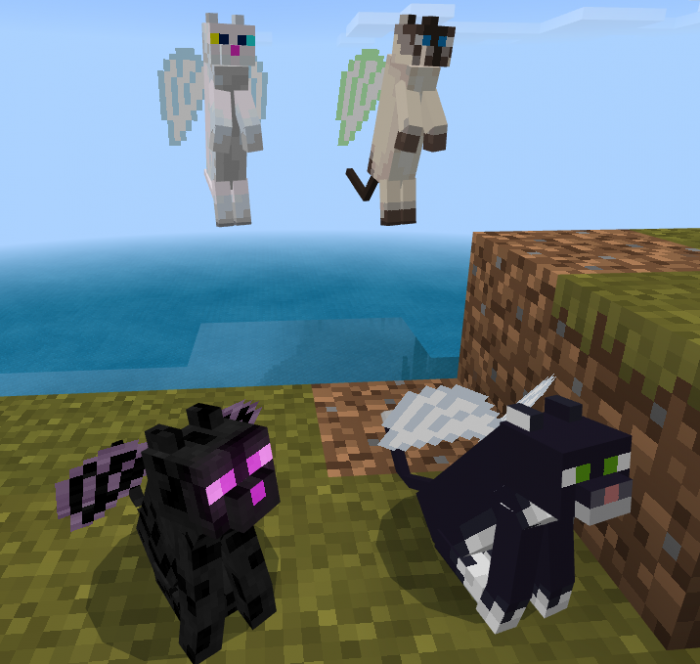 Duck
billey:duck

3 hearts health

2 variants

Open their mouths when they quack

Randomly switch between water and land mode

Randomly stand up and flap their wings

Spawn in swamps

Can be bred, healed, tamed and grown up, using seeds or carrots

Angel Pig
billey:flyingpig

15 hearts health wild, 20 hearts tamed

Spawn in plains kind of rarely but a bit more commonly in flower forests

4 hearts attack damage

Tameable using golden carrots

When you hit a wild angel pig all wild ones turn dark brown with red eyes and start attacking you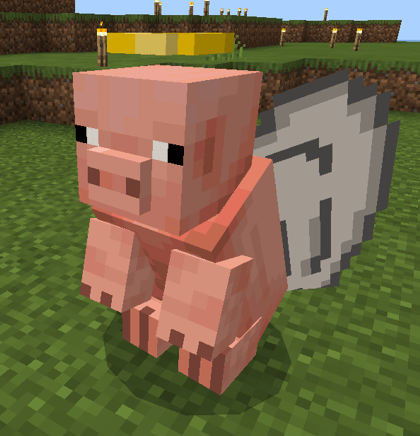 Withered Cat
Same behavior with zombie cats, but they have variants and the only way of getting one is using a sad potion on a cat or a skeleton cat. billey:zombified_cat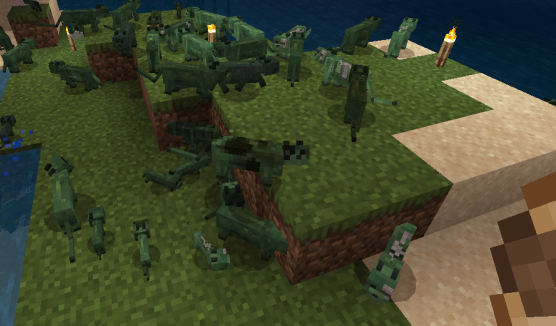 Penguin
billey:penguin

8.5 hearts health

2.5 hearts attack damage

Neutral

Switches between water and land mode

Penguins on land on water mode have a random chance to get a 10 second long speed boost or break the ice under them to get to water

Look funny when they are angry

Tamed ones hunt vanilla fish and pizzafish for you

Can be tamed(when baby), tempt, bred and healed using raw cod or salmon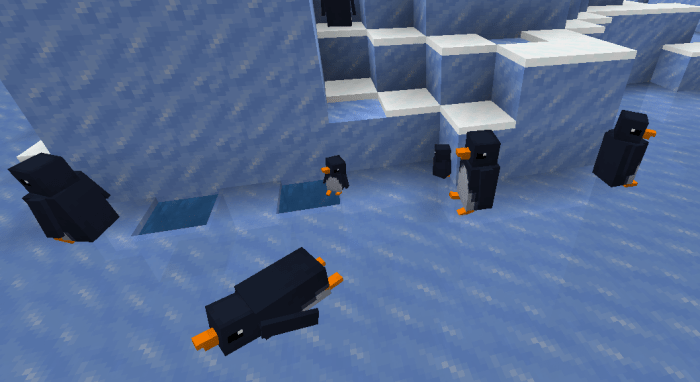 Snail
billey:snail
4 hearts health wild 8 hearts health tamed
Don't drop anything for now
Spawn rarely in plains in small groups, commonly in rivers in small groups and commonly in large groups in jungles
256 color combinations and three types

Weakness Snail(50% chance), antennas are straight and deals n0 damage, knockback and gives weakness 1 forever
Slowness Snail(40% chance), antennas are slightly bent and deals 0 or half a heart damage, knockback and gives slowness 1 forever
Poisonous Snail(10% chance), antennas are bent a bit more than the slowness snail and deals 0 damage, knockback and gives withering 1 forever
They are all considered the same mob, spawned from the same spawn egg and are targeted from the same identifier

When babies are born they'll get the body color of one of their parents and a random shell color, they'll also get the type of one of their parents
Attack monsters for you when they are tamed but even the poisonous snail can't kill a zombie without dying as well so you need a couple of snails to just kill a zombie.
Randomly sleep while they are wild

You can wake them up by damaging them or by interacting with them

When you make a tamed one sit it'll sleep until you make it stand up
Make "Z" particles while they are sleeping
Climb walls like spiders, they get turned sideways while climbing on a wall so they actually look like they are climbing the wall
Can be tamed, bred, tempt and healed using the following items:

Any kind of leaves
Both types of overworld mushrooms
Apple
Wheat
Sea Pickle
The bark block you get when crafting 4 logs
Grass(not the dirt block with grass above it)
1 Block Flowers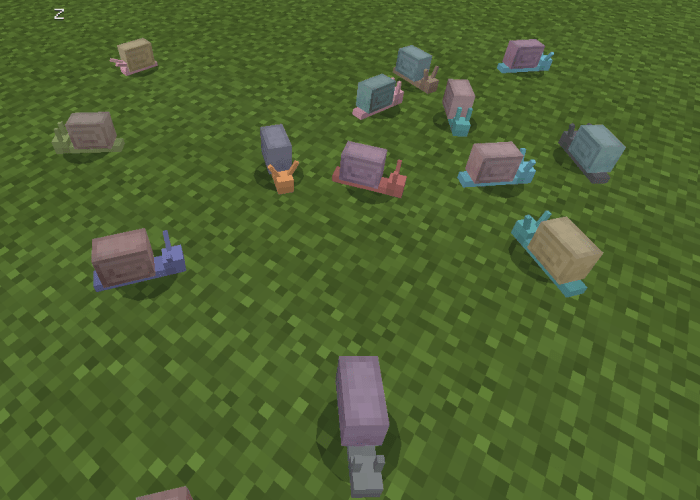 Piranha
billey:piranha
2 hearts health.
0-1.5 hearts attack damage with slowness 1 for a second.
Spawn in lakes and swamps in groups of 3-5 and in rivers and rarely in oceans in groups of 5-7.
Every 10-60 seconds a piranha will attack and random nearby mob that isn't another piranha and every other piranha will attack that mob too.
They aren't attacked by any mob but other mobs might kill them over self defense.
The fish sword can be used to kill 5 at them at the same time like cod.
When they attack a mob it will never be killed instantly but when it dies piranhas will either collect or eat its loot so the ocean doesn't get littered. They also eat dropped food items from vanilla or Billey's Mobs.
Tamed ones are immune to the fish sword, if you hit your tamed piranha with a fish sword it won't take any damage it will just become bigger.
Drop nothing other than the item they picked up.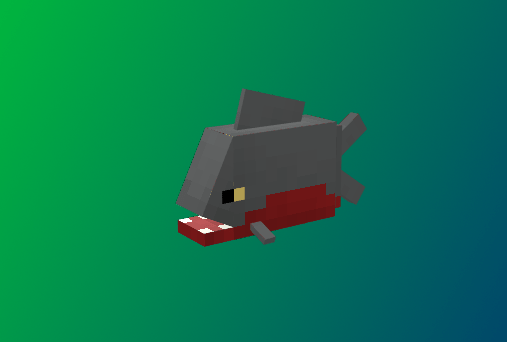 ᶦᶠ ʸᵒᵘ ᶜᵃⁿ'ᵗ ᶠᶦⁿᵈ ᵗʰᵉ ᶜᵒᵒˡ ᵉᵃˢᵗᵉʳ ᵉᵍᵍ ʸᵒᵘʳˢᵉˡᶠ ᶜˡᶦᶜᵏ ʰᵉʳᵉ
Items
Sea Pizza
Dropped by pizzafish
Small chance to give you slowness or make you invincible for some seconds
Used to tame most of the fish
billey:pizzapiece
Swordfish Meat
Swordfish Fillet
Can be cooked into swordfish steak
1.5 hunger bars
Has a small chance of giving you fatal poison
Dropped by Swordfish
billey:swordmeat
Swordfish Steak
3.5 hunger bars
Takes slightly less time to eat than vanilla food
Has a small chance of giving water breathing
billey:swordcooked
Fish Sword
Recipe on the end of this page, deals 13 hearts damage to fish, orcas, picklepets and penguins. billey:swordfish
Cat Potions
Recipes on the end of this page
Sad Potion
Cat, Skeleton Cat → Withered Cat
billey:zcat_bottle
Happy Potion
Withered Cat → Cat
billey:cat_bottle
Boring Potion
Withered Cat, Cat → Skeleton Cat
billey:scat_bottle
Funny Potion
Skeleton Cat → Cat
billey:wcat_bottle
Colorful Potion
Makes any tamed mob from the add-on, a tamed cat, cod or salmon get a color changing overlay.
To use any of the potions of the add-on, you need to tame the mob first and be the one who tamed it.
billey:colorful_potion
Colorless Potion
Changes to the existing cat mob
5 new variants, spawns at jungles but still also spawn at villages.
Taming the fish
If you want an aquarium with multiple types of fish and don't want them to eat each other then tame them .Most of the fish from this add-on are tamed using pieces of pizza which are dropped by pizzafish, with the exception of pizzafish which require rotten flesh and vanilla fish which require seeds or carrots.
Recipes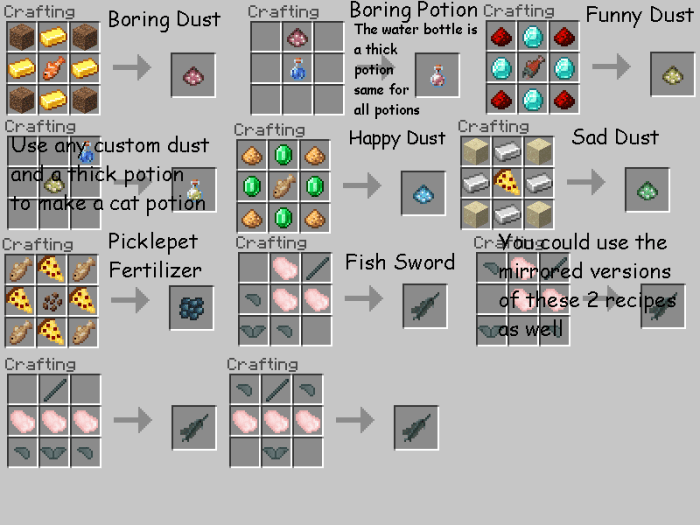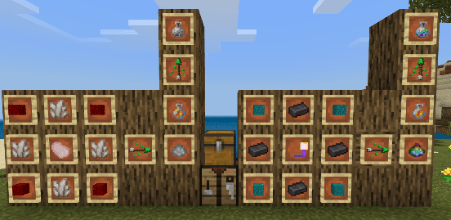 (the green arrow is not part of the recipe)
Planned Mobs
I plan to add the following mobs:
Pickle cat
Cucumbeel

Rideable and completely controllable underwater

Hammerhead
Hamster

Hamsterballs too, I'll try to make them produce redstone when you feed the hamster
Languages
English(billeyzambie)
Greek(billeyzambie)
Chinese(ltdhj#5818 on Discord)
DM me on Discord(billeyzambie#3038) or Twitter(billeyzambie) if you want to translate the add-on
Known Bugs
Giving a cat potion on a cat that was born instead of spawning naturally or from a spawn egg will randomize its variant.

I think this is easy to fix.

Snail shells turn white and translucent when there are too many mobs around

This could be fixed by using mark variants instead of secondary color and making a texture of each color but it would cause some problems with snails that spawned from being bred.

Sometimes wild ducks can't jump.

Tried fixing this and failed but I think I found another way.

Angel pigs break when attacking them.
Terms of Use
No using this for clickbait videos or videos that give false information.
You must put the MCPEDL link in the description if you make a video, not your own monetized link or a direct link.
Feel free to look at the code but pls don't copy it I'll ask MCPEDL to take down your add-on if you do and I notice.
No claiming this add-on as yours, modifying and uploading it, etc. Keep in mind that selling others people's content online is illegal.
No doing other nonsense things like the things above, because I didn't say something it doesn't mean that you can do it. have fun!
Don't make anyone complete any type of tasks to get the add-on, like subscribing to your channel, paying some kind of digital currency(doesn't matter if the digital currency can be earned for "free") or getting through your link shortener.
You don't need to ask me to use this for a map or a modpack just give me and the add-on credit :]
Report bugs, suggest stuff and get betas of the add-on in my Discord server. You can also report bugs and suggest stuff in this posts comments or tag/DM me in Twitter @billeyzambie or in Discord billeyzambie#3038, as long as you are in the official Minecraft Discord server you'll be able to dm me on Discord.
ᶜᵒᵒˡ ᵉᵃˢᵗᵉʳ ᵉᵍᵍ ʰᶦⁿᵗ: ᵈᵘᶜᵏ, ᵖᵉⁿᵍᵘᶦⁿ, ᶠᶦˢʰ ˢʷᵒʳᵈ
Removed the bad attack sound from the fish
You can now use colorful potions on cats, snails, angel cats, and end angel cats
Fixed lots of bugs
Added piranhas
Added a potion that makes the mobs change color and one that brings them back to normal
Some new pizzafish stuff
Balanced spawn rates
Fish now fight each other instead of being eaten instantly by other fish, but the fish that died will shrink and disappear so the ocean doesn't get littered
Angel pigs where accidentally removed in the previous version I re added them now
Chinese support by ltdhj#5818 on Discord
a cool easter egg.
Fixed almost every important bug:
Pigeons and fish no longer freeze after relogging.
Ducks no longer randomly stop quacking.
If your duck stopped quacking or your pigeon froze it's should be back to normal when you join your world.
Salmon and tropical fishes no longer drop loot when a bigger fish kills them
Maybe more I don't remember lol
So basically, the add-on is now perfect for survival :)
Added 4 new mobs
Added custom items
Fixed a lot of bugs
Made the add-on more fun and less annoying, especially in survival
No longer outdated
2.0 Changelog:
Added 7 new mobs:

Pigeons
Pizzafishes
Endercats
Great White Sharks
Angel Cats
Picklepets
End Angel Cats

Improved textures of Anglerfishes, Swordfishes and Orcas
The mobs now spawn naturally(might be buggy)
Now every mob has sounds
Better sounds for mobs that already had sounds


Installation
Apply the behavior pack to a world, the resource pack will be added automatically when you add the behavior pack.
Put the resource pack above any other resource packs that might modify the cat's model(for example Java Aspects) or withered cats will look broken.
Experimental gameplay is optional but I recommend turning it on because add-ons that add custom structures still require experimental gameplay.
Play/Create the world.
Downloads
Supported Minecraft versions
1.14
1.15 (beta)
1.16
RTX Beta