I really loved Minecraft Live 2020 earlier on in October, it was a great time! Especially with the announcement of the Caves and Cliffs update. It is already seeming to be a great update! Sadly though, it won't be here for a while. Well this addon will add some features from that, such as the archaeology system, as a concept! Hope you enjoy it!
Our first new item is the Brush! This is the item you'll need to get some of the new stuff. There's two variants: the normal Brush and the Blue one. They both do the same thing but have different recipes.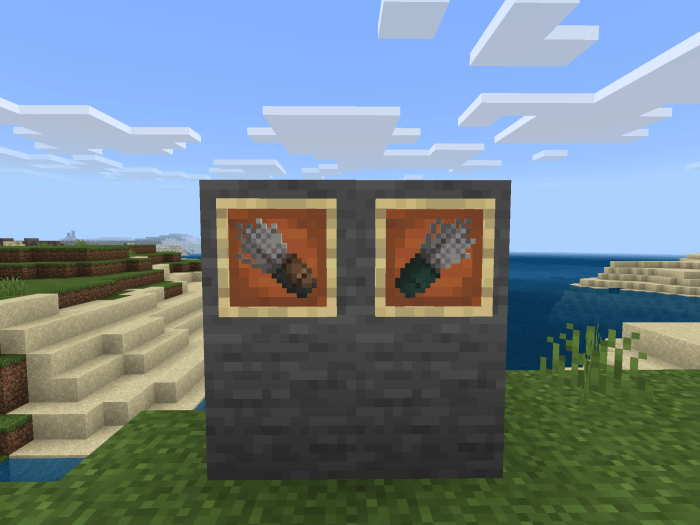 To craft the blue one, you need two strings and a prismarine shard. To make the orange one you'll need two strings and a Copper Ingot.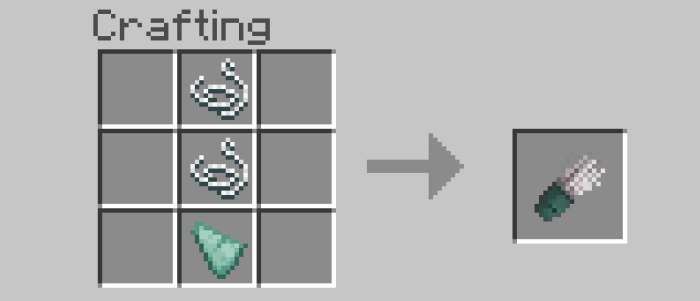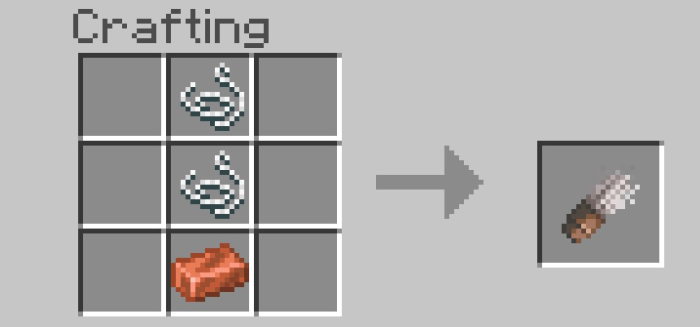 To obtain some copper, you have to look for Copper Ore underground. It's not too rare so it should not be too troublesome to obtain some! When you get some ore, slide it into a furnace with some fuel and you'll have a fresh Copper Ingot in no time!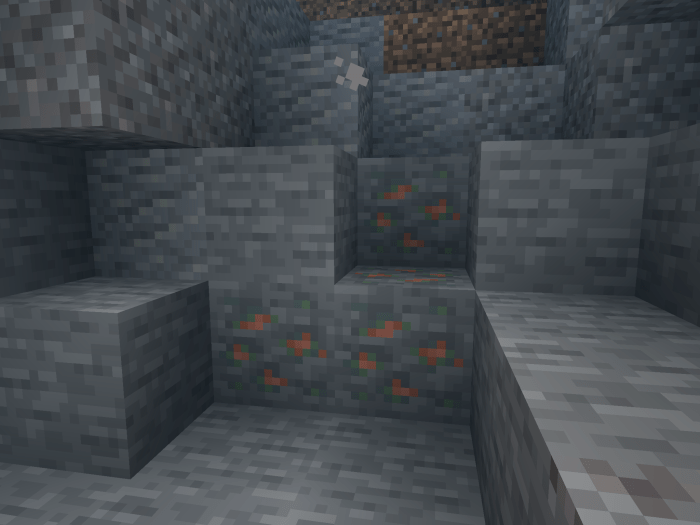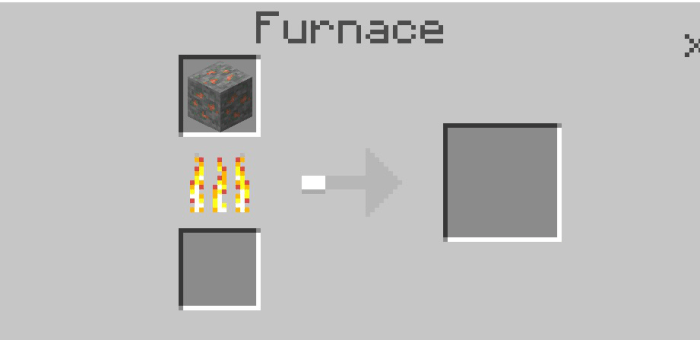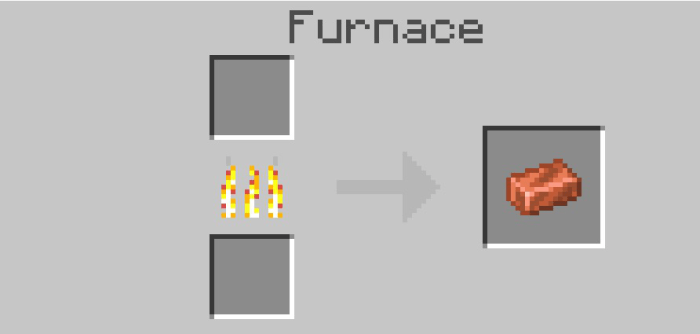 So how does this work? Well as of current, you need to find scrap dirt or gravel deep underground. While they look identical to normal dirt and gravel, there's a way to tell which is which! If you can't mine the dirt/gravel, even with a good tool, that means it's a scrap block. These scrap blocks are resistant to explosions so TNT might be a good way to find some! So, while holding a brush, simply just walk into the scrap block and it will break instantly, dropping something!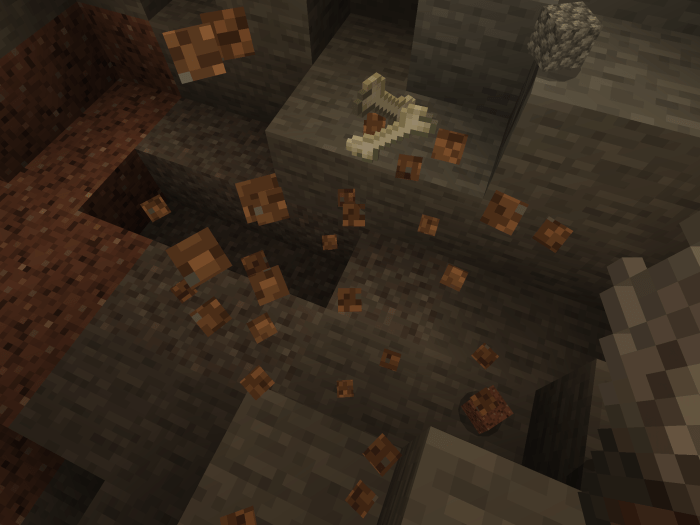 Below, you can find a table showing off the items that a scrap block can drop when broken with a brush: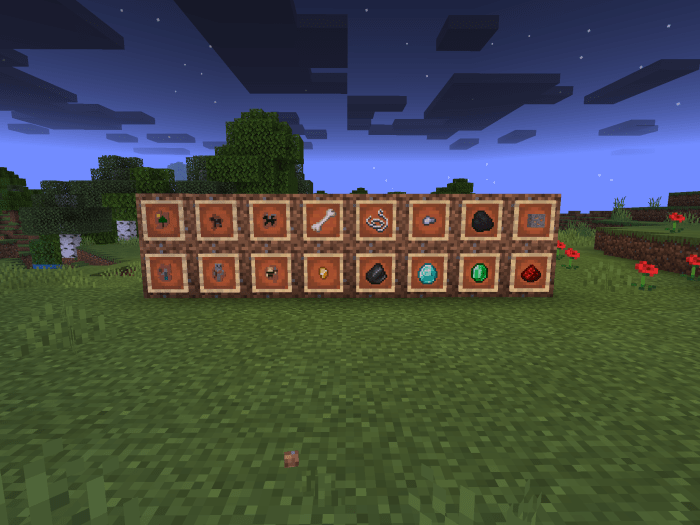 Scrap blocks can offer you a new item: Ceramic Shards! The shards come in six types, each having a different look! These ceramic shards are useless right now but they look kind of cool.
Copper also has two other uses in this addon! The first one is to make a copper block, which can be made with 4 copper ingots. It has 4 different variants: normal, lightly weathered, semi-weathered and weathered. After an incredibly long amount of time, the blocks will change appearance to the next stage! If you want to go to the next stage immediately though, just put one of the types in a stonecutter to turn it into the next type of copper block: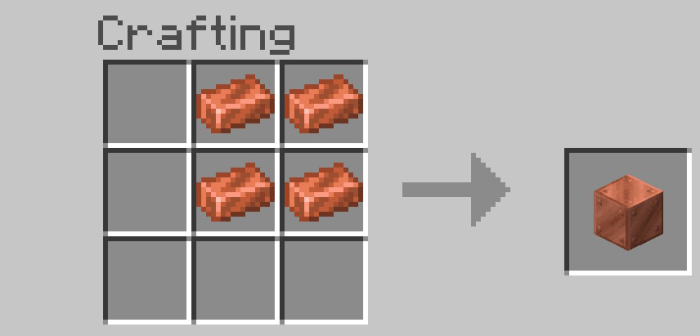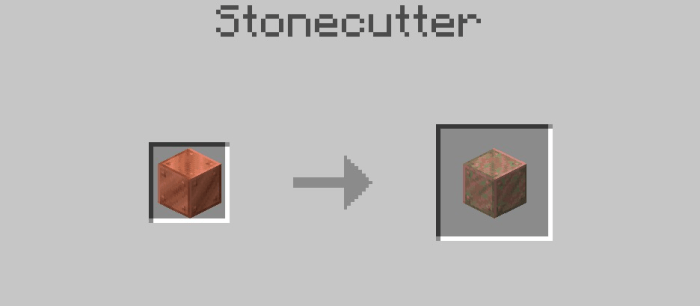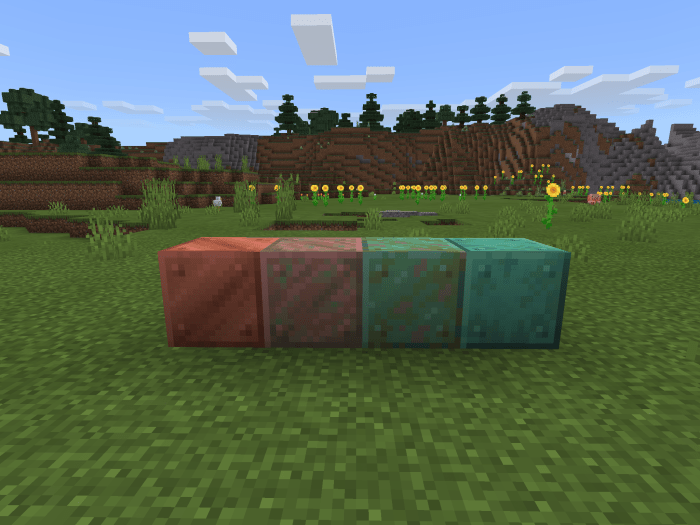 You can also make 4 copper blocks into 4 cut copper blocks! In my opinion, they look much cooler then the normal type of copper block. They behave like the normal one does, will weather and change texture over time but you can immediately go to the next stage by putting it in a stonecutter!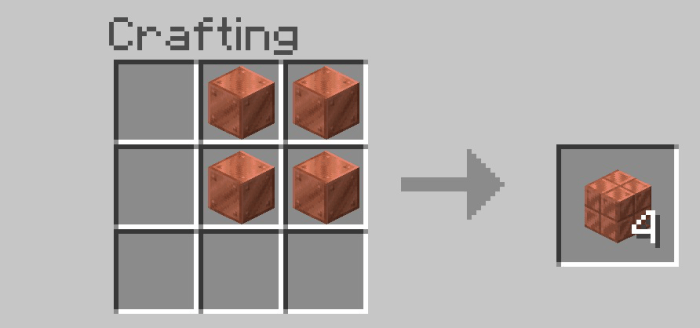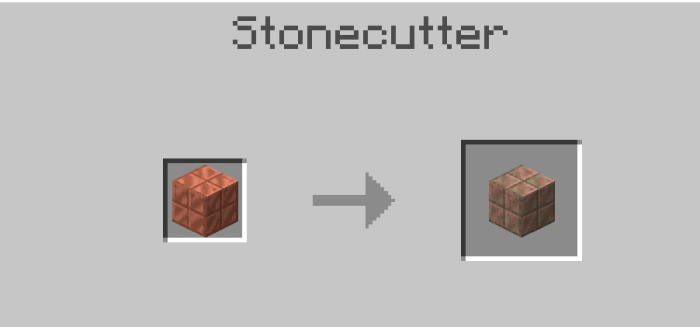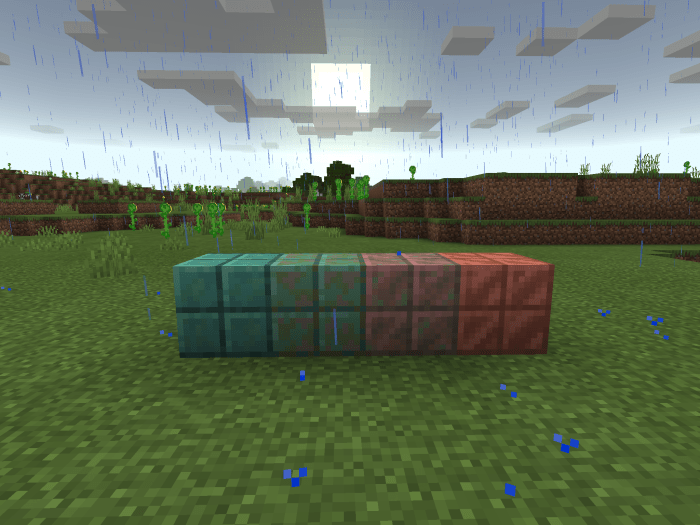 Copper's final use in this addon is to make another new item: the Spyglass! Thisitem is made with 2 copper ingots and an amethyst shard. While holding a spyglass, you get a bit of slowness effect which zooms your screen in a bit!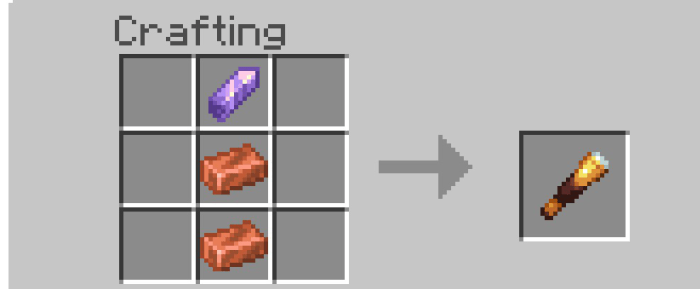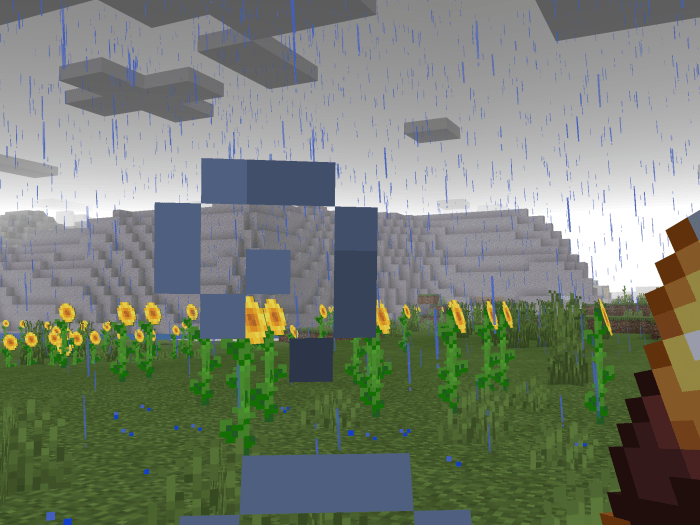 Speaking of the amethysts, you can now find them underground! This is a work in progress feature however. There's two types of them to find: the Amethyst Block and the Budding Amethyst. The block can be crafted with 4 amethyst shards and simply drops itself if mined. The budding amethyst is rarer and drops amethyst shards if broken.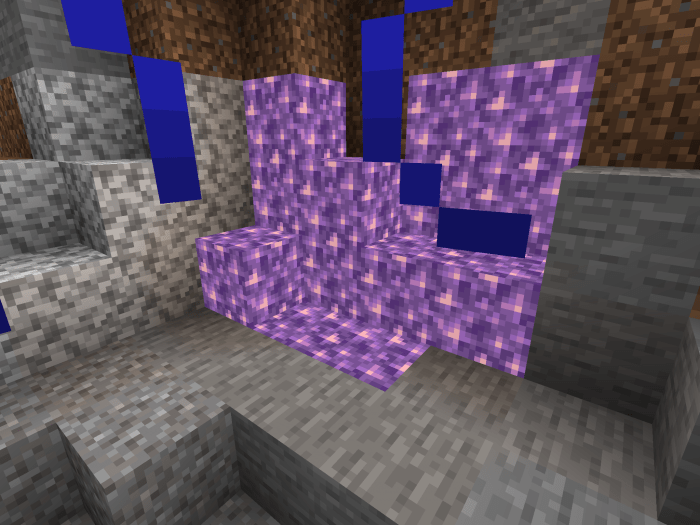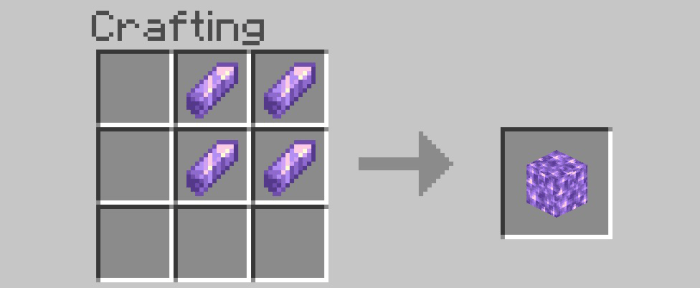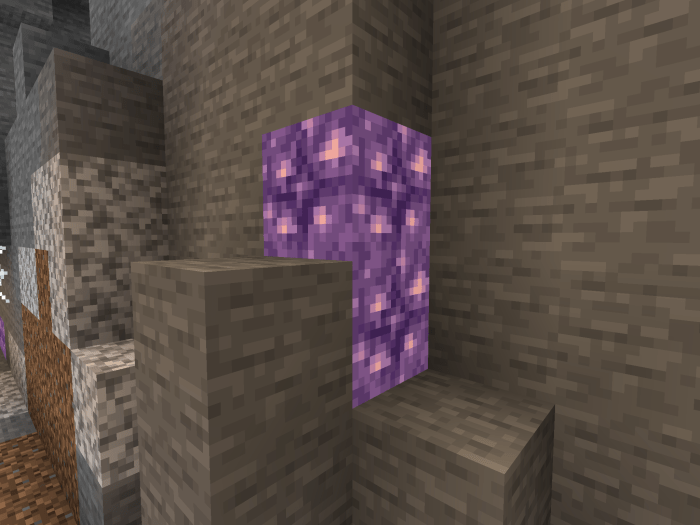 Calcite and Tuff are two new stone-like blocks found underground. They are about as common as granite, andesite and diorite. No use for them other then decoration!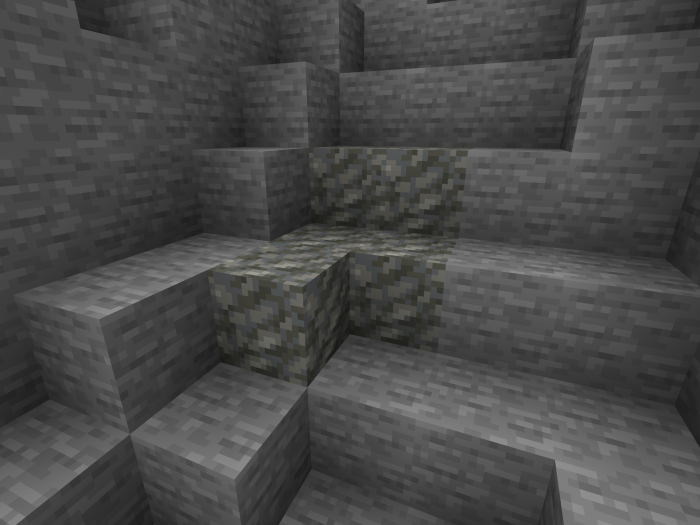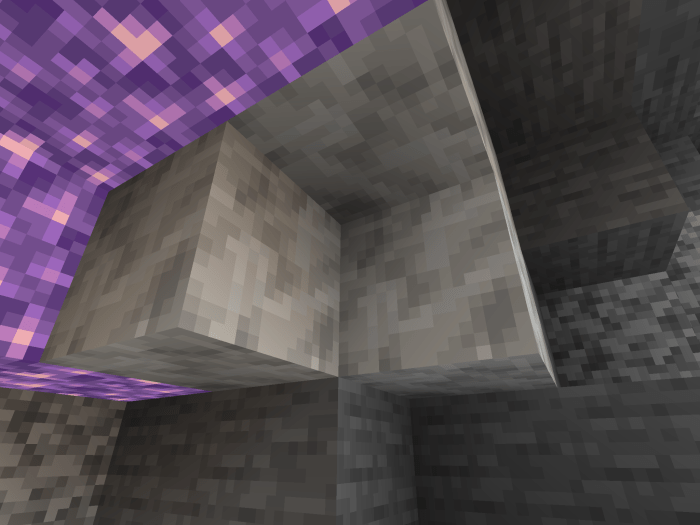 Remember to enable experimental gameplay!
Select version for changelog:

Changelog
*Added calcite and tuff blocks.
*Added amethyst shards, amethyst blocks and budding amethyst.
*Copper Ore is now a bit rarer but generates in bigger veins.
*Scrap Dirt and Gravel blocks no longer drop themselves when broken.
*Spyglass now uses an amethyst shard in it's recipe instead of a glass block.
*Some item categories were changed.
Many people have been asking for me to add clay pots to this addon. It's a great idea! I am currently attempting to add this feature into the addon, but am having some issues with it. You may find more sneak peaks of this and my other addons on my Twitter, @WitherLordYT!
Installation
You have to download both of the links to use this addon.