This texture pack was made by LickePandos and the main idea of this pack is to enjoy your worlds! This texture pack is working in progress, so in future I will add more textures, or fixed ones.
This texture pack will had updates with blocks only, for now. When all block will be done, I'll start with entities, items, etc. Des Bijoux means jewelries, so your inventory will be golden with gems! Hope you'll like it!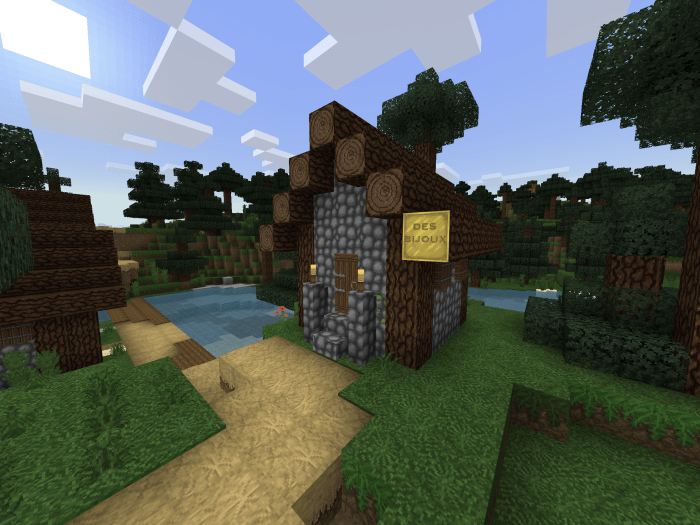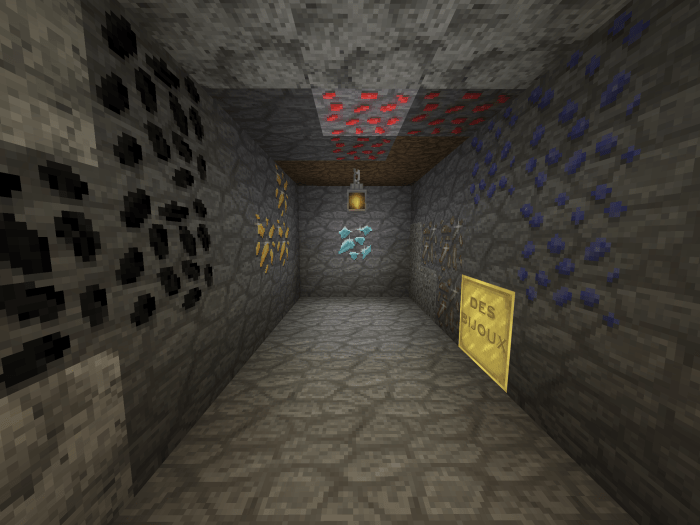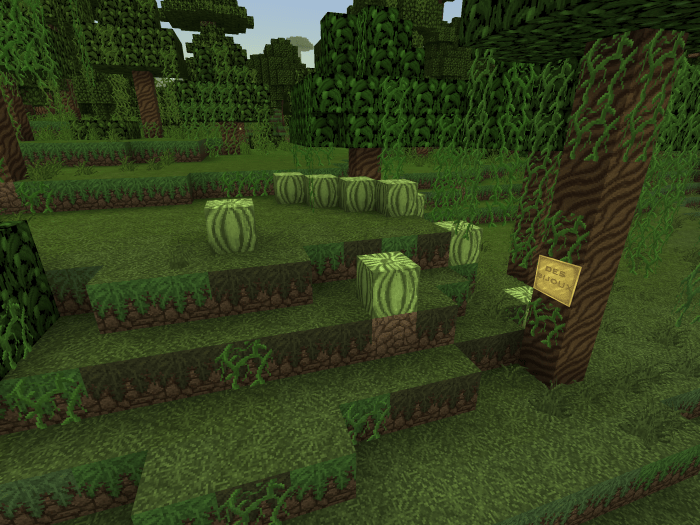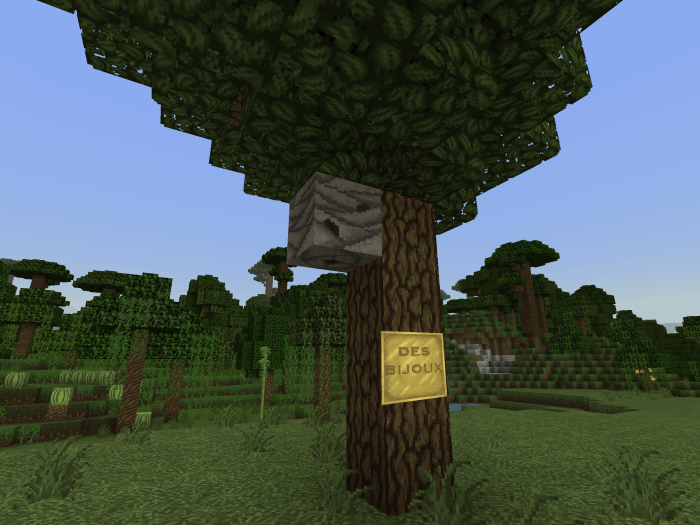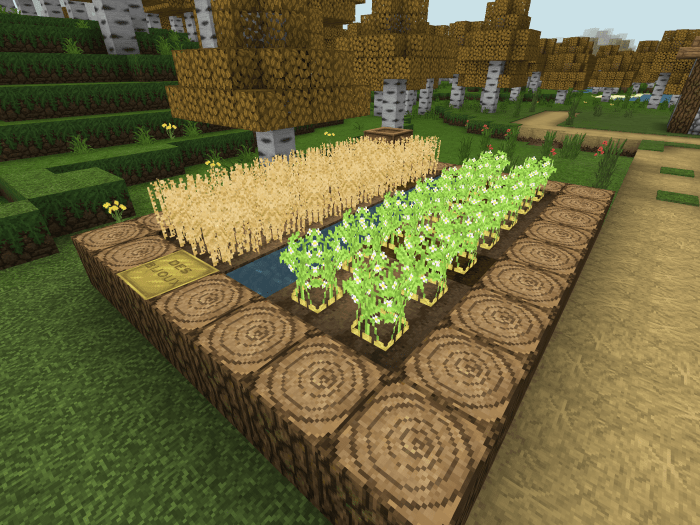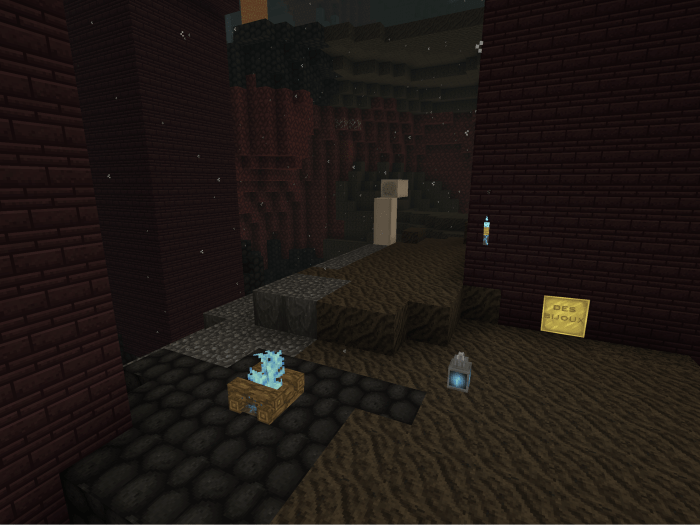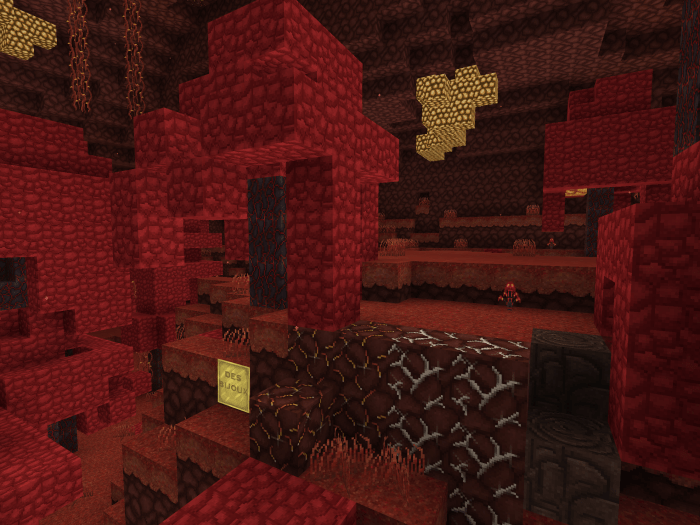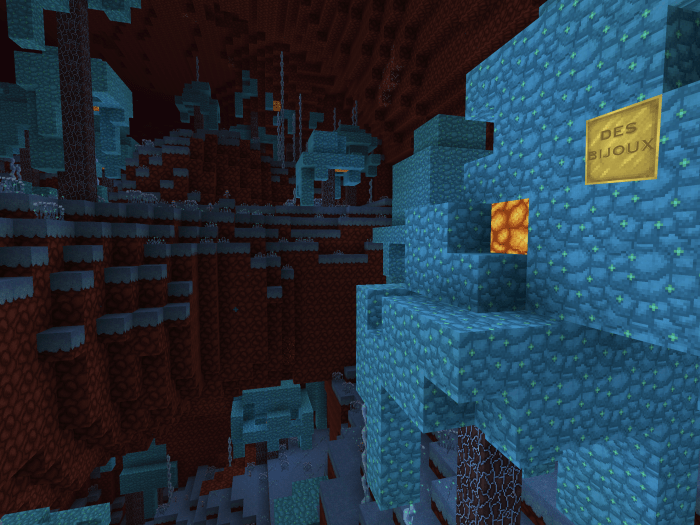 New blocks:
• hopper
• observer
• daylight sensor
• conduit
• enchanting table
• end portal frame
• all types of saplings
• string
• dragon egg
• turtle egg
Changed textures:
• stone and all stone related textures are now darker and grayer
• dirt is smoother now
• planks looks more smoother and modern, same textures to tnt block, spruce door and trapdoor. (If you don't like it, feel free to write it in discord server in suggestions)
New blocks:
• all rails are finished
• cauldron
• stonecutter
• note block
• jukebox
• redstone lamp
• cartography table
• smithing table
• fletching table
• lectern 
• repeater
• comparator
(this update took too long, so I posted what I did finished)
New blocks:
• water lily
• lodestone
• nether wart (that grows on soul sand)
• chorus plant, flower, dead flower
• end rod
• all colors of wool
Changed textures:
• oak, acacia, iron, crimson trapdoors changed (because some transparent parts were on the side of trapdoor)
• sand and sandstone were redrawn (same with red variants)
• color of red sand and sandstone variants were changed
• redrawn stone
(also about the wool, you can write in suggestions in my discord server, if you want to see wool with patterns, to make nice carpets)
New blocks:
• mob spawner
• crops: wheat, beetroots, potatoes, carrots, melon stem, pumpkin stem.
retextured:
• some particle bugs were fixed
• quartz and nether gold ores retextured
• nether and warped wart blocks retextured
• shroomlight retextured
New Blocks:
• coal block
• netherite block
• All glass blocks is finished!
• tripwire hook
Changed blocks:
• All glass has the identical texture except of its color (to match different glass blocks, as before it was weird that not all glass blocks were nice together)
• dirt block retextured
• grass block, podzol retextured
• mycelium, snowed grass block changed
• farmland block, grass path block retextured
• coarse dirt retextured
New blocks:
• ice
• frosted ice ( the one when you using frost walker enchantment)
• packed ice
• blue ice
• chain block
• lantern
• soul lantern
Changed blocks:
• diorite, andesite, and their polished variants
New Blocks:
• yellow and lime glass
• all nether bricks variants
• clay block
(I know it's not a lot, but I'll try work hard, so next update will be bigger)
New blocks:
• emerald, lapis and redstone blocks
• composter
• redstone dust
• black and brown glass
• melon
• grindstone
• brown, red, crimson and warped "mushrooms"
• normal, soul and redstone torches
• farmland block
• flower pot
• sea pickle
• sweet berry bush
• sea lantern
New blocks:
• jungle leaves
• bone block
• hay block
• diamond block
• light gray glass
• gray glass
• bookshelf
• loom block
• dropper
• dispenser
• bee nest
• bee hive
• ladder
• iron bars
• scaffolding
New blocks (not a big update):
• glowstone
• target block
• red and orange glass
• brewing stand
• sponges
• all mushroom blocks
Changed textures:
• blackstone now looks a bit better
• cobblestone and mossy variant look a lot better
• emerald ore is lighter
• soul sand and soul soil has no glowing souls
• iron block is lighter (closer to vanilla)
New blocks:
• red, yellow and blue coral fans ( and dead variants)
• all doors and trapdoors are finished!
• normal and mossy cobblestones' textures changed (pls write if it needs to change)
• all furnaces
• soul and normal campfires
New blocks:
• white, green, light blue and normal glass
• oak, birch, crimson and warped doors
• stripped crimson and warped stems
• oak, birch, crimson and warped trapdoors
• honey and honeycomb
• crafting table
• dark oak leaves and acacia leaves
• poppy
• lily of the valley
• all tree types of pumpkins
• sugarcane
New blocks:
• both versions of fern
• soul sand and soil
• magma block
• all types of tulips
• Allium flower
• Oxeye daisy
• Dandelion
• grass path block
• changed oak leaves
• birch leaves
• spruce leaves
• carved stone bricks
• weeping and twisting vines
• all blackstone block variants
• the emote button returned + changed
New blocks:
• changed red sand and other red sandstone variants
• birch and jungle logs
• all stripped variants of logs
• purpur block and column
• crimson and warped roots + sprouts
• tnt block
• dried kelp block
• slime block
• Azure Bluet flower
• cornflower
• crimson and warped logs
• crimson and warped wart blocks
•shroomlight block
• polished basalt
(I don't know how, but the links showed old version of texture pack)
New blocks:
• bricks
• all type of quartzes
•blue orchid flower
•small grass
•tall grass
•normal rail
•end stone
•end bricks
•obsidian
•crying obsidian
•gold block
•new pack icon
New blocks:
• bricks
• all type of quartzes
•blue orchid flower
•small grass
•tall grass
•normal rail
•end stone
•end bricks
•obsidian
•crying obsidian
•gold block
•new pack icon
Downloads
Supported Minecraft versions
1.16
Resolution
32x