Jumpscare your friends easily without them even noticing! With a terrifying Scream & Creepy face! this pack will trick them into downloading a pack disguised as any ordinary pack, to not make them feel suspicious about you jump-scaring them!
This Addon will disguise its self to trick the victim into downloading the Jumpscare addon without them feeling suspicious about you scaring them!
Read Me!!
Whatever you do, don't let the victim wear a pumpkin or play a noteblock on top of a pumpkin!!
Because the scream sound effect is replaced by a noteblock sound [Didgeridoo]
When triggering the jumpscare command the helmet slot is replaced by a retextured pumpkin


Instructions:
Enable experimental gameplay
Add both the resource

&

behavior pack
Once the moment is perfect type

/function trigger

to Jumpscare all players [

you'll

also get

Jumpscared

!]

Different Addon Disguises
The main feature of the addon is that it disguises itself by impersonating fictional addons so you could trick your friends flawlessly into downloading it.
As of now, there are three current disguise versions
Disguise Versions
The mysterious Addon:

The Goose Addon:

The MCPE minimizer Addon:

All disguises are the same [Pack Icon may increase download size]

if you play with your friends through
Bluetooth

be sure to require them to download the pack before joining!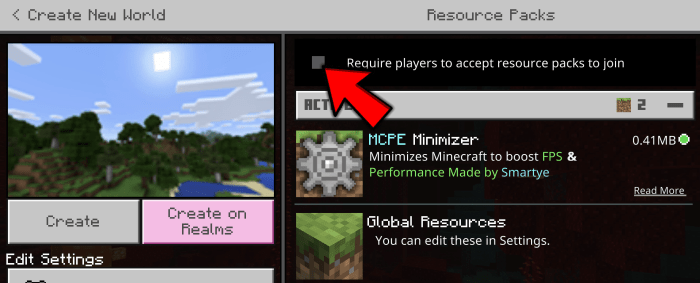 You may get a [Missing dependency] error, we're aware of this issue and we're looking forward to fixing the error, but the pack stills work!
Explanation video coming soon!
Installation
If it fails to import, restart your game and try again. If it continues to fail, make sure you've followed these steps correctly!
These Instructions are mandatory!
Enable experimental gameplay
Add both the resource & behavior pack
Once the moment is perfect type

/function trigger

to Jumpscare all players [

you'll

also get Jumpscared!]
Downloads
Supported Minecraft versions
1.9