This addon made becoming a pillager possible! Expand your villagers/illagers army, take new weapons, defend the village from the raid and new events like zombie siege, or take everything you want, enforce your will to everyone.
Challenge scary monsters!there are 4 types of titan, and elite mobs like a vampire, an elite zombie.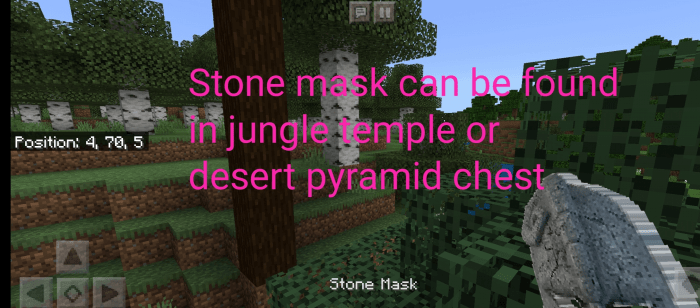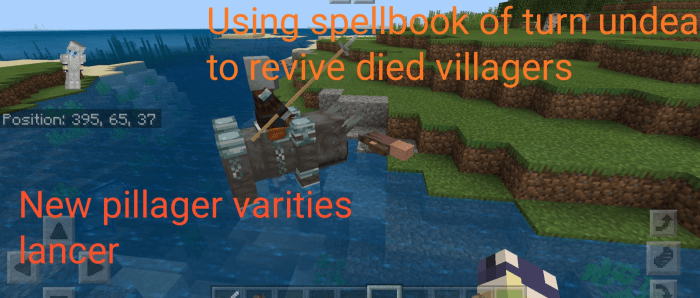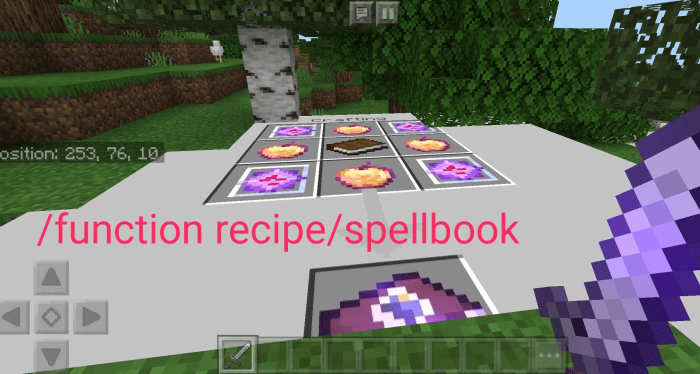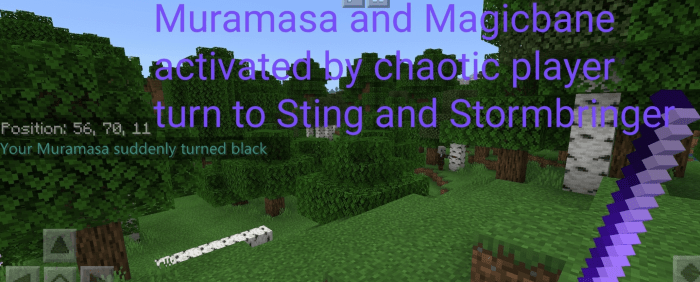 Contact: [email protected]
Description:
This addon add lawful-neutral-chaotic alignment system to Minecraft world. You can choose to keep on fighting with monsters or raid villages.
On game start, players are set to lawful. By killing villagers or iron golems you can switch alignment to neutral or even chaotic. By killing monsters or healing zombie villagers a chaotic player can return lawfully.
Lawful: can tame villager militia, cataphract, and warship girl. It can interact with iron golem to acquire useful items.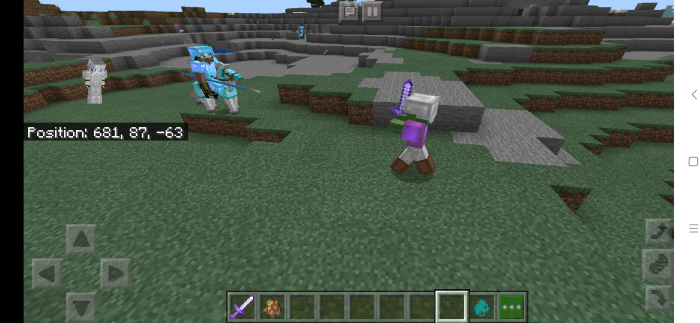 Chaotic: can tame illagers and skeleton, hostile to lawful.
Neutral: only take 50% damage, has higher base ATK.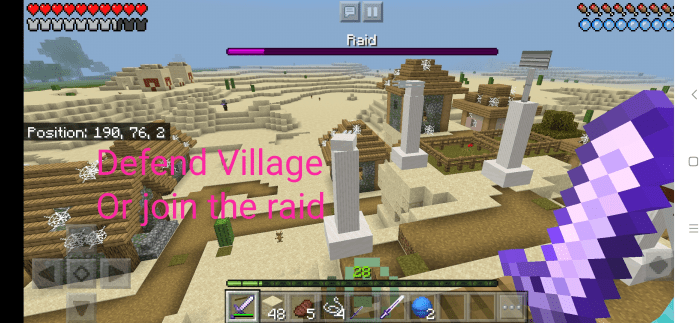 Zombie creatures: hostile to all players.
Universal tame item: bone.
Trade with golem: a lawful player can get random items from the pool by interacting to iron golem with diamond/emerald block/diamond block in hand.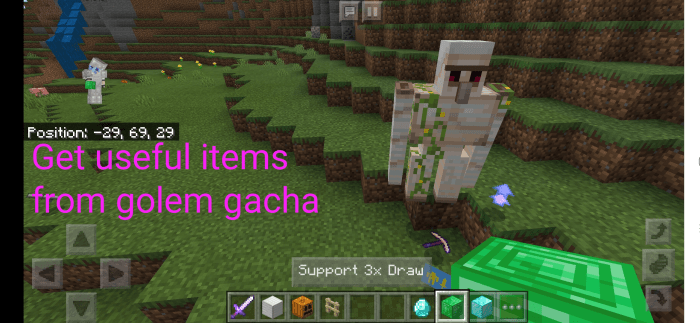 Craft recipes: enter /function info/craft_recipe to get helps in-game.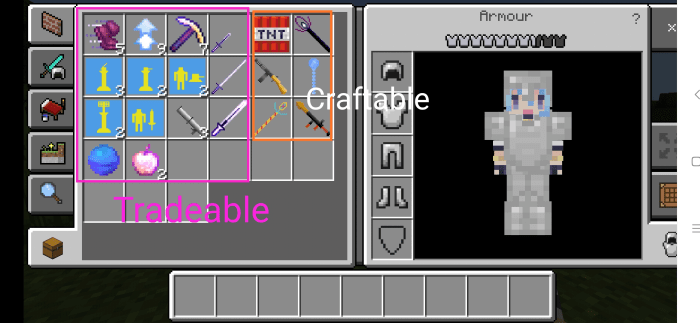 New mobs:
Lawful Warship girl: equipped with cannons, AA guns, torpedos, and radar, made her a nightmare to all monsters.
Lawful Cataphract: extremely heavy armored,equipped with lance, powerful charge attack.
Lawful villager militias: equipment and combat abilities vary from occupations.
Vampire: can summon zombies, freeze nearby enemies if take melee damage, instantly turn villagers into zombies.
Zombie archer: ranged zombie.
Ghost zombie type 1:become invisible if under attack.
Ghost zombie type 2:change appearance to NPC when target acquired.
Ghost phantom: similar to ghost zombie.
Elite zombie: heavy armored, high ATK, and fast-moving.
Zombie titan 1st stage: cast fireballs that transform into an elite zombie on hit.1% chance to spawn a zombie titan when a normal form zombie is destroyed.
2nd stage: summon monsters and shoot small creepers.
3rd stage: heavy armored.
Ghast titan: summon ghast, shoot small ghast and inflict status to players.1% chance to spawn when a skeleton is destroyed.
Phantom titan: summon monsters and shoot powerful fireballs.1% chance to spawn when a enderman is killed.
Blaze titan: splendid danmaku.1% chance to spawn when a blaze is killed.
Modified mobs:
Stray:additional magic damage.
Skeleton:2nd and 3rd type can inflict status.
Enderman: throw small creeper.
Wither skeleton: teleport to the player if target acquired.
Witch: a tamed witch can enchant player and other friendly illagers.
Vindicator: an enchanted vindicator can cause additional magic damage.
Phantom: a phantom spawn in nether or ender shoot fireball. Friendly phantom can ride.
New events:
Monster invasion:
require lawful player, village, full moon, night.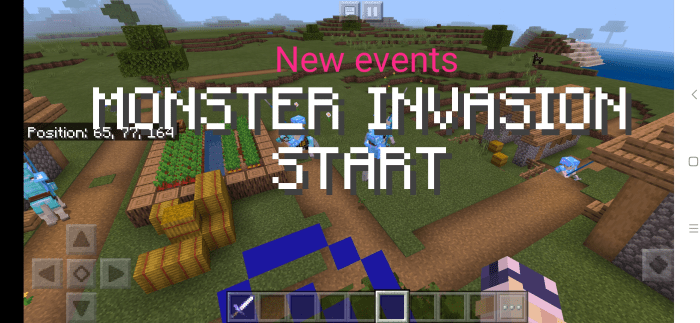 Zombie siege:
require lawful player, village, a full set of diamond armor, night,40% chance to trigger.
Village reconquest:
trigger 1:lawful player, zombie village or chaotic village, daytime.
trigger 2:chaotic player, chaotic village, large chaotic squad, daytime.20% chance to trigger.
Modified events:
Raid: spawn mobs fast, no longer need to kill all mobs before the next wave.
New equipment:
Grayswandir: disable mob abilities, additional damage to undead.lawful only
Muramasa: the chance to instant kill.lawful only
Magicbane:absorb negative effects,confer magic resistance,inflict status.lawful only
Healing wand: cast magic shoot with area healing effect.
The staff of cold: zap at enemies to freeze them, zap at yourself to create an ice wall.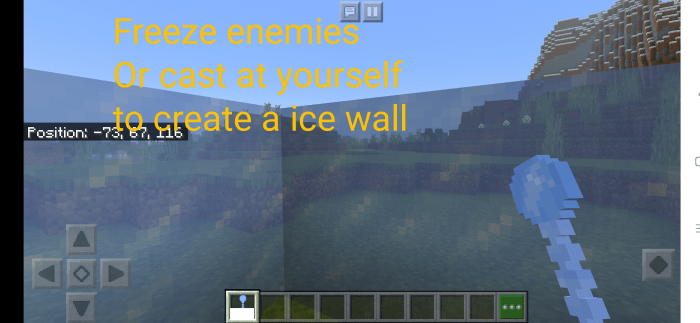 the Book of Dead: chaotic equipment, read it to unleash the power of necromancer, charm undead if you already became a necromancer. You tamed illagers influenced by this power will transform to tamed undead once killed in fighting.Drop from vampire,10% drop rate.
The staff of necromancer: chaotic necromancer only, summon undead creatures around you.
Rocket: lawful weapon, shoot 5 rockets, explode on hit or close enough to flying targets.
SMG: shoot 3 bullets in a single burst,72 bullets in total.
Vacuum imploder: very dangerous, drag miserable entities into it and crash them.
Input /function info/craft_recipe to access to all recipes of craftable items.
What's new in 1.4.6:
Mob walking animation fix.
Added active skills for Grayswandir,Magicbane and Muramasa.If chaotic player try to active Magicbane or Muramasa,it will transform to Sting and Stormbringer.
Chaotic Artifacts Sting and Stormbringer:transformed from Magicbane and Muramasa.When you equipped with Stormbringer,entities in the same block with you will be damaged by Stormbringer's overwhelming power.
Active Sting to get speed,strength,invisibility status and slow down nearby enemies 4 seconds.Active Stormbringer to get resistance,health boost and regeneration buffs.
Spellbook of turn undead:a powerful magic book,can revive died villagers.Typing /function recipe/spellbook in chat to get craft recipe in game.
Stone mask:a mysterious item from jungle temple and desert pyramid,do you want to reject humanity?You can also simply get it by /give @s yjsnpi:stone_mask.
New pillager variety: lancer,a ravager always spawn with a lancer,a captain must be a lancer.
Vampire player:put on stone mask to become a vampire,vampire players have 64 ATK,80% damage cut off and night vision ability,but hate sunlight.Be cautious,you can't return a human once became a vampire except using command /function return_human.
Installation
Enable experimental game play to access to new items.Beta version not recommended.
Downloads
Supported Minecraft versions
1.14