Now updated with the 1.16 Nether Update!
This pack makes all 6 of the swords in game have shorter blades and handles, This could be useful for PvP purposes of if the swords are to long fot you.
Available for 16×16 and 32×32.
16×16 version was based off of vanilla textures.
32×32 version was based off of Faithful textures.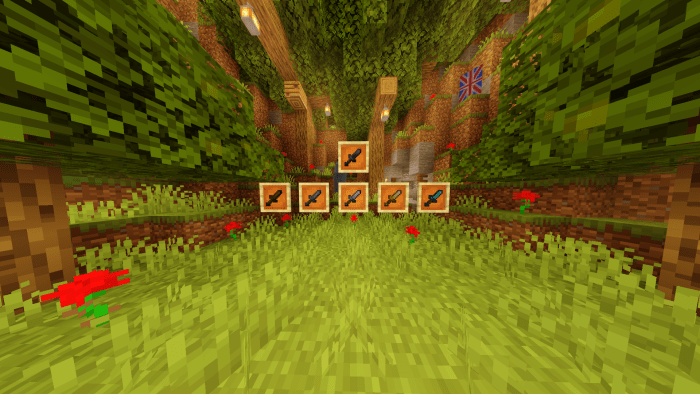 - Added Netherite sword.
- Updated the 16x16 .mcpack to the newer version.
- Fixed the 16x16 and 32x32 .mcpack download files, sorry for any inconvenience.
- Fixed website link (sent to inactive page).
- Added a new featured image (old one showed up).
Download page changes and fixes:
- Fixed installation description.
- Fixed website link.
- Changed featured image.
- Fixed brief introduction.
- Fixed description.
(Nothing has changed in-game, will make a Netherite addition once beta is out.)
- Added 32x32 version.
- Removed V1 for 16x16 version.
Version 2.1 (Bug Fix)
Removed a duplicate V1 .mcpack from the website.
Version 2
All swords now have shorter handles.
All sword textures have now been moved up north-west by 1 pixel. (This aims to improve look in hotbar and and not affect the look in hand too much.)
Textures for all swords have changed slightly.
Installation
Has been tested on Windows 10, Xbox and Android, but should work on everything else as it only changes textures.
This may not be compatible with other resource packs that change sword textures. If the textures don't show up then place this above any other packs.
Downloads
Supported Minecraft versions
1.16