Welcome to Skin Box, a series of skin packs with 5 randomly selected skins. The Packs have no general theme whatsoever, so don't expect consistency, be it within the packs or the skins themselves.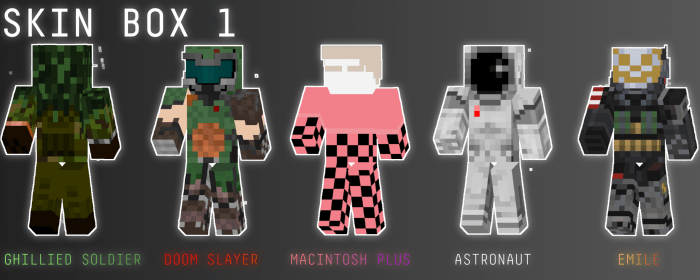 Skin Box 1 contains the Skin of the Doom slayer, from Doom Eternal, Emile from Halo; Reach, a skin based on soldiers in Ghillie suits, a skin based on the Macintosh Plus clip and a skin based on astronauts. Have fun with the new looks.
- cafe

Select version for changelog:

Changelog
Changed Download Tutorial for precise instructions;
Added full Skin Pack download Link.
Installation
For Skin pack:

Wait 5 seconds and

skip

 

the

advertisement

Click

Download

For Skins:

Click on the

links